At the Arm Limited DevSummit held this week for shareholders & developers, the company revealed its next-gen graphics processing hardware. This new technology is expected to be released in 2022, and the company also showcased that the new next-gen graphics processing hardware will increase the performance by 2x compared to the current Arm Mali-G710 in FP32.
However, compared to 2018's Arm technology, the newest Arm GPU is boasting workloads at speeds of almost five times faster. Senior Director of Technology for the ML Business Unit at Arm, Ian Bratt, showed a demonstration of the speed of the machine learning performance with Arm's newest technology.
Based on the results, the new Arm GPU architecture for 2022 will be capable of producing 4.7 times faster FP32 ML workloads than the Mali-G76 when focusing on per-core performance quality.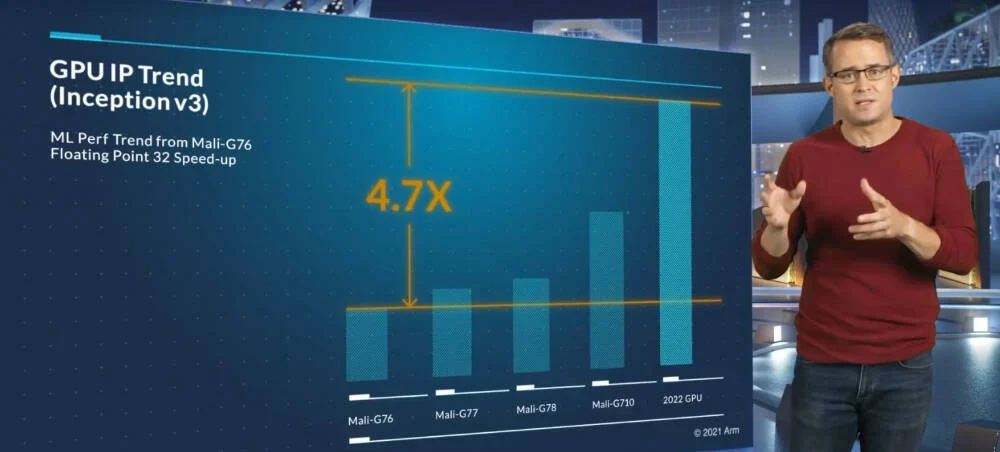 However, we still don't know how the performance specifications for the FP32 ML will affect the overall performance in wattage and games in general. ML's performance is integral to Arm's future and we know the entire deal with NVIDIA revolves around the future investments in the ML development at Arm.
"It's more than just adding instructions and improving hardware IP, we also have to provide the software, the tools, the libraries to enable that ML performance."
— Ian Bratt, in an interview with The Register
Arm also has stated that the deal in which NVIDIA plans to buy off the manufacturer is related to unsure the evolution of Arm's technology. This is because, in the last several years, Arm went from a semi-stagnant company to increasing development and supply for the GPU architectural developments for the company. And the company plans to remain in the evolutionary period rather than being stagnant and letting the up-and-coming RISC-V technology replace it in the coming years.