Roger Federer has been honored by his hometown of Basel, Switzerland, with the naming of a tram after him. On Friday, the Swiss tennis legend resorted to social media to share photos and a video of the tram named after him, the 'Federer Express.'
"Hopping aboard the Fedexpress! Thank you for the incredible honor. It feels like just yesterday I was a boy getting to practice every day on No.8," Federer wrote on his Instagram account. In one of the photos he uploaded on his Instagram account, Federer posed in front of the tram.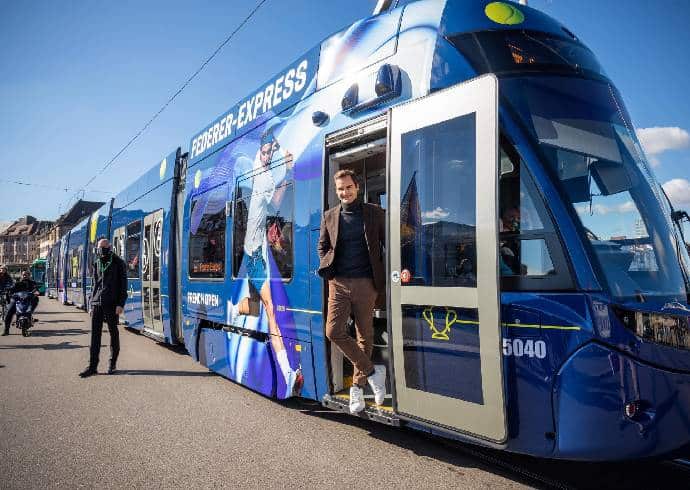 Federer is now recovering from knee surgery after losing in the quarterfinals of Wimbledon to Hubert Hurkacz of Poland. Following a knee injury during the summer season, he withdrew from the Tokyo Olympics and the US Open.
He had posted on his Instagram account while withdrawing from the Olympics: "During the grass-court season, I, unfortunately, experienced a setback with my knee, and have accepted that I must withdraw from the Tokyo Olympic Games. I am greatly disappointed, as it has been an honor and highlight of my career each time I have represented Switzerland."
In August, he stated that he will be out for the remainder of the season.
In a video he posted on Instagram, he said: "I will be on crutches for many weeks and out of the game for many months,"
He also added: "I am realistic, don't get me wrong. I know how difficult it is at my age to go through another surgery. I will try it. I want to be healthy, I want to be running around."
Federer is a brilliant all-court player whose perceived ease has made him a favorite among tennis fans. Federer won his first Grand Slam singles championship at Wimbledon in 2003, at the age of 21. He was a Wimbledon junior champion in 1998. He won three of the four major singles titles and the ATP Finals in 2004, then he did it again in 2006 and 2007. Federer reached 18 of the 19 major singles finals between 2005 and 2010.
During this time, he won his fifth straight Wimbledon and US Open titles. After three previous runner-up finishes against Rafael Nadal, his primary adversary until 2010, he completed his career Grand Slam at the 2009 French Open. Federer is consistently one of the top ten highest-paid sportsmen in any sport, with $100 million in endorsement income in 2020, putting him first among all athletes.