With the arrival of Apple's MacBook Pro 14 and MacBook Pro 16, several testers are busy testing the device and gauging by the steady number of benchmarks we've been seeing of late it seems that Apple's products are creating quite a buzz in the market. The Geekbench database is being steadily populated with several M1 Max compute scores.
So let's discuss the face-off between a Dell XPS 17 9710 which features a Core i7-11800H and an Nvidia GeForce RTX 3060 Laptop GPU and Apple's MacBook Pro 16 with the M1 Max SoC. From the listing offered at the benchmark platform, we know that the M1 Max appears to be sporting 64 GB of unified memory, 10 CPU cores, and 32 compute units.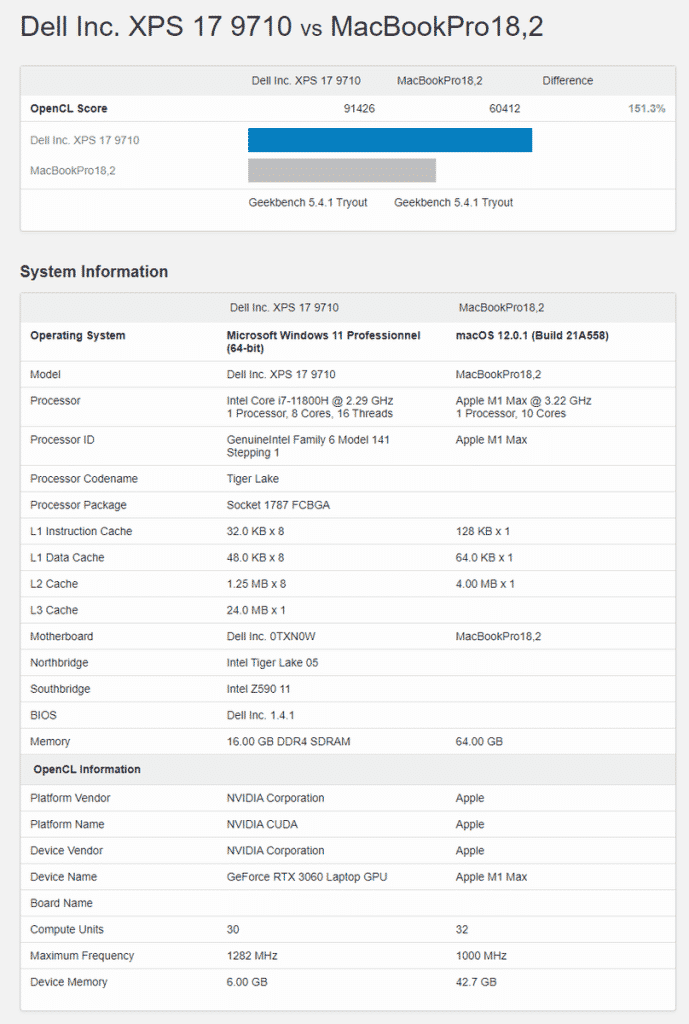 In the test of OpenCL performance between these two systems, we find that the Nvidia RTX 3060 Laptop in the XPS 17 9710 is 51.3% faster than the M1 Max's GPU in the Geekbench 5.4 OpenCL benchmark.
In the reports offered by Geekbench, we find that the number of computing units in the M1 Max is 32 however we do know for a fact that an M1 SoC's core is made of 16 execution units and each of which come with eight compute units.
Hence we can easily guess that a 32-core M1 Max will have 32*16*8 = 4,096 streaming multiprocessors (SM). And this is compared with Nvidia's RTX 3060 Laptop GPU which comes with the 30 compute units translate which is equal to 3,840 SMs.
Whatever, the result might have been, but the undeniable fact is that Apple with its integrated GPU managed to take the performance to the level where we can safely say that in the coming years, Apple will be a tough competitor for AMD and NVIDIA in the graphics market.