Since the launch of Apple AirPods, many audio and electronics brands jumped into the wireless earphone market and brought back to back products with slight changes. The prices were low compared to Apple's products as well.
Other than the truly wireless earphones, demand for the wireless neckband also increased a lot, especially in the past two years post the global pandemic. In the beginning, these products look exciting, but day by day, they become dull. The main reason is a lack of innovation and uniqueness. Here I'm talking about both the TWS and Bluetooth Neckbands.
Some companies like Nothing and JBL tries, but that's only in the design part. boAt launched Airdopes 621 with up to 250 hours of massive battery. First of all, these are all TWS, and secondly, I can guaranty you wouldn't be impressed with all these when you find out about Tarbull and its Musicmate series of wireless neckbands.
There are two neckbands in the Tarbull's Musicmate series – Musicmate 410 and Musicmate 550. These two are the World's first Bluetooth Neckband with pre-loaded music, and the built-in tracks are coming directly from Sony Music. It's not the only one; the Musicmate series Bluetooth Neckbands contains more features that can blow your mind easily — coming to that one by one.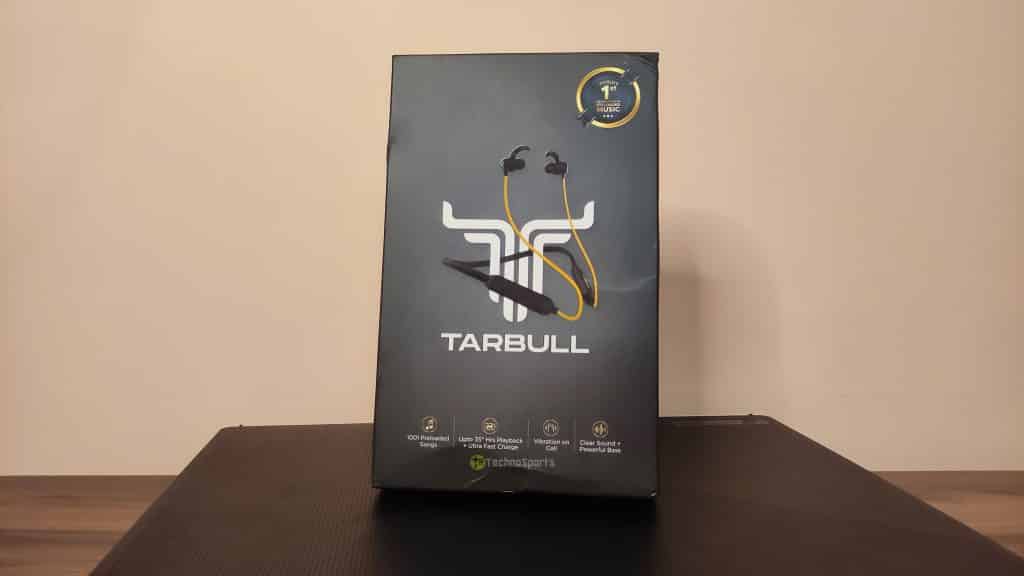 I got a chance to review the Tarbull Musicmate 550 with 1001 pre-loaded high quality Hindi tracks. I'm using it for over a couple of weeks now and sharing my experience here with you.
Features :-
10mm Speaker Drivers
1001 preloaded Hindi tracks from Sony Music
Supported profiles – HSP, HFP, AVRCP, A2DP
Dual Audio Mode – Bass Boost and Balanced
Call vibration alert
IPX5 Water resistant
Bluetooth 5.0
Up to 35 hours of battery life
Fast charging support
Type-C charging port
Voice Assistant support (Google & Siri)
In the box :-
Tarbull Musicmate 550
Type-C charging cable
Two pairs of eartips
Paperworks
Special Features

:-
This product is a Bluetooth neckband, which is the main identity and the pre-loaded tracks are the signature. You can use it as a normal wireless neckband. But when you don't have any device with you or your smartphone is running out of battery during your travel or even facing network issues, the tracks coming with the earphone will be with you to support you, to lift you up mentally. There are a total of 1001 Hindi tracks, arranged into 6 folders based on the type. Those are Party Hits, Ghazals and Sufi, Devotional Songs, Romantic Hits, Soulful Melodies, and Down Memory Lane. You can switch to any folder at any time based on your choice and mood. The most interesting point is no need for any intgernet connection, any subscription and no ads, so, basically no interruption. Just you and the music.
It has two audio output modes – Balanced and Bass Boost. Coming to this part in the Audio & Microphone section
You hardly get a vibration motor for incoming call notificationss at below Rs.2,000 price range or even in the high budget wireless neckband. But it's another reason why the Musicmate 550 is unique. The neckband vibrates when it's connected to your device, and you get an incoming call. So, you can be worry-free if you have to put your phone in silent mode and don't want to miss any call at the same time. The vibration is not too heavy and annoying. If it disturbs you at any point of time, long-press the ▶ button to reject the incoming call. All the controls are discussed in the Controls section.
Build Quality & Design :-
Tarbull Musicmate 550 offers four colour options – Red, Black, Blue, and Yellow. The cabinet and the band are made up of high quality polycarbonate; the wire part, on the other hand, is rubber. The buds that need to be put into the ears are made entirely of metal. The ear tips may feel a bit hard in hand but are gentle for a comfortable fit, while these are fins to lock the buds with extra safety. These are also rubber material. This wireless neckband is IPX5 water-resistant. So, you need not worry about sweat and all.
The band and the wire is flat in shape. It helps the band to stay around your neck and make sure it doesn't slip. On the right side of the neckband, you will get the remote with four buttons and the Type-C charging port just below that. There is one LED indicator as well. The buttons are massive in size with the symbols, making it easy to get the same button you are looking for. In the buds, the tips are slightly bent.
Forget to mention the magnets added to the buds. These connect both the buds together while not in use for a tangle-free state.
Overall, this Musicmate 550 neckband has a premium build and an eyecatching design with four colour options.
Comfort :-
The band and the wires are long enough; the buds are made of metal as well. However, the weight of the Musicmate 550 is not heavy at all.
The ear tips may feel hard in hand, but not the same for ears. Only you have to keep one thing in mind. The fins may have turned accidentally. If you notice any uneasiness when wearing it, check the placement of the fins once.
Besides all, I used these earphones for around three hours long; I enjoyed every beat without any fitting issues.
Controls :-
From the remote in the Musicmate 550, you can manage tracks and calls, control volume, switch between folders and modes, and access voice assistant. All these with just four buttons. I like control management; it's convenient. The four buttons are ⚫ | ➖ | ▶ | ➕.
| | |
| --- | --- |
| Activity | Controls |
| Power On | Long press ⚫ |
| Power Off | Press ⚫ for 3 seconds and release |
| Switch between Bluetooth Mode & Music Mode | Press ⚫ once |
| Switch between Balanced & Bass Boost Mode | Press ⚫ twice |
| Change folder | Press ➕/➖ twice |
| Next/Previous track | Press ➕/➖ once |
| Volume up/down | Long press ➕/➖ |
| Resume/Pause tracks | Press ▶ once |
| Receive call | Press ▶ once |
| Reject call | Long press ▶ |
| Wakeup voice assistant | Press ▶ twice |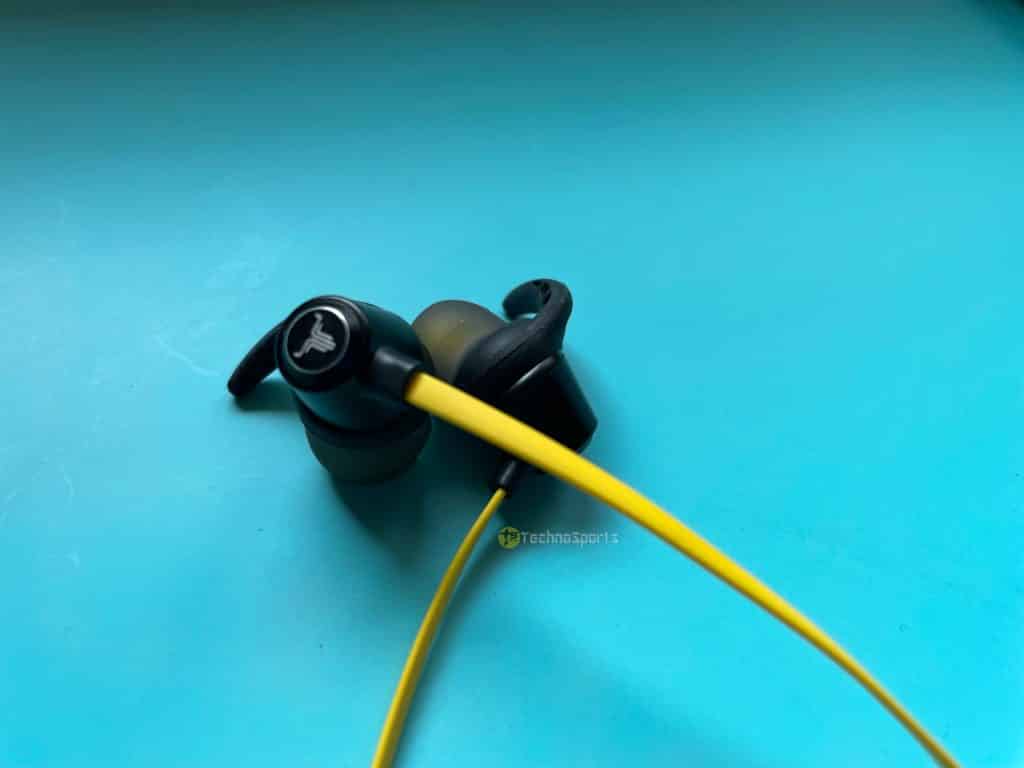 Audio & Microphone :-
Audio output and microphone are the two main things a consumer look for in an earphone. Team Tarbull added a 10mm audio driver to its Musicamate 550 and high quality microphone as well.
The output is thunderous in nature yet clear and doesn't distort at maximum volume. The sound is so loud that you can hear the outcome without even wearing it. The ear tips block your surround sound a bit, which enhances the overall listening experience. As the name suggests, the second one is quite balanced among the two modes, Base Boost and Balanced.
For me, this mode is enough and comfortable; it provides the exact audio output with good clarity. In the Bass Boost mode, this property gets boosted significantly, as per my experience. Unless you prefer extreme too heavy bass, this mode may not go with you.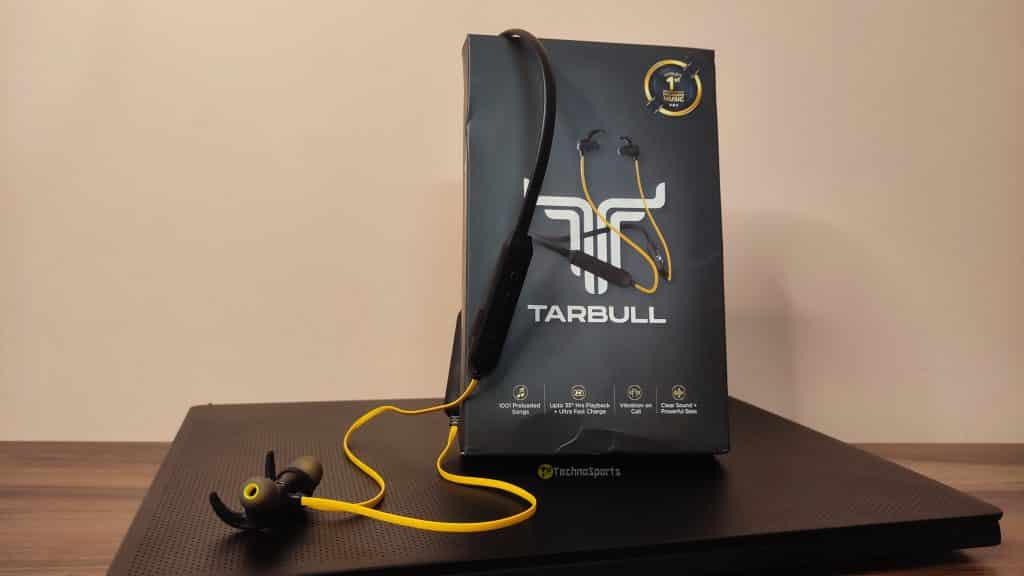 Audio output for a particular track in Bluetooth mode and Music mode may vary as the pre-loaded tracks are high quality. Generally, most of the free online music streaming platforms deliver low-quality audio.
Besides audio tracks, I got a lovely stereo experience while watching any Netflix or Prime Video content.
Coming to the microphone, it's decent, in my opinion. The calling experience didn't disappoint me that much; anyone from the other end complaint anything. However, it carries some of the surrounding sounds along with my voice. For regular calling, it's completely okay.
Connectivity :-
The World's most unique neckband features Bluetooth 5.0. The pairing process is simple like any other Bluetooth device, and the pairing stays strong within a certain distance. The cherry on the cake connects to the last paired device very quickly though no HyperSync kind of tech is implemented.
When you use the Bluetooth mode, the connectivity will be on. But when you switch to the Music mode, then also it remains enabled. You can connect your device at that time to manage calls only. Any other audio output from your device, like tracks, voice messages, etc., will not transfer. If you need it, it's just one button press away.
There is a slight delay between the action with the buttons and the reaction on the device. However, it's way less than most of the other Bluetooth neckbands I tried earlier.
Just for information, it doesn't support the dual pairing.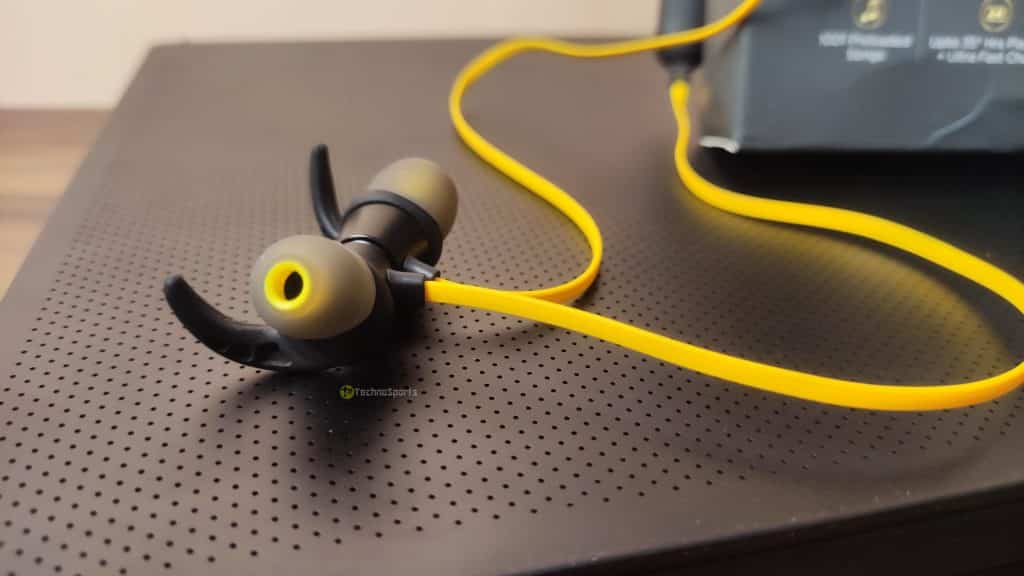 Battery & Charging :-
Tarbull claims its product can provide up to 35 hours of battery life at a 50% volume level, and 10 minutes of charge can last for up to 10 hours long in Bluetooth mode. Lastly, through the Type-C port, it takes around 60 minutes to touch 100% bar.
I played the pre-loaded songs across the playlists at full volume in Balanced Mode. For me, the battery lasts for 17 hours, and I know it's almost half of what they claim. But the figure is excellent. That is because listening to tracks at 100% may be uncomfortable for most users as it's too loud and not recommended at all.
With casual usage, I got over four days of battery life. During this test period, I kept the volume at 60% most of the time. I did activities like attending calls, listening to tracks in both Bluetooth mode and Music mode with Bass Boost and Balanced mode one after another, and keeping the neckband in standby mode for over multiple hours in total.
With a 10W power adapter, the earphone takes around 80 minutes to charge fully, in my case. Against 10 minutes of charging, the battery level goes from 0% to up at 50%. Due to the Type-C charging port, you need not carry a separate cable for it.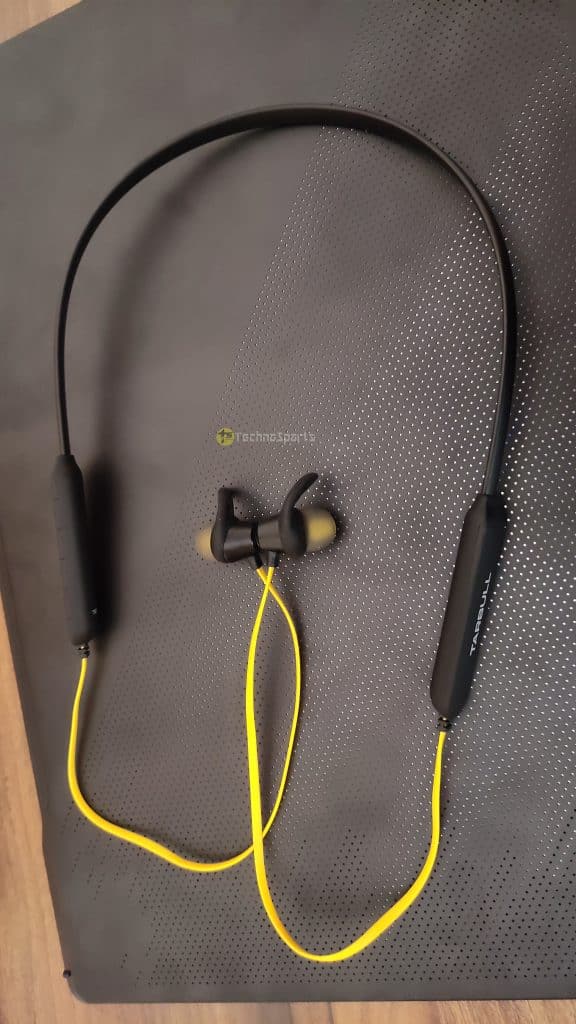 Pros & Cons :-
| | |
| --- | --- |
| Pros | Cons |
| Loud and clear audio output | Sometimes the audio could feel extremely loud, and bass in Bass Boost mode may hurt your ears. |
| Pre-loaded high quality 1001 tracks | Looking for a particular track in the playlist is difficult |
| Variety of playlists for most of the age groups | The signature feature, pre-loaded tracks, is not used for those who don't understand Hindi. |
| Separate mode for normal and extreme bass lovers | |
| Vibration motor for incoming call notification | |
| Long battery life | |
| Fast charging support | |
| Lightweight and premium build quality | |
| Big remote buttons for easy control | |
| | |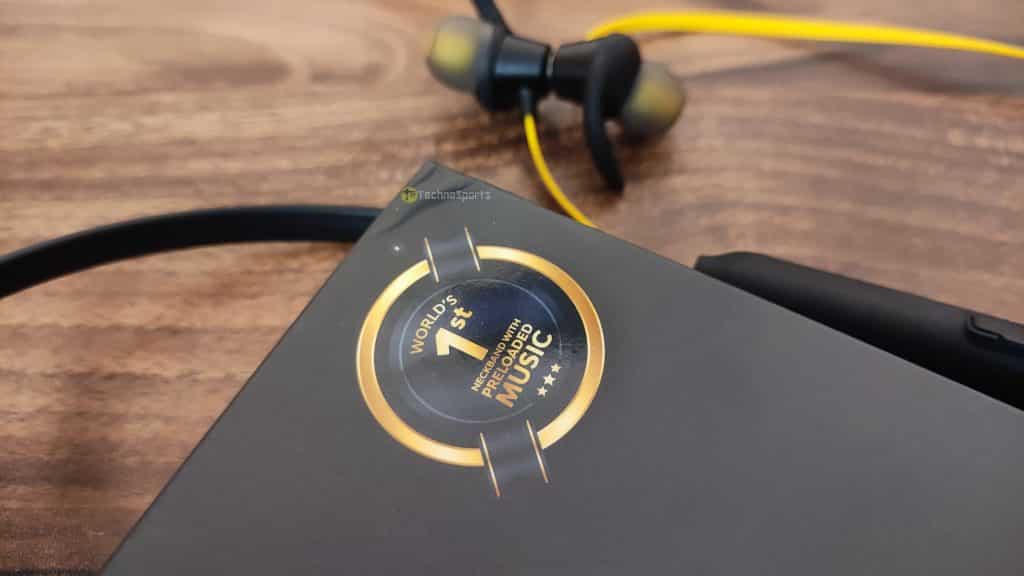 Verdict :-
The overall experience I'm getting with the new Tarbull Musicmate 550 is genuinely unmatched and most unique. It has features like no one, looks attractive, feels premium, and sounds excellent. The idea to add tracks within the neckband is highly admirable, and I'm sure the present consumers are enjoying it like me. If you are looking for a new Bluetooth neckband and pick this product, you also can enjoy the same.
I know I added three cons to the list. The volume controller is there in your hand; if you want to enjoy a particular song and can't find it in the folders, you can utilise the Bluetooth mode. For the remaining third point, I know Tarbull already got the feedback and working on it.
The Tarbull Musicmate 550 costs Rs.1,599 only and is available on Amazon India. It is also available on Tarbull's official website, but there it is listed at Rs.1,999. You have four colour options – Black, Red, Yellow, and Sky Blue.
Buy Link: https://amzn.to/3aGIlIu.