Ever since Apple started ditching the headphone jack on its iPhones, it created a problem but came up with a better solution to maybe do some business but also make things a lot easier than ever!
Yes, Apple Airpods did get born since then but helped create a new genre of audio devices; well, at first, the earbuds were expensive. However, since the pandemic pushed everyone to work from home, a lot of companies started growing to make the best earbuds at affordable price points.
The Story so far, here comes Foxin

From 2020, the TWS earbuds market saw the biggest leap ever with an exponential leap in sales and growth because you now have a variety of them. However, the favourite range for Indians remain in the Rs.2k price segment, and some major Indian players in the market include boAt, pTron, Boult Audio, Mivi and others.
So, now the market is flooded with TWS earbuds, which makes things a bit difficult for you as you have to choose between many TWS earbuds. I personally use boAt, Skullcandy but have tried a lot of them from Mivi, boAt, Noise, Realme, Xiaomi, JBL and others, so I do have a sense of audio tuning from each of these brands.
When I stopped doing earbud reviews, and my team did so for me, I got a call a few days back from Foxin, yes, the brand you are familiar with if you have done PC builds and been into hardware in India. Primarily they are a PC accessories brand that has expanded its portfolio from mobile accessories to TWS earbuds.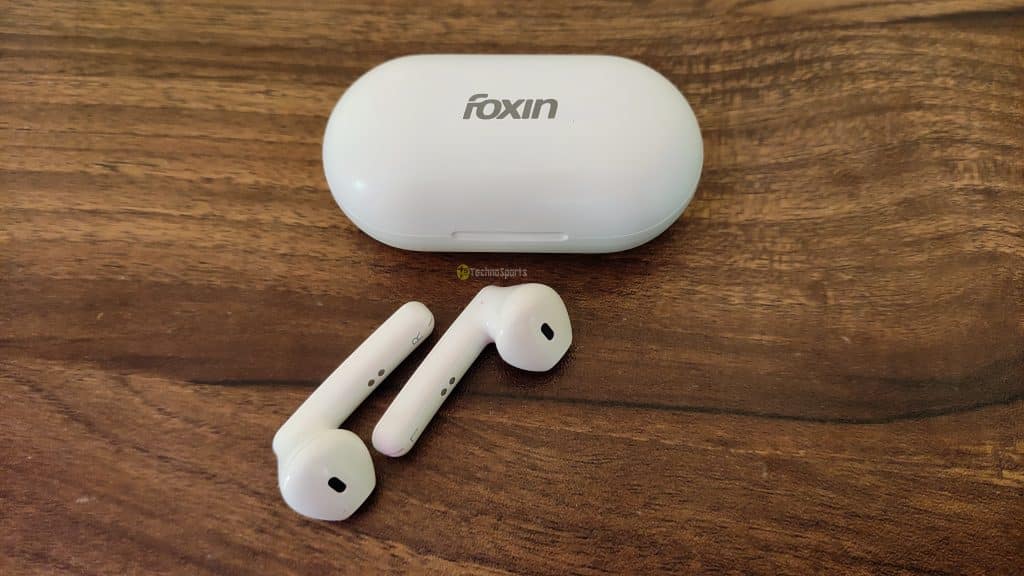 I didn't even know that, even my old computer uses Foxin PSU, and I had old keyboards from the brand when I didn't turn a reviewer. So, when I was told that the Kolkata-based brand wanted to send some products to me, I did take responsibility to review them myself.
A week ago, I got two of its latest TWS earbuds – FoxPods F9 TWS Earbuds and FoxPods C5 TWS Earbuds; well, having used the FoxPods F9 extensively over a week, I can tell it is one of the most underrated TWS earbuds in the market. Here's my completely unbiased review of the earbuds:
Specifications
OLP Technology [Open Lid 'N Pairing] – Auto Pair
Multi-function Touch Control
Upto 20 hours with large battery capacity of 500 mAh Charging case
10mm Powerful Speaker Driver Unit for an Immersive Sound
Delivers Crystal Clear Call Conversation with Dual Mic
Type-C Fast Charging support
Pocket-size Supremely Light-weight Ergonomic Earbuds
365 Days Warranty from Date of Purchase
Design & Build Quality
Though the earbuds themselves look very identical to the original Apple AirPods, the case looks pretty compact and straightforward. There's no fancy colour, just plain white and the Foxin branding on the top of the case, you can open the case quite effortlessly with one hand.
There you see two of the earbuds placed just opposite to each other and there's no branding at all, though looks are similar to the original AirPods kudos to Foxin to make it even more functional. The FoxPods F9 doesn't feel shy of being similar looking to the AirPods but flaunts it by making it more affordable.
Each of the earbuds fits into the case effortlessly into the case; thanks to its magnets, the hand-feel that each of these earbuds gives is great! The case is quite sturdy, though it did fall from my hands quite often; there's not a single scratch, but I will not advise doing this intentionally.
Overall, the FoxPods F9 TWS Earbuds focuses on simplicity and provides a very functional design along with decent build quality.
Audio Quality
Now, coming to the most critical aspect of any earbuds is the audio; in this segment, Foxin has justified the essentiality to buy earbuds. Yes, the audio quality is excellent, not the best, but it's good thanks to the 10mm drivers; the sound is pretty loud; however, it has that soothing feel to it.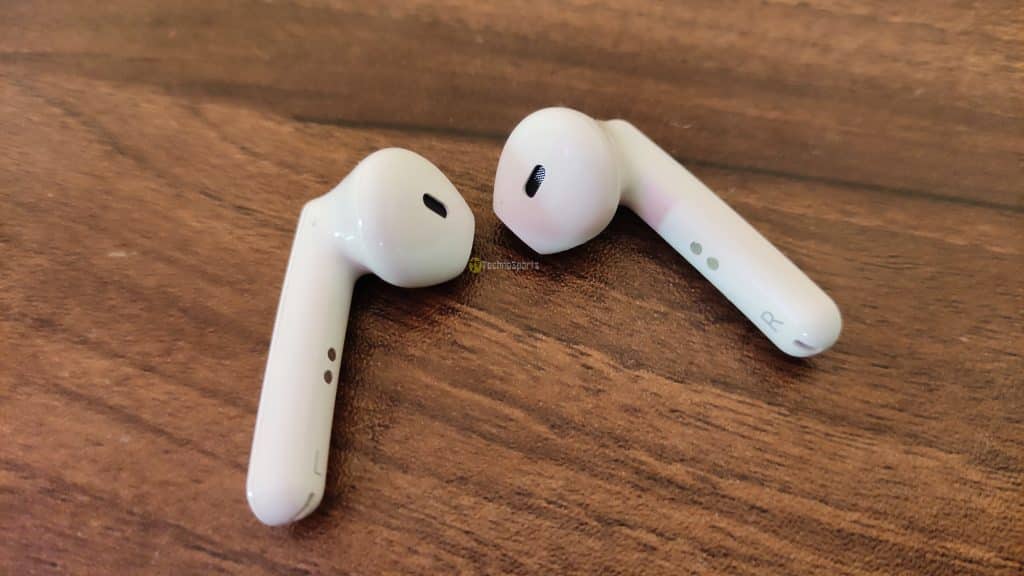 Generally, you have to spend a lot to get a soothing audio experience that doesn't hurt your ears; the FoxPods F9 just gives you that. There are no latency issues or such, and the OLP Technology [Open Lid 'N Pairing] – Auto Pair works flawlessly; your earbuds instantly connects to the smartphone.
The IWP pairing is not implemented on all earbuds; however, the F9 earbuds have it and make things easier for you. Just take out the earbuds from the case, and instantly, it gets paired, and overall while watching movies or playing games, I really enjoyed the audio of the earbuds.
The earbuds lack bass, so if you are a bass lover, you'll be a bit disappointed; however, if you are someone like me who like to listen to regular music or watch some movies, the FoxPods F9 TWS Earbuds is an excellent option. Thanks to supporting for AAC audio codec, the sound coming from your device arrives at the highest quality possible.
Generally, at the Rs.2k price segment, you have only a few earbuds with good music experience, and I would surely count this in! Mostly if you listen to old melodies, jazz or Bollywood songs, you won't have any difficulties, however, party or rock music isn't best suited on this.
A remarkable thing to note is that while watching movies, I felt this earbud excelled some of my higher-end earbuds as it delivers crystal clear sound. So, if you are supposed to watch a web series with lots of dialogues, I will prefer this over others; overall, a good audio experience undoubtedly.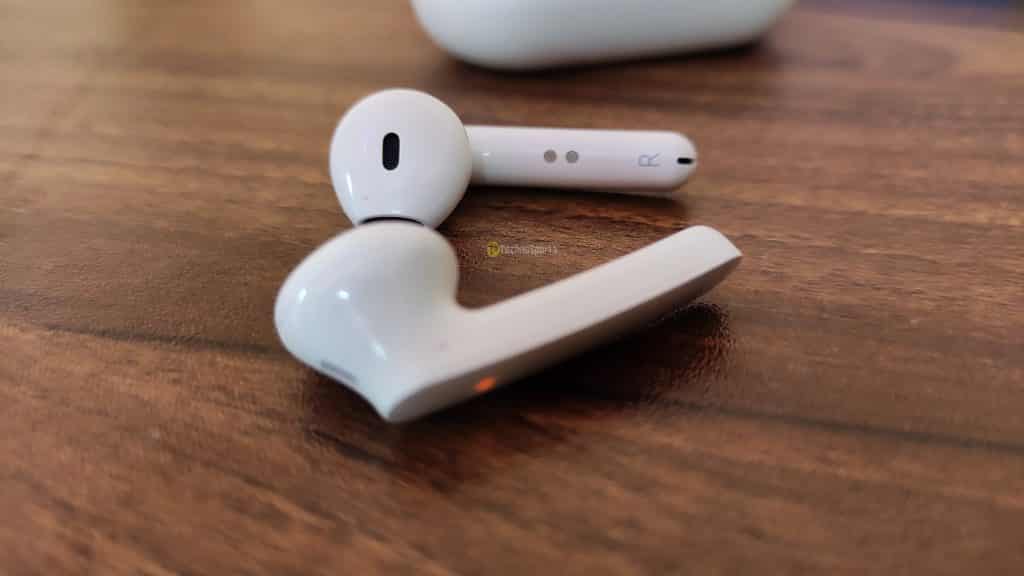 Comfort & Usage
As the design is more or less similar to the original AirPods, which was already very comforting, the FoxPods F9 TWS Earbuds easily slips into my ears and holds tight even after extended usage. Even after prolonged use, I didn't feel any discomfort and found it very soothing; overall, I found the earbuds usable and straightforward.
The voice assistant also works great, and you can use any supported assistant on mobile and command anything with the earbuds. The touch functionality is also excellent and accurate, gets the job done pretty quickly, so overall, using the FoxPods F9 won't be any issues as I said the basics had been done right.
Connectivity & Microphone
Another few essential aspects of any TWS earbuds is the connectivity and microphone quality; I have seen many earbuds either doing this right or the other wrong. However, in this case, thanks to Bluetooth 5.0, I didn't face any issue in connectivity; also, the IWP instant pairing works flawlessly.
The range of the earbuds is also perfect; you can take calls, roam around your room or adjacent room without any drop in call or music. Now, coming to the microphone, the quality of it is great, actually one of the best in this range, thanks to Dual Mic, I had no issues while taking calls or playing games with friends.
I am glad that Foxin has taken two of these important things in mind and made the F9 TWS Earbuds functional as well as useful for everyday work or play.
Battery Life
Last but not least, let's talk about the battery life of these TWS earbuds; Foxin claims that the buds themselves give up to 4 hours of battery life, which, to be fair, is around 3-4 hours mostly in my usage. Whereas the 500 mAh charging case gives another 20 hours of battery life, so essentially, it gives a very respectable amount of battery life.
I used it every day for around 2-3 hours for listening, and it easily lasted me for almost a week and for the price, you cannot ask much. I also like that Foxin has used Type-C charging, and the FoxPods F9 quickly charges within 2 hours, which is great for an average user.
Pros & Cons
Here are the things which I like and dislike the most about the FoxPods F9 TWS Earbuds:
Pros
Simple, sturdy and easy to carry design
Good audio quality, great for long music sessions
Comfortable for long usage
No connectivity issues or lags during calls or listening music
Excellent microphones for taking calls
Decent battery life
Cons
Has no official IP rating
A bit of AirPods clone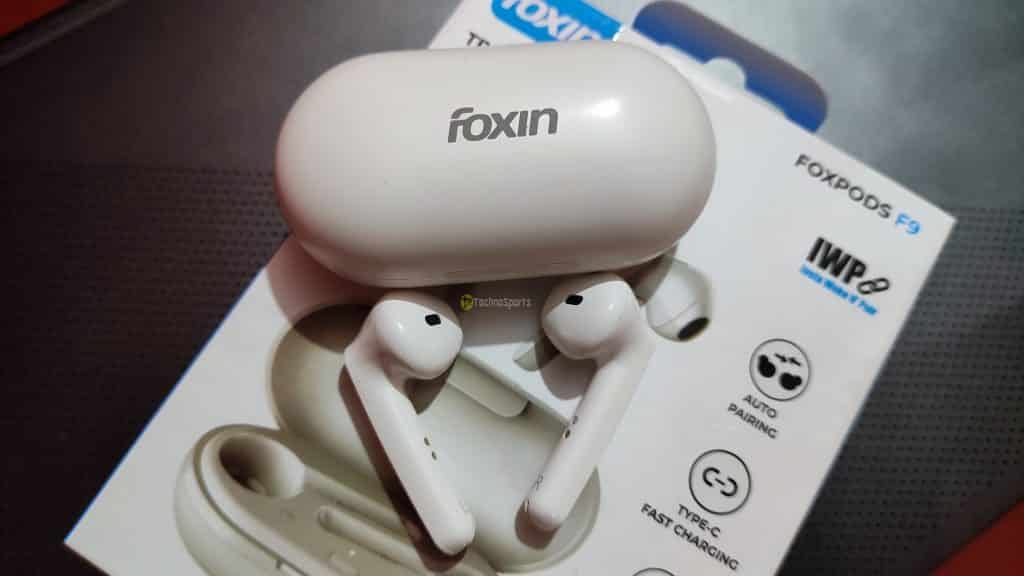 Verdict
Overall, I am happy with the FoxPods F9 TWS Earbuds because it's very reliable for daily usage. After all, Foxin has done the basics right. For ₹2,199, you are getting pretty much everything you could ask for and Foxin as a brand shows its reliability with TWS earbuds.
From a reviewer standpoint, many companies make the design better and compromise on basic features, also vice versa; however, I am glad Foxin has focussed on the basics of a TWS earbud. Maybe they look like the AirPods clone, but it embraces the design and makes a very usable yet cheap solution for consumers.
Buy from here: https://amzn.to/2ZTc6DE