The world's most populated streaming service Netflix has got the distribution right for the German miniseries that anyone would not want to miss. The story of this series is based on such a true event fro0m the 1990s.
This latest miniseries has revealed the story of the men standing behind the virtual representation of the Earth that revolves around ART + COM's network satellite images, aerial shots, attitude data, and also has such architectural data, as Terravision.
It seems that the Terravision is just sounding like Google Earth due to the program that was the predecessor of the technology, and "The Billion Dollar Code" seriously reveals the incidents that are happening while the creators of Terravision has come to look for the credit ahead the technological goliath whi9ch is popular as Google.
It is based on the story of the two German computer pioneers who are become forced to fray in court in order for the recognition of the algorithm that has been used to build Google Earth 25 years after the code has been invented.
This film also reveals such lawsuit that has been wiped out essentially from such annals of the history, that has been explored to the hacker into the scene I such post-reunification Berlin in the 90s, like dismantling the idealism has been presented in such early days of the Silicon Valley to de-romanticize the greatest giants.
The tale of the Terravision just not only says something based on the inventors and also their incredible battle to get justice but also about the entire Internet age and also about the digitization of the whole world, from the starting till today.
It seems that Google Earth will absolutely be developed based on the building blocks that have been established by Terravisison, and their influence would not be getting denied. It is the first seamless system that is navigating in the large spatial data in the environment. We will definitely give credit to Terravision for Google Earth.
Cast
This miniseries is starring by Mark Waschke, Misel Matlcevic, Leonard Scheicher, Marius Ahrendt, Lavina Wilson, and Seumas Sargent. This series has been jointly created by Oliver Ziegenbalg, and Robert Thalheim, they both have served as the writers and showrunners. It has been directed by Thalheim. This duo collaborates with Andreas Banz and Annie Schilling as the executive produ8cers. This series has been featured and cinematographed by Henner Besuch and edited by Stefan Kobe and Anja Siemens, and the music comes from Uwe Bossenz and Anton Feist.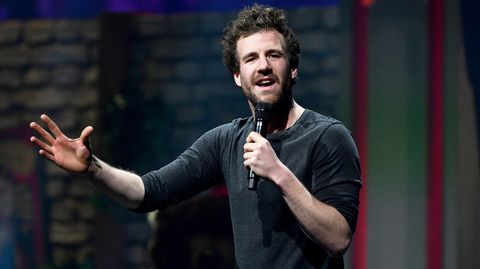 Release date
This series will release on 7th October 2021 on Netflix. It will release in the German language but also has such English subtitles.
Here is the trailer:
A big thanks for the source.