There are 3 ways how to play Mega Millions for people from India.
Visit the US. Option one will give you the opportunity to travel to the United States, but if you do not have money to spare, this is a costly trip that may not be worth the investment.
Play online using messaging services like TheLotter also known as Lottosmile in India. Option two is a good option for those not willing to travel but could be risky due to the nature of messaging apps and the need to rely on others.
Place your wager on websites like Lottoland, Lotto247, and Playhugelottos. Option three is a great option for those who want to use a vetted route on a website, though it also comes with risks.
How to Collect Your Winnings
If you play and win through either of the above online routes, you will receive an account credit with your winnings.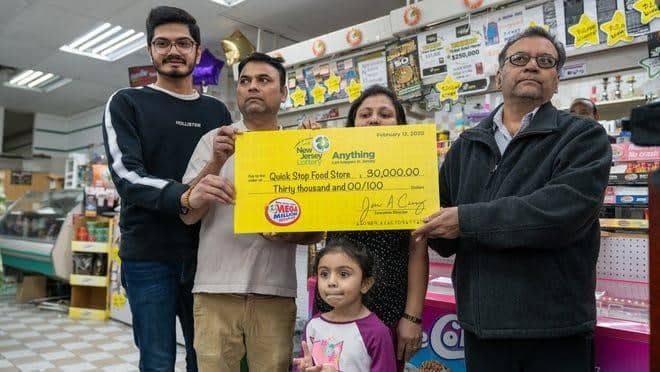 Lump Sum & Annuity – What's the Difference?

If you win the jackpot, things work differently. There are 2 ways for Mega Millions jackpot winners to receive their winnings. One option you can choose is the lump sum, also known as cash value. This option gives you all of the winnings at once in cash.
Accepting the annuity is the less common option between the cash payment and a weekly check over 30 years, but it has its benefits and should be considered.
The annuity may have less initial taxes than the lump sum. What's more, taking the annuity spreads out payments over a 30-year period. This causes the winner to maintain self-control when spending their winnings, while also allowing them to enjoy their newfound wealth. The con is that it takes 30 years to receive the total winnings.
The benefits of the lump sum are that it serves as protection against a default on your winnings. Recall that Mega Millions is played in 47 US states and territories. This means that your winnings will come from your selected state's economy. If something were to happen to your selected state's economy, instead of losing future payments through an annuity, you would have already secured your winnings.
Another thing to consider about the lumpsum is the potential negative outcome of what could happen with a sudden influx of wealth. Many lottery winners feel a sudden sense of overwhelming need to spend all of their money on lavish things in short amounts of time. This leads to lottery winners becoming poverty-stricken.
Also, another negative to the lumpsum is the larger amount taxed than from the annuity.
Paying Taxes
If you win a prize from the Mega Millions Lottery, you will be taxed the same amount, whichever way you choose to receive your winnings.
If you accept the lump sum, you could be taxed up to 37% right away.
If you choose the annuity, you could pay 24% at first and then the remaining 13% later to pay a total of 37%.
Conclusion
If you want to play the Mega Millions Lottery in India, you have the chance to do so. Do your research and learn which way is best for you. Should you visit the US to purchase your ticket? Maybe you will choose to purchase your numbers online. Or perhaps you will use a messaging app to buy a paper ticket.
Whatever you choose, you have just as much of a chance of winning as anyone else in the United States. We hope that this information helps choose how to play the Mega Millions Lottery. Good luck and happy playing!