Last year we reviewed the ROG Zephyrus G14 gaming laptop with AMD Ryzen 4000HS processors, and we liked it because of its design, performance, portability and battery life. It was one of the best AMD powered gaming laptops last year, and this year's version has not got a massive difference in terms of looks but still is highly recommended.
Why? ASUS made some critical improvements over last year that have made it easily recommendable. Thanks to AMD's efficient chips, the ASUS ROG Zephyrus G14 is more than just a standard gaming laptop. Now, with new AMD Ryzen 5000HS processors, the single-core performance has improved and hence should give some different frame rates in games and help in productivity workloads.
With a great display and battery life, it is a good option for productivity users and creators as well, easy to carry and has the gaming vibe to it with the Anime Matrix lighting at the top. Then you have NVIDIA's latest GeForce RTX 30-series graphics, which are powerful and bring exclusive features like ray-tracing, DLSS to a laptop; this form factor as the ROG Zephyrus G14.

So, this gaming laptop in 2021 is still the gold standard for anyone who is looking to have a perfect gaming/productivity option. Here are the specs of the new ASUS ROG Zephyrus G14 (2021), which I got to review:
Specifications
Processor: AMD Ryzen 9 5900HS Processor, 3.1 GHz Base Speed, Up to 4.5 GHz Max Boost Speed, 8 Cores, 16 Threads, 16MB L3 Cache
Memory: 32GB (16GB onboard + 16GB SO-DIMM) DDR4 3200MHz, Support Up to 24GB using 1x SO-DIMM slot | Storage: 1TB M.2 NVMe PCIe 3.0 SSD
Graphics: Dedicated NVIDIA GeForce RTX 3060 GDDR6 6GB VRAM, With ROG Boost up to 1382MHz at 60W + 20W with Dynamic Boost
Display: 14-inch (35.56 cms) WQHD (2560 x 1440) 16:9, 300nits, 120Hz Refresh Rate, IPS-level Anti-glare Panel, 1000:1 Contrast Ratio, 100% DCI-P3, Adaptive-Sync technology, Pantone Validated
Software Included: Pre-installed Office Home and Student 2019 with Lifetime Validity, McAfee Anti-Virus With 1 year validity | Operating System: Pre-loaded Windows 10 Home (64bit) with lifetime validity
I/O Port: 1x Type C USB 3.2 Gen 2 with Power Delivery, Display Port and G-Sync, 1x USB 3.2 Gen 2 Type-C, 2x USB 3.2 Gen 1 Type-A, 1x 3.5mm Combo Audio Jack, 1x HDMI 2.0b
Design & Build
The Eclipse Gray variant here we got looks excellent, especially when you lit up the Anime Matrix to flaunt your styling. There is not much change in the overall build quality or the design, so you still have a solid 14-inch gaming laptop with a clean aesthetic along with a premium vibe.
On the top, you have the CNC milling that creates 6,536 perforations across the aluminium lid for a distinctive dot matrix design.
Also, you have the magnesium-aluminium alloy deck, which is fingerprint resistant to keep it looking fresh day-to-day, so, in terms of design, I have no complaint, and I still like the way ASUS ROG Zephyrus G14 (2021) how it looks and feels.
The 1,215 mini-LEDs that lie below on the AniMe Matrix™ display look great but drain some battery; however, I like to have it.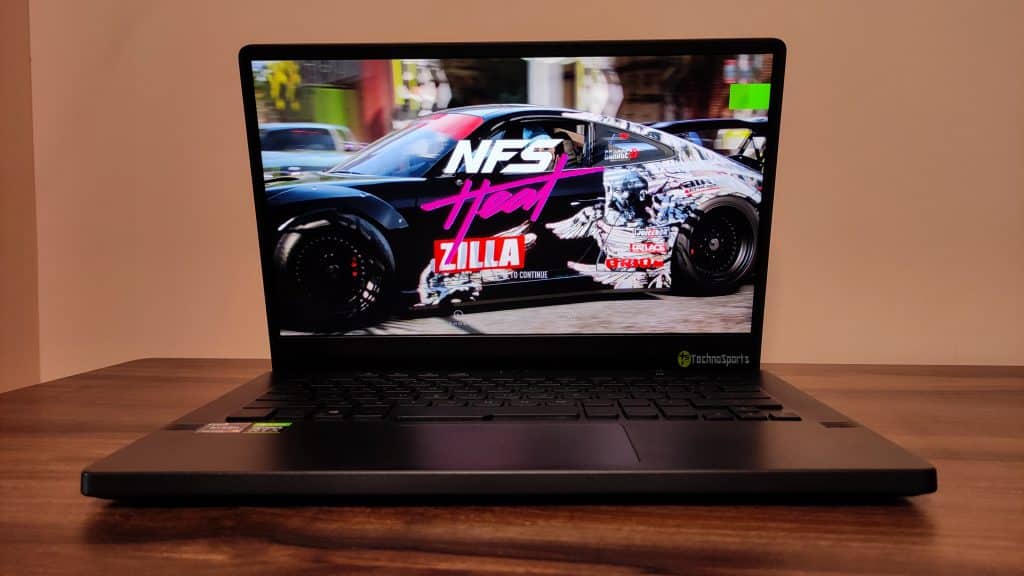 Display
This is the place where I really appreciate ASUS's effort of improvement, the new display is a QHD one with a 120Hz refresh rate, and I appreciate this. Also, ASUS has used a better panel this time which is more colour accurate than before, and this really helps those looking to develop content on this laptop.
Only one nitpicking I would do is that next time, ASUS should use a 16:10 aspect ratio so that the QHD display has more screen area in a smaller 14-inch chassis. Also, the 300 nits peak brightness is just enough for indoor usage while not the best outdoors still usable.
Using an RTX 3060 GPU means you have enough horsepower to run games at QHD, and so it makes sense to have a high-resolution panel. It does affect the battery a bit; still, I would prefer a more colour accurate QHD panel over a regular FHD one, and for me, a 120Hz refresh rate is ok for gaming.
Here are the display test results we ran on the ASUS ROG Zephyrus G14 (2021) using the Datacolor SypderX Pro: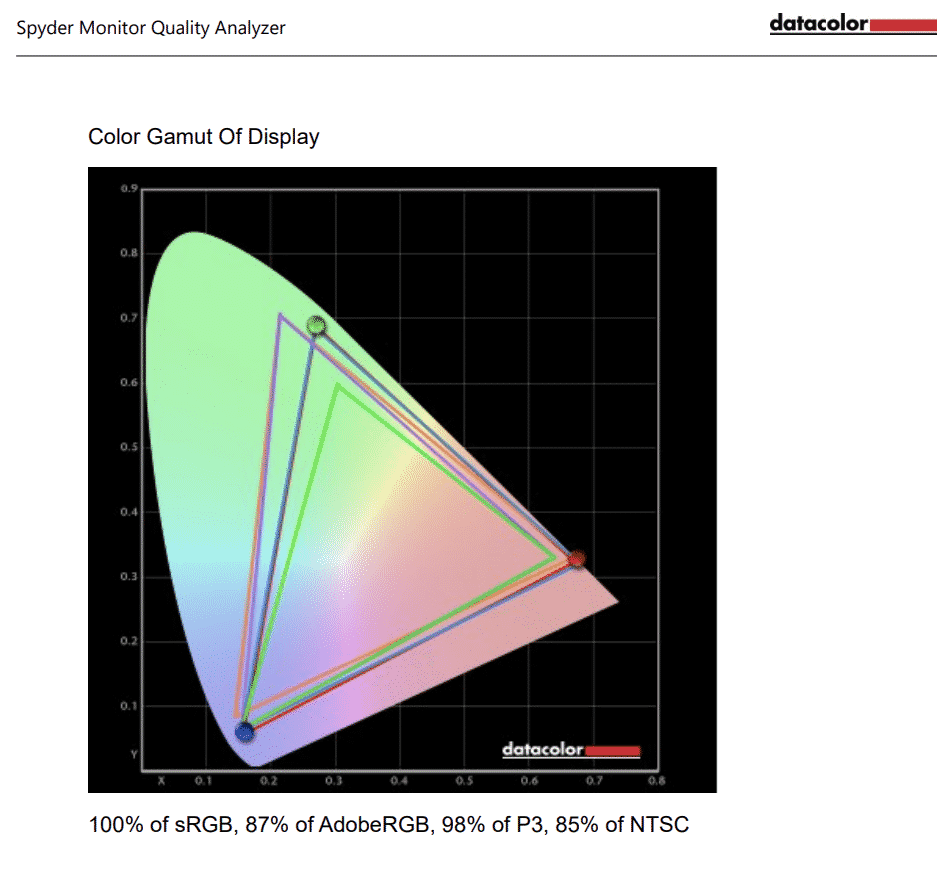 As you see, the display covers 100% of the sRGB colour gamut, which it did previously also. However, as you see now, the display now covers 87% AdobeRGB, 98% DCI-P3 and 85% of NTSC colour gamut. So, overall, from gaming to productivity, the new ROG Zephyrus G14 (2021) is indeed one of the best options out there.
Here are some of the other display tests we ran on this laptop: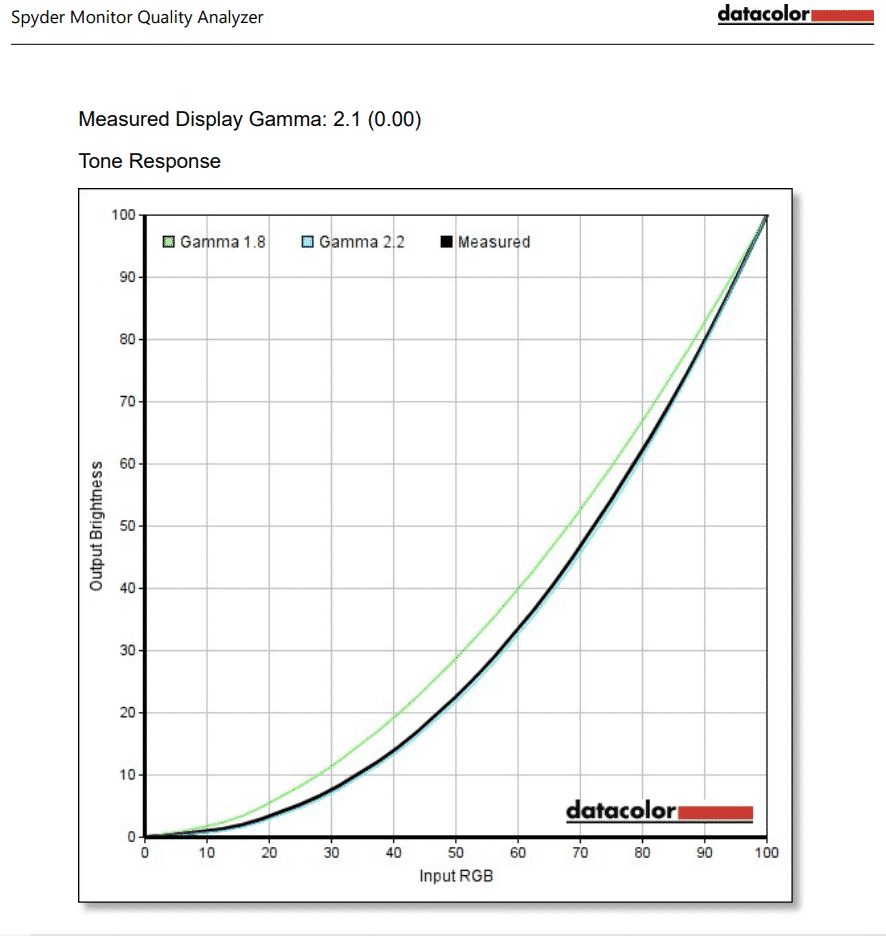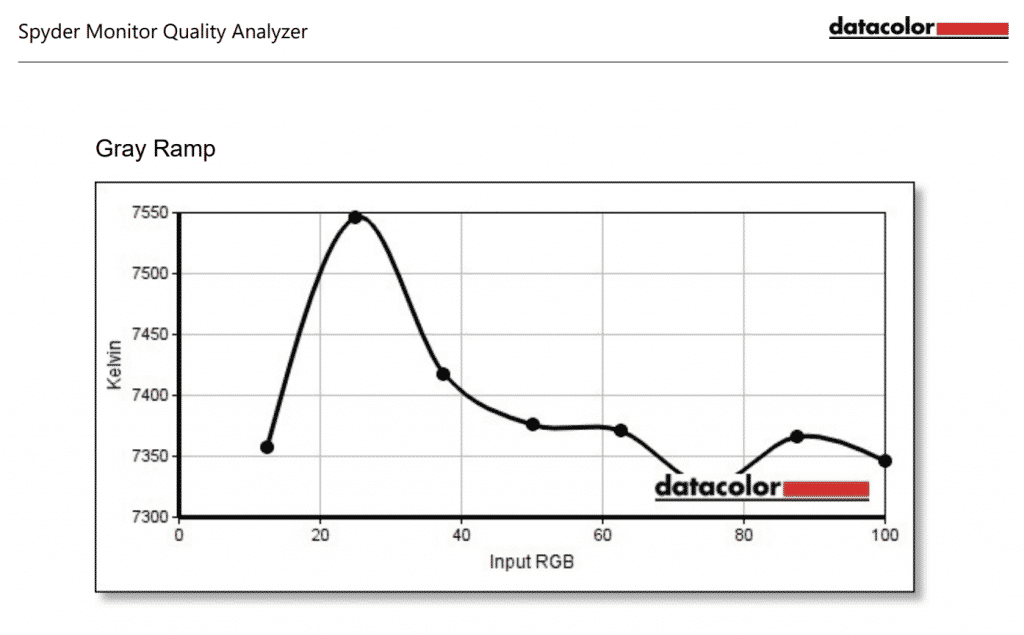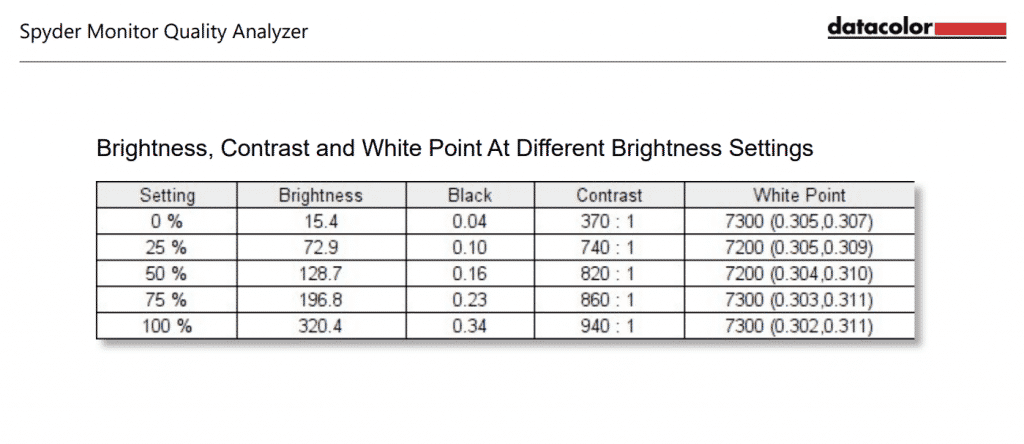 As you see, the improved display does have an impact and shows how you can use it as your primary productivity machine apart from being your mainstream gaming laptop. Also, the brightness is up to 320 nits and though the contrast ratio is not the best, watching movies or playing games looks excellent on this.
Overall, I really enjoyed playing games on this colour-accurate display and thanks to the 120Hz refresh rate also with features like NVIDIA Reflex; gaming is really smooth on this. Now, if you are a Netflix addict like me, you can watch movies and stream web series for hours without any issues with great visuals.
Performance
In terms of performance, you are sorted as you have an eight-core 16 threaded AMD Ryzen™ 9 5900HS processor with up to 4.5 GHz boost clock speed. This comes coupled with 32GB of dual-channel 3200MHz DDR4 RAM and 1TB M.2 NVMe™ PCIe® 3.0 SSD.
The GPU inside is very capable and powerful though not as powerful as those that suck massive TDP, but with ROG Boost, the GPU goes up to 1382MHz at 60W (80W with Dynamic Boost). In turbo mode, having plugged the charger, you can get good performance out of this laptop.
Here are some of the benchmarks of the ASUS ROG Zephyrus G14 (2021):
As you see in the benchmarks, you have a massive improvement in single-core performance with the new Zen 3 architecture, which helps in gaming. In multi-core, too, we have some upgrades; however, it draws only 35W of TDP still manages to compete against a beefier Intel Core i9-11900H.
Now here are some 3DMark benchmarks for your reference:
While my only complaint remains like the predecessor, the SSD used here could have been faster:
The NVMe SSD here goes up to 1889MB/s read speeds and writes of 1748MB/s; I did expect a faster SSD for the high-end variant, so this needs improvement.
Gaming
Coming to gaming, I enjoyed playing games at both QHD and FHD with max settings and here are the results:
As you see, the RTX 3060 does give good 1440p performance at high settings in almost all games and if you want more frames per second, use 1080p mode. Overall, you won't get disappointed with the gaming performance as it is still good at it and using NVIDIA DLSS in supported games, you can increase frames without sacrificing performance.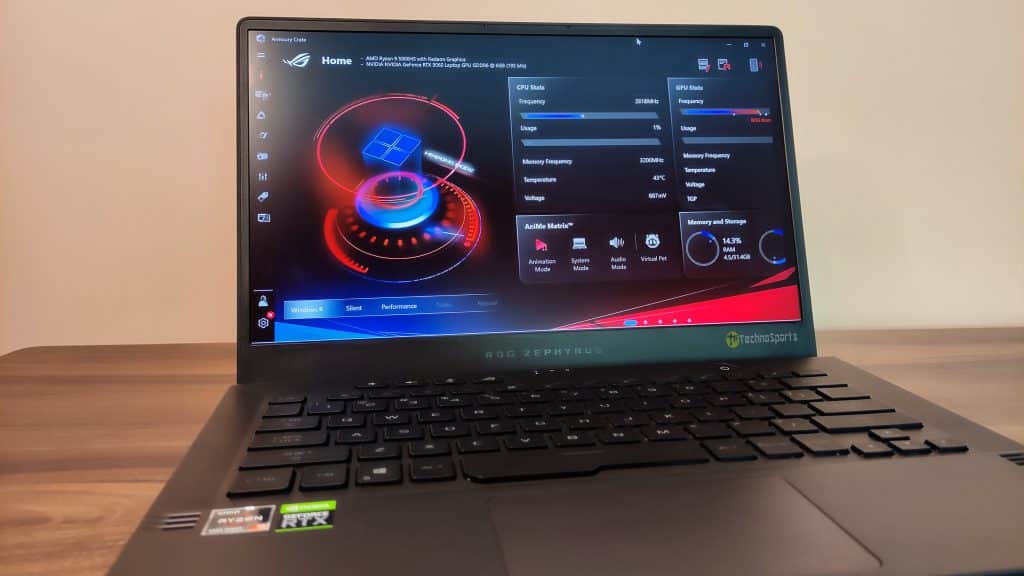 Thermals
As I told here previously, this laptop is one of the most efficient gaming laptops ever that is very silent when you do essential work or just browsing. In silent mode, you barely hear the fans, and the decibels are around 40dBA, while in performance mode, you hear the fans quite a bit, and in turbo mode, the fans do get loud to dissipate heat.
Overall, if you are doing regular work, use the Silent mode or Windows mode and if you do productivity work, use Performance mode. While for gaming, plug in the charger and turn on the Turbo mode for the best gaming performance. However, the heat dissipation is much better this time than last year.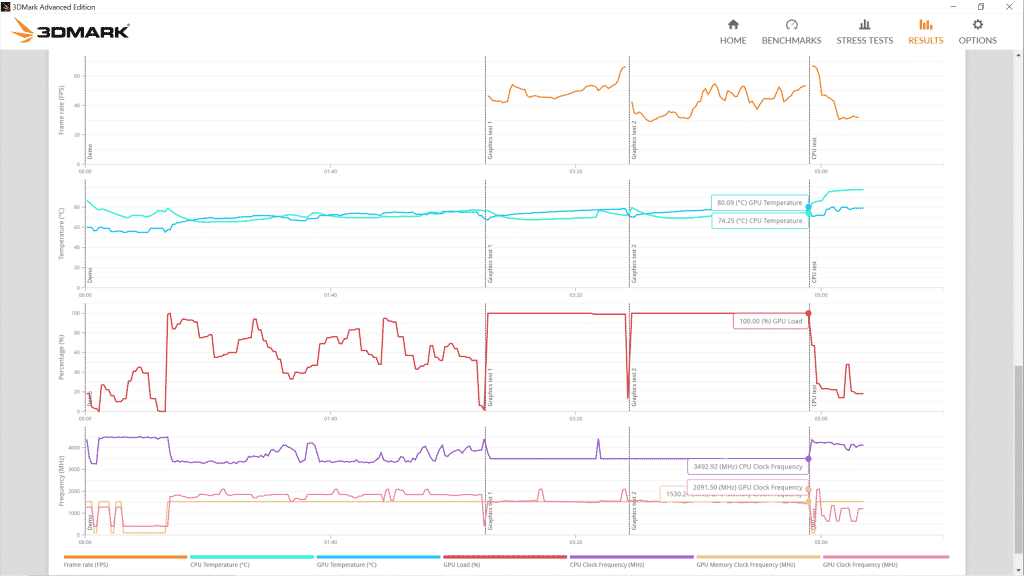 If you see the thermal graphs, the CPU can hit high speed during turbo mode and can get pretty heated using 100% GPU load when needed, but the efficient 35W based Ryzen 9 5900HS is very efficient, be it for gaming or productivity.
The temperatures are very normal under room temperature when you do everyday work; however, they fluctuate when you use turbo or performance mode and get heated up a bit during long gaming sessions.
Upgradeability
As a gaming laptop, you do like to use the laptop for quite some time, and ASUS makes it easier because one RAM is slaughtered onto the motherboard, so here the 16GB RAM is soldered, and the other one is upgradeable up to 24GB.
However, I feel a 32GB variant is more than enough for you else if you go with the 16GB RAM version, the 8GB stick is upgradable to 24GB RAM. Though there's no extra SSD slot, you can replace the 1TB SSD with a faster SSD if that concerns you.
Ports & Connectivity
In terms of ports, you have almost the same as the predecessor with one Type C USB 3.2 Gen 2, one 3.5mm headphone jack, 1x HDMI 2.0b port. On the right, you get one USB 3.2 Gen 2 Type-C, two USB 3.2 Gen 1 Type-A ports, so you are pretty covered with all the port options. Also, you can charge the laptop with one of the Type-C ports as an added bonus, though the charging is slow.
For connectivity, you have both Wi-Fi 6(802.11ax) and Bluetooth 5.1 (Dual-band) 2*2 options that are enough to give you the best-in-class performance. You get good download speeds considering your internet speeds, but I didn't face any issues at all in terms of connectivity.
Keyboard & Trackpad
In this segment, there are no key improvements as already the keyboard on the ROG Zephyrus G14 was a good one; I do like the layout but the trackpad still remains small. So, anyways I preferred using a mouse, but the backlight keyboard is very comfortable to type on, and I did enjoy typing the review on this laptop.
The fingerprint scanner is still baked into the power button for faster logins and gets the job done securely.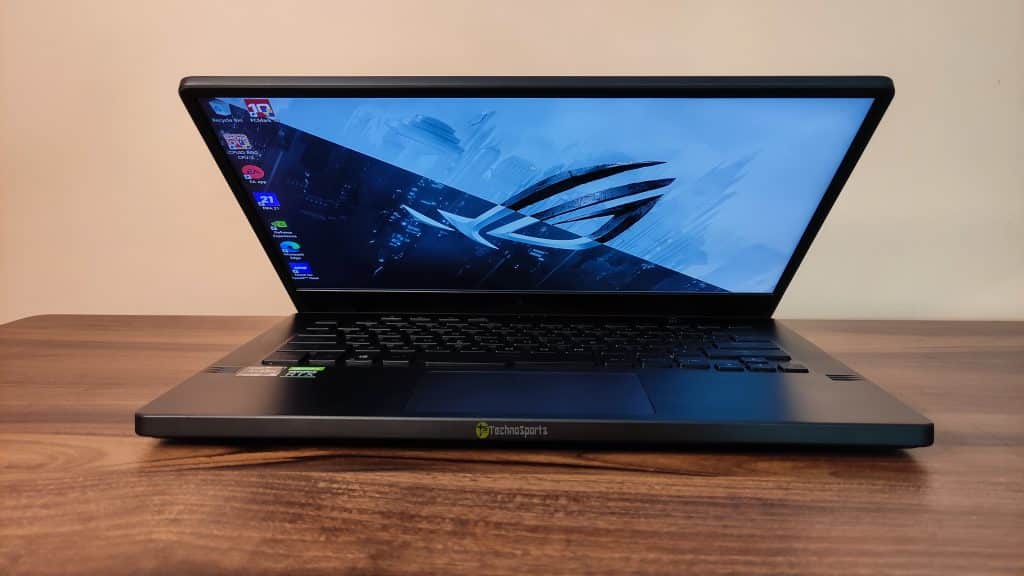 Audio & Webcam
For audio, also, you have two 2.5W speakers with Smart Amp Technology; thanks to Dolby Atmos, you do get the stereo effect, and I do like the loudness of the speakers. The sound is not distorted and is accurate, so for listening to music or gaming, and I do prefer not to use my headphones as already it has good bass.
Sadly, even in 2021, the ROG Zephyrus G14 deprives a dedicated webcam, and you need to use an external one.
Battery Life
I like the ASUS ROG Zephyrus G14 (2021) because it still keeps its efficiency established last year and gives one of the best battery life on a gaming laptop.
However, to increase battery life, you should do two things:
Open ARMOURY CRATE software and turn on the iGPU mode while on battery
Install AMD graphics to help the laptop use the iGPU when you are not gaming
Thanks to the enormous 76WHrs battery, ASUS promises good battery life, and I mostly used it in the plugged-in mode for gaming, but in my brief usage, I can tell you you can easily get 7-8 hours of work battery life and stretch up to 10 hours if watching movies.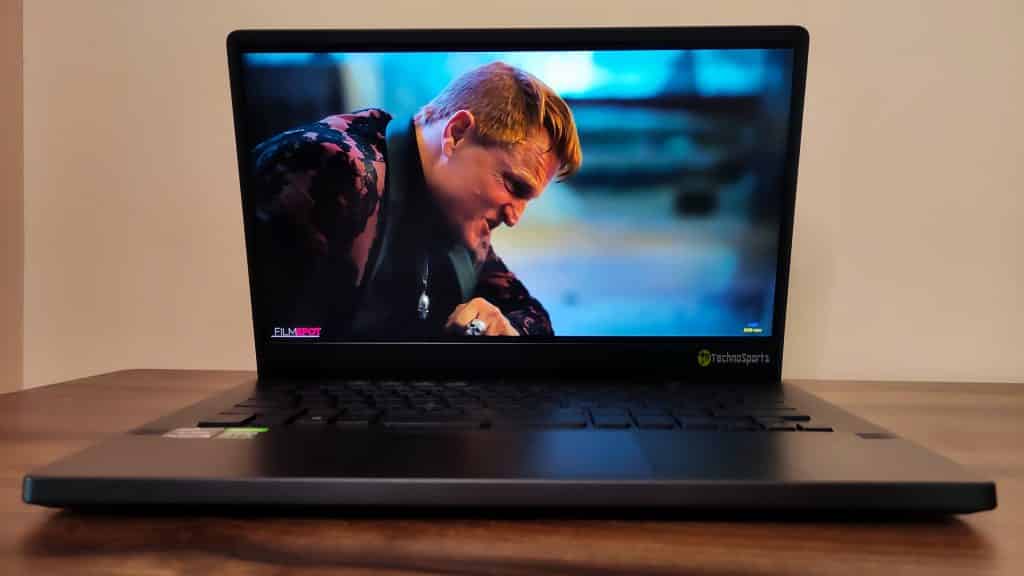 Pros & Cons
Here are the things which I liked and disliked the most about the ASUS ROG Zephyrus G14 (2021):
Pros
Great design & build
Handsome upgrade in display, QHD 120Hz is an added bonus
Excellent performance for both productivity & gaming
Comfortable keyboard
Decent thermals and upgradable options
Good connectivity options
Cons
No Thunderbolt port
No webcam
Small trackpad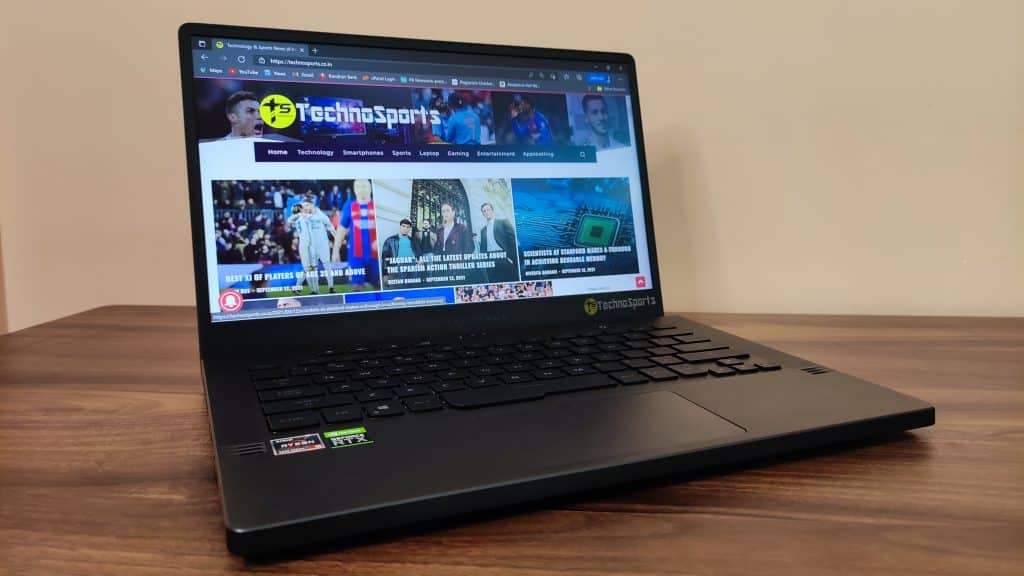 Verdict
The new ASUS ROG Zephyrus G14 (2021) is still a great gaming laptop for the price, and those minor improvements make it even better. Though there are visual changes to the design, the clean look and aesthetics make this more than a regular gaming laptop.
It is efficient, the display is great to work, and the audio is pretty loud as well; if you want more than a gaming laptop, this is it. With AMD Ryzen 5000HS processors, the laptop is very efficient for any kind of workload, and gaming performance is much better this time, and the QHD display is visually enticing.
Overall, if you want a gaming laptop with long battery life, good colour accuracy for the display, great gaming performance, look no further as the ROG Zephyrus G14 is still a solid option for gamers!
Buy from here: https://amzn.to/3Aqs4mj