Money Heist is a Spanish heist crime drama TV series. It is created by Alex Pina. It is executively produced by Alex Pina, Sonia Martinez, Jesus Colmenar, Lobato, Cristina Lopez Ferraz and Nacho Manubens. Its production companies are Atresmedia and Vancouver Media. It contains 4 seasons having 31 episodes. It has a running time of 41-59 minutes for each episode. It was firstly released on 20th December 2017. The fifth season is going to be released within a month. The head writer of season 5 is Javier Gomez Santander.
Money Heist Season 5 is said to be the last and final season. Netflix has announced the released date on 24th May 2021. Netflix has said that this season will be released in two instalments, and this season will consist of 10 episodes.
Volume 1: has already been released on 3rd September 2021 consisting of 5 episodes.
Volume 2: will be released on 3rd December 2021 consisting of again 5 episodes.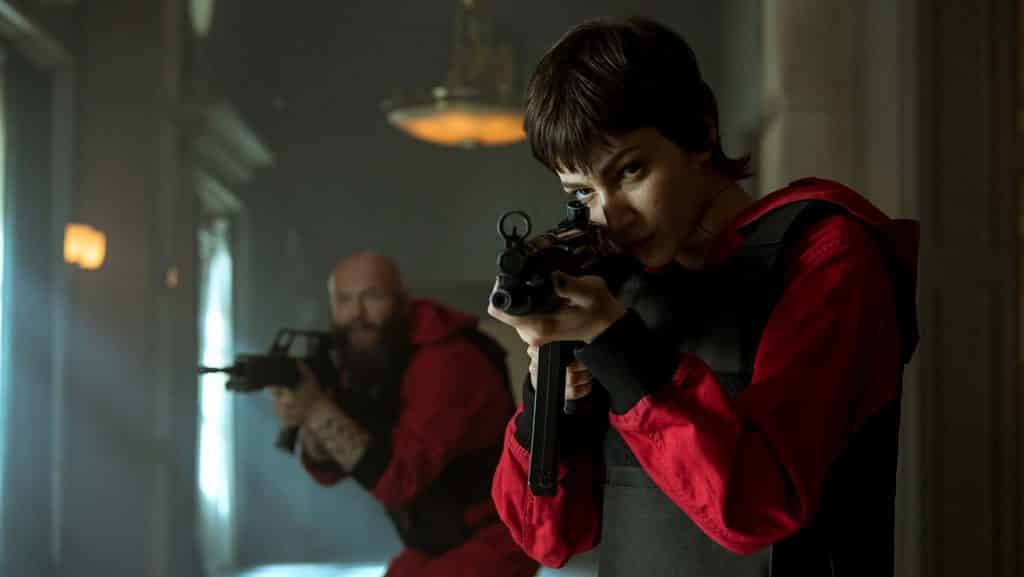 Top 3 Fan Theories
Money Heist fans have waited for a long time for the first volume of the season finale. After the end of the fifth and final episode of Money Heist season 5 Volume 1, fans were left in shock and everyone was wondering how they all will spend the next three months while waiting for volume 2 to be released in order to know what will happen to the gang of robbers. They went through hell and back in the Bank of Spain. So, it's quite natural that the fans have started discussing their own theories about what will happen next in the series and therefore we present the top 3 picked fan theories that can actually be possible:-
1. Tokyo isn't dead
The deaths of the characters are very hard to accept and if the character is one of the main characters. Often fans can not accept and are left in a state of denial which explains why after the fifth episode of Money Heist season 5 fans till now cannot believe that Tokyo can actually die. Instead of it, the fans have come up with their theories that suggest that she may have survived the horrifying death that we have witnessed in the last scene in volume 1 of season 5.
But from my personal point of view, I think it is an improbable thing that could happen. Tokyo has made the ultimate sacrifice by detonating five grenades to eliminate the Special forces, who were the gang's biggest threat, from inside the bank. There is no way she could have survived that attack. And if she survived, that means Gandia and the rest of his team did as well.
However, many fans disagree.
One theory implores the question that why would the show kill off one of their main characters? And in order to strengthen this theory, an argument has started that if Tokyo really died, then how is she narrating the events of the heist? Another theory suggests that the show has not ever escape away from showing deaths. Nairobi's execution is a prime example. So, if Tokyo's death was intended for shock value, why kill her off-screen?
Fans are divided and we will only know what fate had in store for the protagonist when the final volume is released.
2. Alicia Sierra will join the team
Alicia Sierra is contemptible as we know, there is no confusion who will deny this fact that Alicia Sierra is a force to be reckoned with. Although she is a nine-month pregnant woman she still managed to bring down three grown men down to her mercy. The last she saw of the rogue cops was when she was sneaking a plier up her sleeve while the world was crumbling around the Professor and knowing Sierra, that's never a good sign.
However, many fans still believe that she is in a deadlock. There is no way by which she can overpower the Professor. Marseille and Benjamin can escape with Sierra's child. That too, literally right after she gave birth. So, it will be best for her to help the gang against their common enemy Tamayo and once they are all in the clear she will release the audio and bring Tamayo down once and for all.
Although there also presents an alternate theory where we can expect that Sierra can potentially screw the heist up for the gang. She can use the Professor's vulnerable state to overpower him and can also release the damning voice note against Tamayo which will result in him releasing his full wrath on the team.
It is going to be interesting to see how her storyline will play out in the final volume of Money Heist season 5.
3. Berlin's son Rafael will be the key to the gang's success
In a series of flashbacks, that have been beautifully presented in volume 1 of the final season, we have witnessed Berlin who was giving the training to his son so that he can also take part in heists with him. But in the span of the five episodes we never saw him in the present time and we never really understand what these flashbacks have to do with the current heist. Plus there's the haunting question of who is Tatiana and is she, Alicia Sierra?
All the theory is that with the gang is totally in a mess, which is becoming clear that escape is almost impossible, Tatiana and Rafael will come in and save the day. Whether they are a part of the Professor's plan or if they will come as a surprise is a major question but fans are sure that they are the key to success.
Volume 2 of Money Heist season 5 is set to air on 3rd December and we will have to wait and see which theories will be a hit and which ones will be a miss.