A few days ago there were strong reports that Virat Kohli would relinquish his captaincy from the shorter formats after the T20 World Cup in October. Hence it was expected that Rohit Sharma would take over the Indian captaincy in white-ball cricket.
However, a BCCI official came out and thrashed all such claims in an interview on Monday. BCCI treasurer Arun Dhumal spoke about these rumours with IANS.
"This is all rubbish. Nothing as such is happening. This is all what you guys (media) are talking about. BCCI has not met or discussed anything on this issue (split captaincy). Virat will remain as the captain of all formats. No such meeting took place."

Also Read: ESPNcricinfo Launches Game Changing New AI-Powered Query Service for Cricket Stats and Trivia
Will Virat Kohli step down from the Indian captaincy in limited overs format?
Despite the BCCI treasurer clearing out things regarding the Indian captaincy and claiming that Virat Kohli will continue leading the Indian side, the entire scenario is still sceptical. Considering the fact that Kohli's form has dipped over the last year and his numbers speak for itself.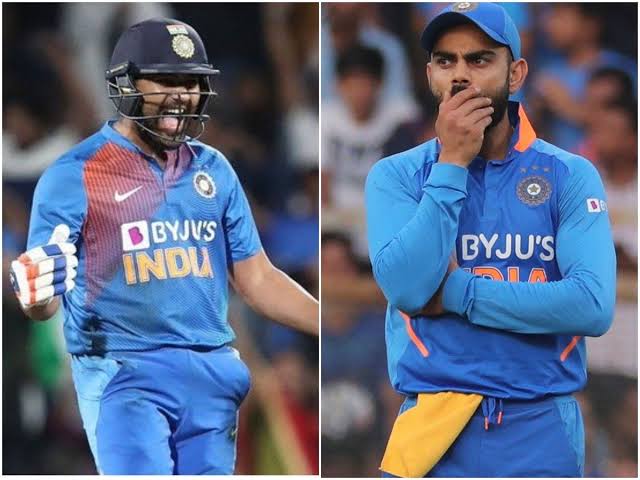 In addition to that, verified source like the Times of India has received some information from a BCCI official that has revealed that the current Indian captain will step down from his role to focus on his batting.
"Virat himself will make the announcement. He is of the view that he needs to concentrate on his batting and go back to becoming what he's always been — the best batsman in the world."
Therefore one cannot completely dismiss that Virat will not step down from his role as an Indian captain in the limited-overs format. Regardless of what happens in the future, fans wouldn't mind Virat staying as a captain because of his excellent win rate for the country as a captain.
Whereas Rohit Sharma is the most successful IPL captain and has led the Indian side to success in Virat's absence. In the end, it will be all upon Kohli to decide whether he wants to relinquish his duties as a captain.