Daniil Medvedev stunned Novak Djokovic 6-4, 6-4, 6-4 in straight sets to win his first grand slam title. Moreover, he broke Djokovic's run of 27 win streak in the US Open finals. The Russian's incredible victory spoiled the Serbian's chances of creating history of winning the calender year Grand slam title.
Novak Djokovic was in hot form this year after winning the French Open in June and Wimbledon in July. As a result, there were high expectations on the number one ranked player to win the US Open finals effortlessly. However, Daniil Medvedev outclassed the Serbian player and displayed his composure to claim an emphatic victory and earn his first grand slam title.
Subsequently, Novak Djokovic gave credit to the 25 year old after the finals. "He was hitting his spots very well. If you're playing someone like Medvedev who hits his spots so well, just aces, gets a lot of free points on his first serve, you're constantly feeling pressure on your service games."
Novak Djokovic reveals that pressure and fatigue cost him the US Open Finals against Daniil Medvedev

Following his loss against Daniil Medvedev in the US Open finals, Novak Djokovic revealed in the post match interview that the added expectations and the pressure to win the calendar year grand slam got to him. Moreover, he also said that playing constantly without getting sufficient rest played a role in the dismal performance in the finals.
"Relief. I was glad it was over. The buildup for this tournament and everything that mentally, emotionally I had to deal with throughout the tournament in the last couple of weeks was just a lot. It was a lot to handle."
The Serbian player congratulated Daniil Medvedev for his first grand slam title and also acknowledged the support he received from the crowd despite losing the finals.
"I would like to start off by saying congratulations to Daniil. Amazing, amazing match. If there is anyone that deserves a grand slam title right now, it is you. … I wish you many more grand slams and many more majors to follow."
"I was just glad that finally the run is over. At the same time I felt sadness, disappointment, and also gratitude for the crowd and for that special moment that they created for me on the court."
"The amount of support and energy and love I got from the crowd was something I'll remember forever.That's the reason on the changeover I just teared up.The emotion, the energy was so strong."
Regardless of his loss in the finals, Djokovic has played extremely well this year and has justified the number one spot in the world by winning three grand slam titles.
Daniil Medvedev expresses his emotions after winning the US Open final against Novak Djokovic
After creating history by becoming the third Russian to win a grand slam title, Daniil Medvedov expressed his sentiments in the post match interview.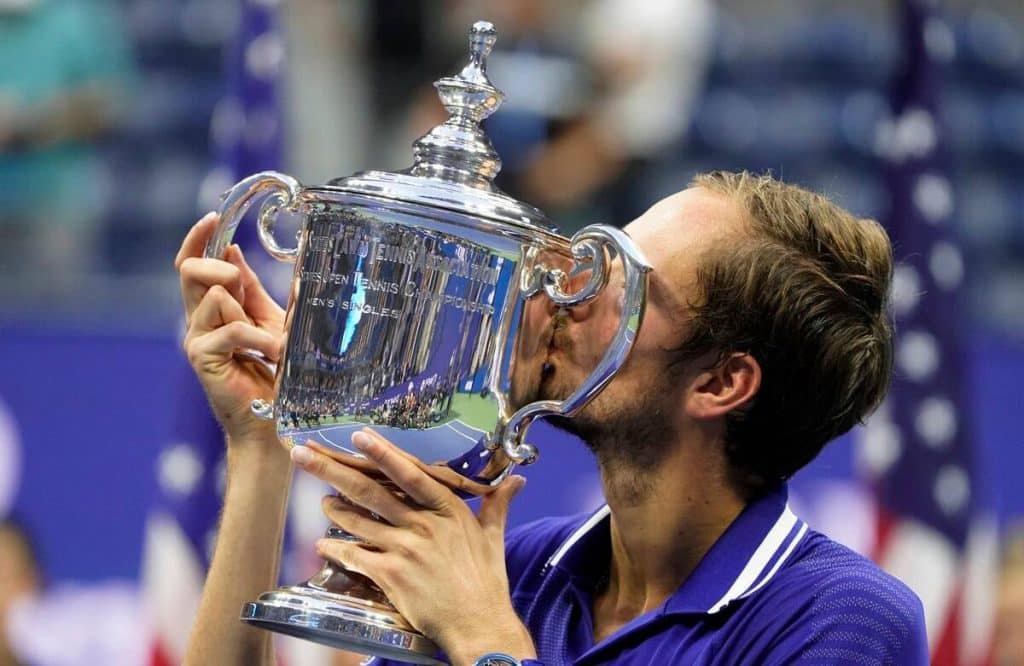 You never know if you're going to achieve [winning a major] in your career. I was always saying if I don't, I just want to know that I did my best to do it," Medvedev said. "[I feel] a lot of happiness. That's my first Grand Slam. I don't know how I'm going to feel if I win a second one or third one. That's my first one, so I'm really happy. Means a lot to me.
In the end, Daniil Medvedev displayed great patience and determination to win his first Grand slam title after failing in his two previous attempts. So it would be interesting to watch how he follows up in future major tournaments.
Also Read: US Open 2021: Emma Raducanu wins her first Grand Slam, defeats Leylah Fernandez 6-4 6-3 in Final