AMD is known to provide free games with its hardware and again it has brought a new AMD Ryzen™ + AMD Radeon™ Raise the Game System Bundle offer.
With this offer, AMD is giving gamers access to some of this year's most exciting titles – Far Cry 6® and Resident Evil Village™ – and providing incredible value across a range of the latest Ryzen- and Radeon-powered desktop PCs and laptops, including:
AMD Gaming Desktop Systems with Ryzen Processors and Radeon Graphics: Gamers craving stunning visuals and smooth gameplay in the most demanding games can put their hardware to the testin Far Cry 6 and Resident Evil Village withthe purchase of an eligible system powered by select AMD Ryzen 5000 or 3000 Series Processors and AMD Radeon RX 6000 Series graphics cards, and take full advantage of powerful all-AMD features like Smart Access Memory.
AMD Gaming Laptop Systems with Ryzen Processors and Radeon Graphics: Gamers that want the ultimate in 1440p and 1080p gaming on-the-go will receive Far Cry 6 and Resident Evil Village with eligible laptops featuring AMD Ryzen 5000 H-Series mobile processors and AMD Radeon RX 6000M Series mobile graphics to enjoy high-framerate gameplay and incredible fidelity, anytime, anywhere. Gamers can also unlock more performance and enjoy high-refresh rate displays and new gaming-optimized designs with new AMD Advantage systems.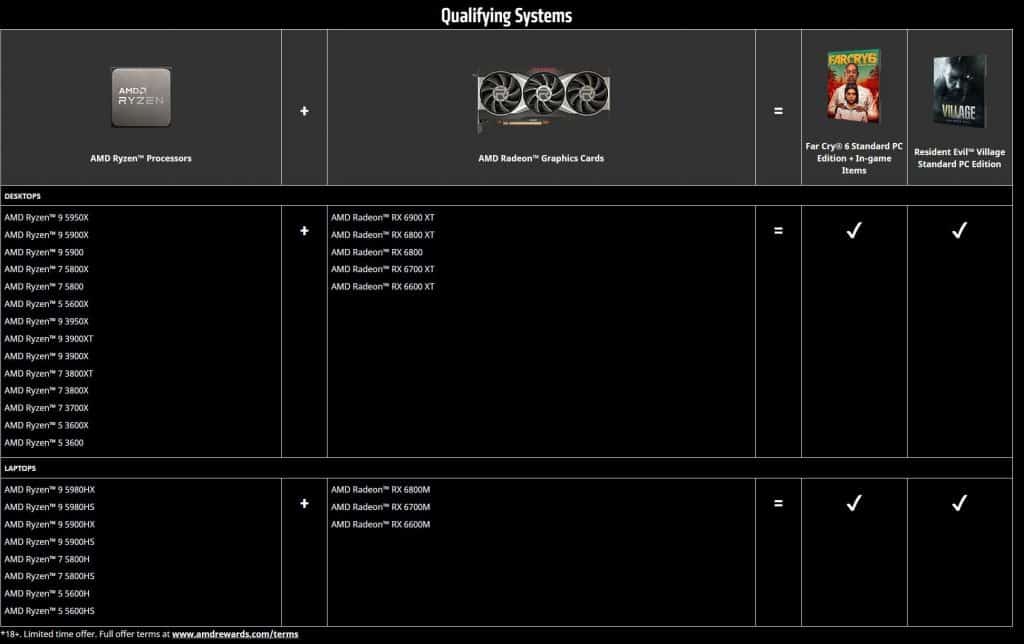 So, obviously, to get both of these games you have to buy an all-AMD powered Gaming PC or gaming laptop.

To make things simpler for you, gamers can find eligible Radeon RX 6000M Series and Ryzen 5000 H-Series powered gaming laptops, as well as AMD Advantage systems from OEM partners – alongside eligible desktops from SI and OEM partners – from AMD.com and leading etailers and retailers.
The AMD Ryzen™ + AMD Radeon™ Raise the Game Bundle will run from September 9, 2021 through December 31, 2021, and gamers will gain access to Far Cry 6 as it becomes publicly available (slated for October). The redemption period for the titles will end on January 29, 2022. For full details on regional eligibility, click here.