Previously making a fast reliable PC or even a laptop at budget would be damn slow always and the reason was mostly due to our old hard disks which just couldn't keep up with heavier OS with time and applications becoming more complex as well heavy than before.
So, SSDs did came in to help us tackle this problem and make our PCs or laptops faster but at a cost. Slowly and steadily much faster NVMe SSDs came and now the latest being the PCIe Gen 4 ones with over 7000Mbps speeds.
However, pratically for a budget PC or laptop any PCIe Gen 3 NVMe SSD with speeds in the range of 2000Mbps could deliver incredible fast performance. Most motherboards of PCs as well as laptops have extra or one NVMe SSD slots so that whenever your device slows down you can insert a fast SSD to revive it.

I had been looking for one cheap yet fast SSD for one of my old Gaming PCs and I came across this ADATA GAMMIX 256 GB M.2 2280 PCIe NVMe Solid State Drive: https://amzn.to/3E9rbRk, it costs Rs.3k range for Amazon Business customers and close to Rs 3.5k for normal customers.
Sometimes during sales, you can get this gaming SSD for less than Rs.3k, which for this NVMe SSD that has a dedicated heatsink makes it easier to recommend. Personally, I got this baby for just Rs 2.4k with offers and cashbacks, this makes the SSD one of the cheapest yet fast.
Specifications
Up to 4 times faster than SATA : Read/write speeds of up to 2100/1500MB/s
M.2 2280 Form Factor : Supports the latest Intel and AMD platforms and offers easy cable-free installation
The GAMMIX S5 utilizes LDPC (Low-Density Parity-Check) error correcting code technology to detect and fix a wider range of data errors for more reliable data transfers and a longer product lifespan
The GAMMIX S5 has 3D NAND Flash for higher capacity, durability and power efficiency
Equipped with a slender, black heatsink with a hairline-brushed finish makes the GAMMIX S5 look and stay cool
Featuring HMB and SLC caching , the GAMMIX S5 offer accelerated read/write speed & delivers great performance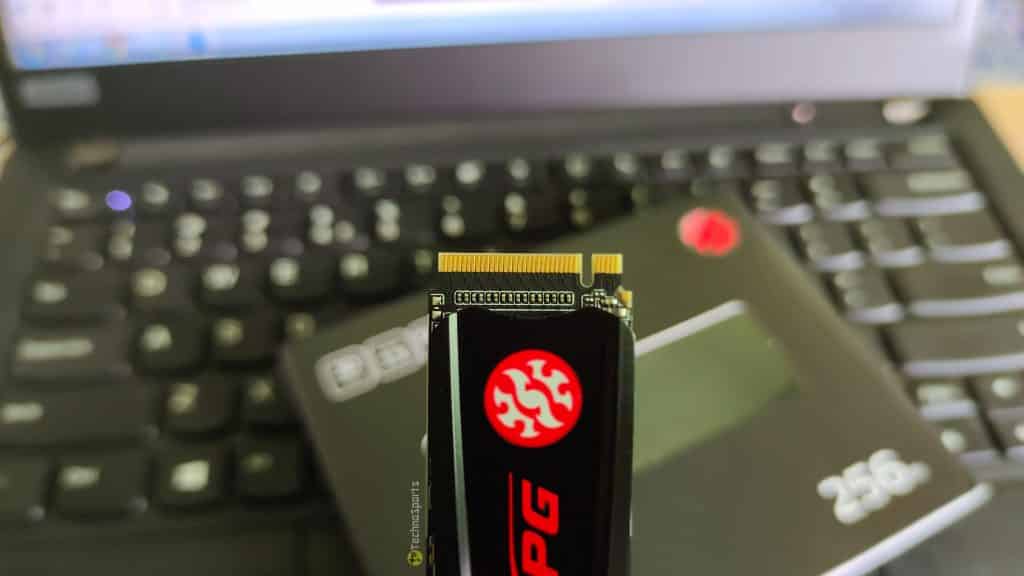 Speed
This ADATA GAMMIX 256 GB PCIe NVMe SSD is a budget NVMe SSD promising up to 2100MB/s read speeds which for booting up Windows or storing your most used games makes sense. Also you have 1500MB/s write speeds for quickly installing all your important applications like Adobe Premier Pro, Photoshop, Blender and others.
Here are the various benchmarks for the SSD:
In CrystalDiskMark you get up to 2200MB/s read speeds but a bit disappointing 1071MB/s write speeds.
In ATTO Disk Benchmark we see writing or reading files of different sizes and for sizes above 1MB, the SSD scores 1GB/s write and 2GB/s speeds.
In AS SSD benchmark also we see read speeds of up to 2058MB/s and write up to 964MB/s, and a total read score of 749 and 1093 points for write and an overall score of 2176.
While in AJA System Test, you see 2062MB/s speeds in read and 971MB/s write speeds that matches with the speed of almost all the other benchmarks.
In our last benchmark i.e. in Anvil's Storage Utilities where we again see up to 1986MB/s read speeds and practically half the read speeds when it comes to sequential writing up to 1000MB/s.
Performance
As you saw in the benchmarks, though the ADATA GAMMIX 256 GB PCIe NVMe SSD lives up to the read speeds the company promises but delivers no where near to the write speeds promised.
However, in real world, the speeds are good for everyday usage and if you use this drive as a boot drive, you won't be disappointed. I personally installed Windows 10 on the PC and it took less than 10 minutes to install it, also if you use it everyday you won't notice lightning fast boot speeds and no hiccups at all.
Also, in terms of transferring files, you see the SSD shines and only if the write speeds would be as promises, I would have given a 5/5 as it delivers great speeds for the price. Well, if you plan to use this SSD for your rig as a budget NVMe SSD for boot drive or just making your laptop faster with a new SSD, then this is a good option.
Another important feature which is unique to this device has to be that built-in heatsink which does keep the temps down in the 40 degree celsius while doing basic stuff or just transferring files but doing heavy stuff the temps go up by 70-80 degree celsius.
Verdict
Overall, if you are not into commiting much money in spending on an SSD, the ADATA GAMMIX 256 GB PCIe NVMe SSD could really be a good option for you.
This is not recommended for a high-end gamer or productivity people who need the fastest of the fastest SSDs but for those who need a good SSD without having to spend much. This PCIe Gen3 NVMe SSD would easily fit into your laptop, or desktop and could be a good upgrade if you are looking for a budget NVMe SSD.
Buy on Amazon India with FREE One-Day for Prime customers: https://amzn.to/2X9PJbN