Since last year, TVF has got an extended fan base, and the show that has played an important role to increase the fan base is Kota Factory.
At last, the much desirable trailer for season 2 of Kota Factory is out. It is definitely a genuine clip for the latest season that has seemed to deal with several new questions that are enough to haunt the teenagers. In the last season, we have seen that Vaibhav has qualified from Maheswari classes, but it is not his actual goal to fulfil.
Vaibhav has bid goodbye to his friends from Prodigy and his mentor Jeetu Bhaiya in the first season, but they all have connected in the city of Kota. In the trailer, we have seen Uday, Shivangi, Vartika, and Meena, who are all very precious parts of his life, and Vaibhav has found many new friends at Maheshwari.

This latest season will continue with Vaibhav, who is now in the second year of his IIT preparations. The journey of Vaibhav is just like a roller coaster ride. After joining the Maheshwari classes, he has got caught in its strict regimen.
In the first scene, all the students of Prodigy come to know that their beloved physics teacher Jeetu Bhaiya has left the tuition centre. All the friends of Vaibhav fall into a nervous gloom without their Jeetu Bhaiya.
The audience might indeed miss Jeetu Bhaiya, but at the end, his entry with some wise words promises to play a significant role in the life of Vaibhav this year. Jeetu bhaiya has a concise appearance in the trailer. Undoubtedly, the trailer has already conquered the hearts of the audience on YouTube.
It has been directed by Raghav Subhu, who has stated that as a director, he tried to generate stories that inspire and prefer the audiences throughout. The journey of season 2 of Kota Factory would definitely chronicle the students' journey at Kota and reveal the struggle they had to face regularly that would make it more connected and realistic.
The compelling story and the incredible performances would keep the audience sit in the same place. He has expressed his excitement to share the epic content with the diverse audience of Netflix.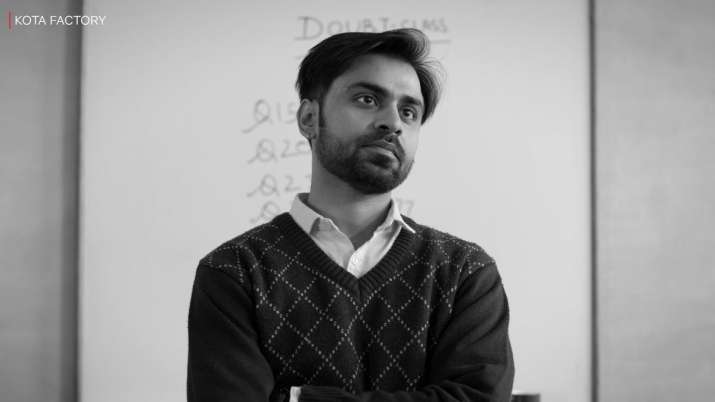 Jitendra Kumar on the role of Jeetu Bhaiya
Jitendra Kumar feels very close to his character Jeetu Bhaiya. It is natural as he was in Kota before acting and preparing to crack IIT. He had cracked it and also took admission to the Indian Institute of Technology Kharagpur. Jitendra said that considering his experience of studying in Kota, that had helped him a lot to portray his character in Kota Factory in real life.
He was very comfortable speaking the dialogues as he was very familiar with the lingo and the technical words. Primarily, Abhishek Yadav, Saurabh Khanna, and he also had a long talk about the character of Jeetu Bhaiya. He also said that the two wanted to reveal a teacher character of 'larger than life, and he had been a bit sceptical about the existence of this kind of teacher in reality.
Cast
This season, we will see Jeetendra Kumar as Jeetu Bhaiya, Mayur More as Vaibhav Pandey, Ranjan raj as Blamukund Meena, Alam Khan as Uday Gupta, Ahsaas Channa as Shivangi Ranawat, Rohit Sukhwani as Rohit, Revathi Pillai as Vartika Ratawal, and Urvi Singh as Meenal Parekh.
Release date
This new season of this popular series will premiere on 24th September 2021 on Netflix.
Here is the trailer: