The cryptocurrency king Bitcoin has faced a huge plummet in value since yesterday and thanks to El Salvador's troubled rollout of Bitcoin as the legal tender.
The loss seems to be as much as 17% and more in a day and its current value stand at $46,465. So, thanks to Bitcoin, other tokens such as Ether and Dogecoin have also lost some value in the last 24 hours.
"Social media platforms were very cautious over the weekend that a plunge could occur following El Salvador's big day," Edward Moya, senior market analyst at Oanda Corp., wrote in a note.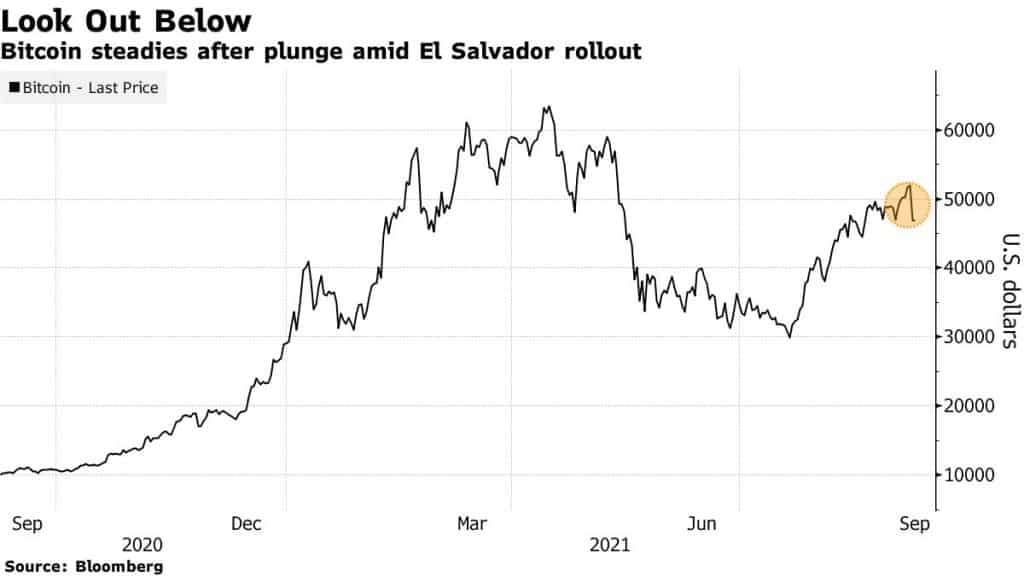 El Salvador's declaration to adopt Bitcoin has always been huge and investors already bought it in anticipation of the nation implementing its Bitcoin law on September 7th then selling them.
However, the adaptation to Bitcoin had a rocky start for El Salvador because of the technical glitches to the official digital wallet. President Nayib Bukele even said on Twitter that the country now holds 550 Bitcoins after buying when the price fell.
Obviously, as Bloomberg reports, Tuesday's selloff is the most significant one and the cryptocurrency market value fell about $280 billion in less than 24 hours, according to tracker CoinGecko. Also, some $3.7 billion of cryptocurrency liquidations occurred in the same time period according to Bybt.com. 
Even though Bitcoin has dropped significantly in a day or so, but the market prediction says it will rise again to reach $70,000 in value in the coming months. So, if you are someone looking to buy Bitcoin, then this is the perfect opportunity to buy.