On Monday (September 6), the Chinese tech company will hold an imaging technology sharing session. At the event, VIVO will introduce its self-developed V1 ISP chip. It is confirmed that Vivo that it will make its debut in the upcoming Vivo X70 series set to launch this week.
Now Weibo blogger Digital Chat Station has revealed real-life photos of the Vivo V1 ISP chip and compared it to Qualcomm Snapdragon 888 chip in terms of size. The blogger also revealed that the V1 chip was manufactured by Vivo itself and has more functions than just processing imaging, viewfinder look, and video recording function will go next level.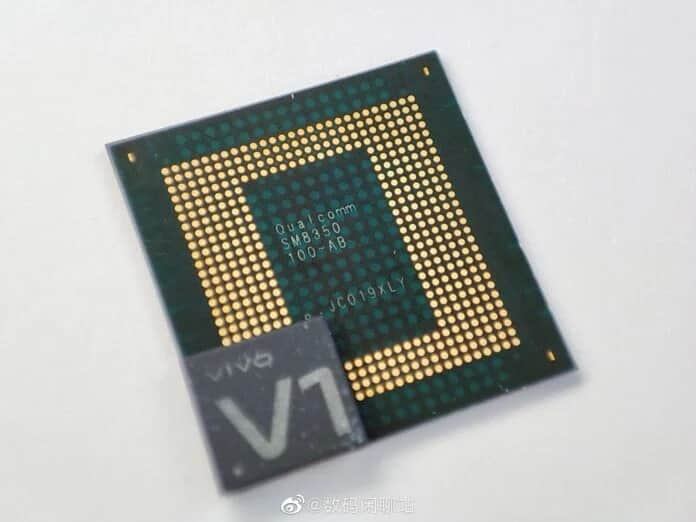 The ISP (Image Signal Processor) is mainly used to process the image signal output from the Image Sensor. As the core device of image processing, ISP has a crucial decisive role in the final imaging style and quality of cell phone cameras. There are speculations that only the Vivo X70 Pro+ will feature the custom ISP but until there is an official confirmation, it's best to take it with a pinch of salt.

The blogger also revealed that VIVO has organized the production of the V1 chip itself. This is quite important for a company that makes a chip for the first time.
Vivo takes two years as the cycle for each generation of the chip, V1 started to plan from 2 years ago to mass production conversion, while the next-generation chip started to plan a year ago.
The chip is divided into four stages, including a soft algorithm to IP (image processing) conversion, design of the chip itself, foundry flow, and packaging and output. In V1, Vivo is currently in the first stage, the chip design itself and the flow of the chip in the short term, Vivo is not very good at, is the stage of cultivating the ability.
The Vivo X70 series will launch with a variety of chipsets. The standard model will be available in Exynos 1080 and Dimensity 1200 variants, the X70 Pro will have the Exynos 1080 under its hood, and the X70 Pro+ will ship with the Snapdragon 888+ processor.
Also Read: