Sony Semiconductor Solutions has announced the launch of the IMX459 loaded single-photon avalanche diode (SPAD) depth sensor for automotive LiDAR (Light Detection and Ranging) applications using the direct Time-of-Flight (dToF) method.
The IMX459 sensor uses a stacked SPAD (single-photon avalanche diode) depth sensor using direct Time-of-Flight (dToF). The 6.25mm sensor combines a 597 x 168 SPAD array on a 10 μm pitch with a distance measuring processing circuit onto a single chip, making for a compact 1/2.9-type form factor.
According to the report, the product will be only 10 square microns in size SPAD pixels and ranging processing circuitry packaged on a single chip, forming a compact 1/2.9-type form factor for high precision, high-speed distance measurement.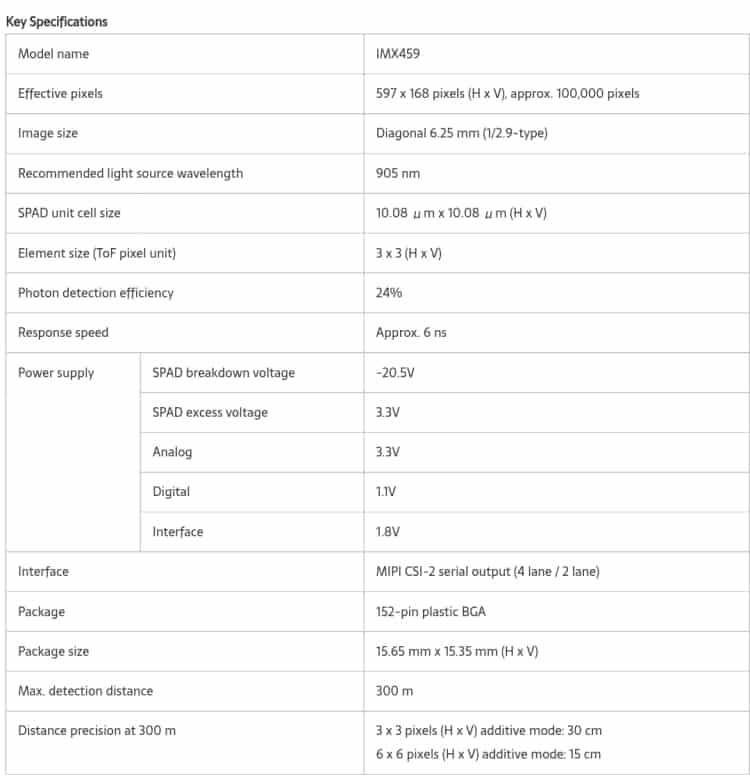 Among the many methods used for LIDAR ranging, the SPAD pixel is used as a detection element in the dToF sensor, which measures the distance to an object based on the time of flight (time difference) between the light emitted by the light source and its return to the sensor after being reflected by the object, Sony said.
Using technologies such as back-illuminated pixel structure, stacked structure, and Cu-Cu connection created during the development of CMOS image sensors, Sony has succeeded in building a unique component structure that packages SPAD pixels and ranging processing circuitry on a single chip.
This design enables pixel sizes as small as 10 square microns to be miniaturized while achieving a high resolution of approximately 100,000 effective pixels on a 1/2.9-type size format. It also enhances photon detection efficiency and improves responsiveness for high speed, high accuracy distance measurement from long range to close range in a unit range of every 15 cm.
The sensor also uses a light incidence plane with irregularities on its surface to refract incident light, thereby enhancing the absorption rate. These features result in a high 24% photon detection efficiency in the 905 nm wavelength commonly used in automotive LiDAR laser light sources. For example, it is possible to detect far-off objects with a low reflection rate at high resolution and distance resolution.
Additionally, an active recharge circuit is included in the circuit section, which comes with a Cu-Cu connection for each pixel, allowing for a response speed that is approximately 6 nanoseconds at normal operation for each Photon.
The product complies with safety standards for automobile applications and the single-chip design contributes to more compact and low-cost LiDAR. It is set to be certified as meeting the requirements of the AEC-Q100 Grade 2 automotive electronic component reliability tests.
Also Read: