Disney + Hotstar VIP is ready to gear up to launch the monsoon blockbuster shows, it will provide a kick-off with their incredible September lineup. It is expected that in the coming days also Hotstar will fill its library with many original releases and shows. This September Hotstar is going to release all categories of the show whether it is a thriller, rom-com, action, or horror. In this month the bag of Hotstar will be filled with some original releases like The Simpsons, Bhoot Police, Family Guy, and Dug Days. On the Instagram page, Disney has revealed the list of all the upcoming shows this September.
Here is a list of all the upcoming shows that will release in September 2021:
34. Unhead Only Murders in The Building
Release Date: Coming Soon
It depicts the story of three strangers who have shared their obsession having the true crime and suddenly have found themselves to be caught up in the one.
33. A Galaxy of Sounds
Release Date: 29th September 2021
Disney + Hotstar has set to release this show in the last week of September. It is expected that this will attract the eye of the viewers.
32. The Simpsons(Season 33)
Release Date: 27th September 2021
It depicts the satirical adventures of a family in which most has belonged from the working class in the misfit town of Springfield.
31. Family Guy(Season 20)
Release Date: 27th September 2021
It depicts a Wacky Rhode Island city, a story of a dysfunctional family that has strived to cope with everyday life like they have jumped from one crazy scenario to the other.
30. The Great North(Season 2)
Release Date: 27th September 2021
It is an animated adventure series of a single father and also his weird Alaskan family.
29. F1-Russian GP
Release Date: 26th September 2021
It depicts the story of the car Ferrari which has continued its march along with the first pole position in the five years, but it has seen that the two of the Mercedes that is looking incredible in behind them to the grid.
28. A Spark Story
Release Date: 24th September 2021
It follows the story of Pixar's SparkShots filmmaking procedure mainly the process of Cobin and Gonzales who has offered an incredible look to fetch all their personal visions on the screen.
27. The Wonder Years
Release Date: 23rd September 2021
It depicts Kevin Arnold who has recalled all their growing up at the time of the late 60s and also early 70s which was the time of the social turbulent that make the transformation from childhood to adulthood which is really very interesting.
26. Star Wars: Visions Our Kind of People
Release Date: 22nd September 2021
It is an anthology series that will reveal some of the best creators of animation that have brought all their talent into this beautiful universe.
25. The Resident(Season 5)
Release Date: 21st September 2021
It revolves around some group of doctors at Chastain Memorial Hospital. They have faced personal and also professional obstacles on a regular basis.
24.9-1-1(Season 5)
Release Date: 20th September 2021
It is an action thriller film. It will provide you such high-pressure experiences to the first responders who are really want to get it into the most frightening, shocking, and heart-stopping conditions.
23. Reservation Dogs
Release Date: 20th September 2021
It is mainly a funny comedy series based on four Native American teenagers who have grown up on the reservation in eastern Oklahoma.
22. Vivo IPL
Release Date: 19th September 2021
It is called Indian Premier League. In this, we will see all the cricket players who are participating in the combat that can transcend all the barriers. It is for all diehard cricket fans.
21. Maestro
Release Date: 17th September 2021
It began with Nithin who has showcased his skills just like an expert piano player. In this, he will fall in love with actress Nabha Natesh who always has complimented about his compositions and after that, the actress Tamannaah who is a woman entered into his life, and after that, his life starts to change forever. In this Tamannaah is looking suspicious while we can easily understand the chemistry of Nabha Natesh and Nithin. In this Jishu Sengupta will play the role of a police officer and also a paramour. The dialogues of director Merlapaka Gandhi, the music of the movie by Mahati Swara Sagar, and cinematography by J Yuvraj.
20. The Premise
Release Date: 17th September 2021
It is an upcoming anthology series that has used all the boldest issues of the time like jumping-off points to tell singular, character-driven tales based on the world that we have lived in today.
19. Bhoot Police
Release Date: 17th September 2021
Arjun Kapoor and Saif Ali Khan will play the role of the ghost hunters who are not the exact character what they have seen in the trailer of this film. In this Saif will be the fake baba Vibhoti who would any day take sex and also booze on catching of the ghosts. In this Arjun, Chiraunji had been gone by the book which I one of the particular book named as 'baba ki Kitab. In this book toward the forces of supernatural powers, Jacqueline will play the role of Kanika, Yami as Maya and they also will quartet the horror-comedy of Pavan Kripalini. Both of them would be seen as bringing their trademark fun elements to the brand new looks as they would portray in this movie.
18. Spark short: Nona
Release Date: 17th September 2021
It is an upcoming animated short film that revolves around emotions and sacrifice. It is a Pixar animated film. In this Nona is a grandmother who just has shut her day off to see her favorite TV series, E.W.W. Smashdown Wrestling.
17. Annabelle Sethupathi
Release Date: 17th September 2021
The story of this horror-comedy is based on King Veera Sethupathi who once built this palace as a symbol of his beloved Annabelle in 1948. The King was hired 8 craftsmen from several places for the design of the palace and now it is 2021 and the palace has become haunted and in this film, we will see the incidents that will happen to that place. In this, we will see Taapsee in the double role, like in the role of a queen and also a modern-day burglar. This haunted palace is now just like the home of a group of ghosts. One rich man named Jagapathi Babu has taken back to the architectural wonder and also will try to buy the original palace but Sethupathi refuses to sell it. In this present time, we will also watch a family in which there is living a young girl just looking like Annabelle means Taapsee Pannu but she has dared to live in the abandoned house and after that, we will see some funny comedy in this film
16.Dance+ 6
Release Date: 14th September 2021
It is an incredible dance reality show. In which we can see some fantastic dance performances.
15. Y: The Last Man
Release Date: 14th September 2021
It is an upcoming science-fiction apocalyptic series. The story is based on Yorick Brown and also his pet Capuchin monkey Ampersand who are the only males to survive the apparent andro side in global.
14. Scenes From A Marriage
Release Date: 13th September 2021
The story of this film will transport you from the Swedish original set story of the 70s to this modern-day America. Isaac and Chastin become embody all the roles which also become rooted by Liv Ullmann and Erland Josephson respectively who is playing the role of an affluent married couple whose marriage has also become charted along the decade from the disintegration for the reconciliation and return.
13.F1-Italian GP
Release Date: 12th September 2021
It is mainly the oldest fifth Grand Prix. It has been run by Formula One World Championship Grand Prix each season since the championship that had been introduced in 1950.
12. Premier League
Release Date: 11th September 2021
It is the top-level English Premier League system. In this, we can see some talented footballers playing in this league.
11. Shark Beach with Chris Hemsworth
Release Date: 11th September 2021
In this, we will see Chris Hemsworth on a mission to reveal the actual science of the shark behavior to know about the coexistence of the top predator and the humans
10. Spark short: Twenty-Something
Release Date: 10th September 2021
It is an animation series that has been created by hand-drawn animation. It depicts Corbin and also the director who has some personal connection with the original character.
9. American Crime Story Impeachment(Season 3)
Release Date: 8th September 2021
It is an upcoming anthology series that has been centered on the most notorious crimes and also the criminals.
8. Doogie Kamealoha, M.D.
Release Date: 8th September 2021
It is a story of a teenage wunderkind juggling a girl and her high school life with her early medical career.
7.F1-Dutch Grand Prix
Release Date: 5th September 2021
It is mainly a Formula One motor car racing event held at Circuit Zandvoort, North Holland, Netherlands.
6. Marvel Studio's Black Widow
Release Date: 3rd September 2021
This Black Widow trailer, reveals a young Natasha who has blue-colored hair and looking for digitally de-aged David Harbour, who is the father of Natasha and Yelena's father named Alexei Shostakov, we also see that their mother Melina Vostokoff has already apologized to Natasha. This trailer also reveals the struggle of Natasha in facing her past and also dealing with some incomplete business. This new trailer also reveals Dreykove who is the head of the Red Room where all of three were trained and the story is also based on the mission to take down the Red Room, the place where Natasha, Yelena, and Melina was trained to become an assassin, the room that is haunting her for a huge time
5. Happier Than Ever: A Love Letter to Los Angeles
Release Date: 3rd September 2021
This film also has featured FINNEAS, which is the chorus of the group of Los Angeles Children. In this, the Los Angeles has been conducted by music and artistic director Gustavo Dudamel and also one of the famous Brazilian guitarists, Romero Lubambo that has the arrangement of the Orchestra by David Campbell. This film has been produced by Interscope Films and also Darkroom Productions that has been associated with Nexus Studios and also Aron Levine Productions. In this, the live concert director is Kerry Asmussen and the photography director is Pablo Berron.
4. What We Do in The Shadows(Season 3)
Release Date: 3rd September 2021
It is based on Staten Island. It follows the lives of the three traditional vampires named Nandor, Laszlo, and Nadja. It depicts the interaction of the centuries-old vampire with the modern world.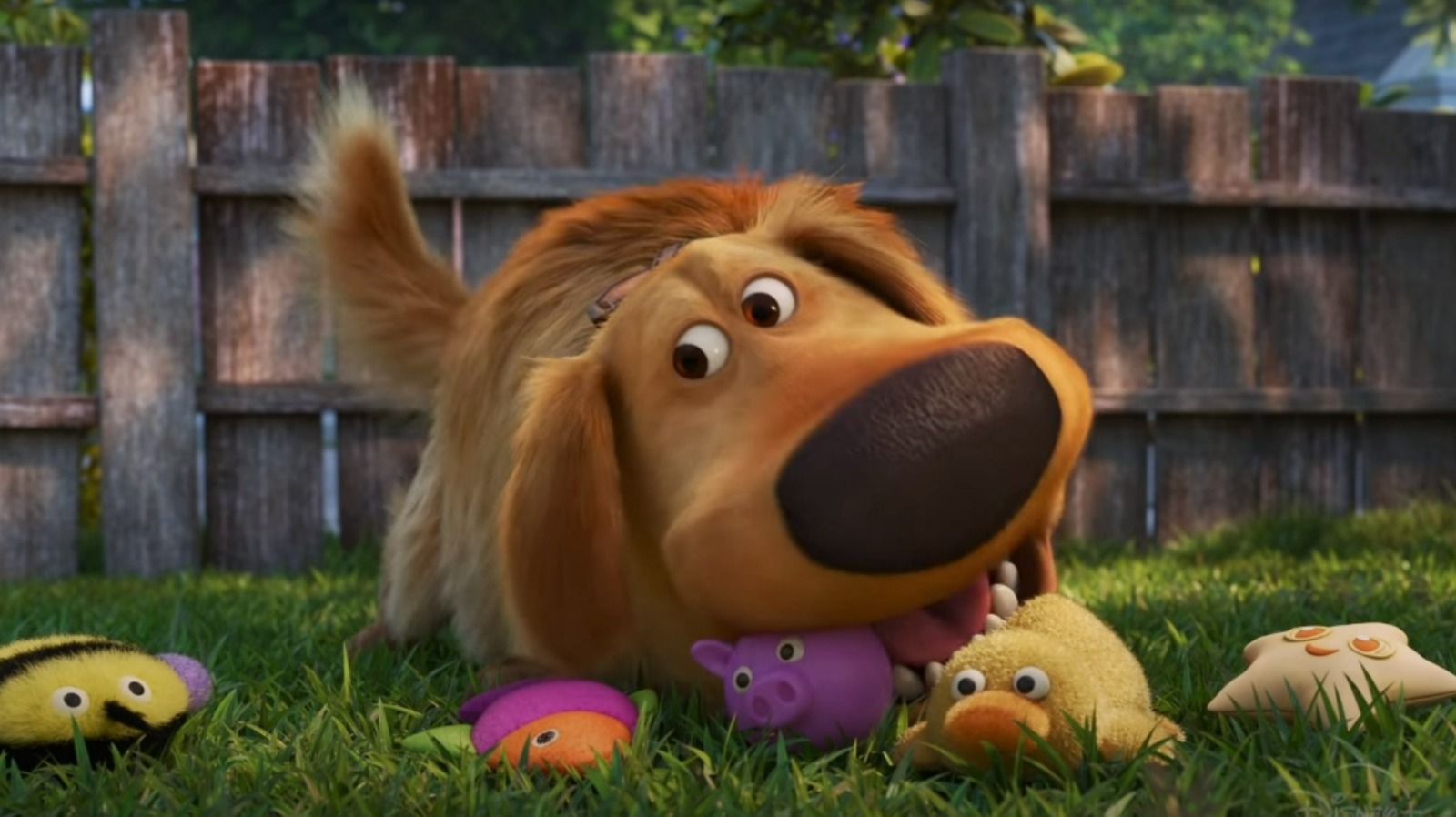 3. Dug Days
Release Date: 1st September 2021
On the occasion of International Dog day Disney has released the new trailer and also the key of the art for the latest series of Dug Days. It has been helmed by Pixar Animation Studios. It is mainly a series of shorts that is following some humorous misadventures of Dug which is nothing but the loveable dog from Disney and also Pixar's feature film that has been nominated for the winning of Oscar Up whose high technical collar just has translated all his thought and also speech.
2. Fake Famous
Release Date: 1st September 2021
This documentary has followed the story of an actress, fashion designer, and also the real estate assistant who has attempted to be a social media influencer after buying some fake followers.
1. That One Word: Feyenoord
Release Date: 1st September 2021
It is based on the football club Feyenoord which has opened their doors to provide a close look at the struggle of the club having the imp[act of the pandemic in the 2020-2021 season.