South African pace sensation Dale Steyn has announced his retirement from all formats of the game after having a splendid 17 year long career. Widely regarded as one of the best fast bowlers in the history of the sport, Steyn has played 93 Test matches, 120 One day internationals and 47 T20I's for Proteas.
He went on Twitter to declare his retirement in a heartfelt caption along with few of his favorite pictures. "And it's been a long December and there's reason to believe maybe this year will be better than the last. I can't remember all the times I tried to tell my myself to hold on to these moments as they pass."
"It's been 20 years of training, matches, travel, wins, losses, strapped feet, jet lag, joy, and brotherhood. There are too many memories to tell.Too many faces to thank. So I left it to the experts to sum up, my favorite band, the Counting Crows."
Before ending the statement, the South African speedster thanked his family, team mates, fans and everyone that were involved in his career. "Today I officially retire from the game I love the most. Bitter sweet but grateful.Thank you to everyone, from family to teammates, journalists to fans, it's been a incredible journey together."
Teammates and Rivals react to the retirement of Dale Steyn on Twitter
Cricket players across the world appreciated the greatness of Dale Steyn and thanked him for his contribution to the sport on Twitter. The Speedster's teammate Mr.360 called him a legend forever and reminisced all the memories that he shared in the tweet.
The 38-year old's competitor Shane Watson praised him for his fierce competitiveness and also claimed Steyn to be the best bowler he has ever faced in his career.
Moreover, England's James Anderson called Steyn a "Great" on Twitter and Australian fast bowler Pat Cummins complimented him for paving the way for young pacers across the globe.
Also Read: Top 10 pace bowling duos in cricket of all time
Accomplishments of Dale Steyn throughout his Career
Without a doubt, cricket fans around the globe regard Dale Steyn as one of the best bowlers of all time. There are several reasons why Steyn Gun will go down as one of the greatest legends in the sport. The Right arm fast bowler made his debut for South Africa in 2004 against England.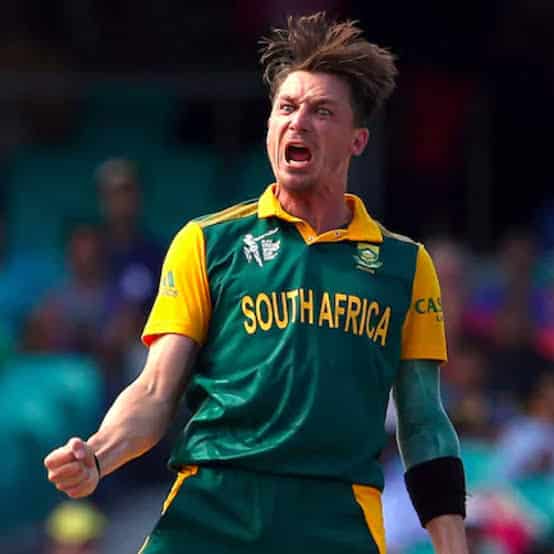 A few years after playing his first game for the Proteas, Dale Steyn announced himself to the world by destroying the New Zealand batting order with a five-wicket haul. Ever since his first five-wicket haul, there was no stopping the fast bowler. Steyn quickly turned into a fearsome bowler and started demolishing batting lineups with his exceptional pace and swing.
Consequently, Dale Steyn reached the pinnacle of his career in 2008 as he claimed the number one spot in the ICC Test Rankings. However, what's mind blogging is a fact that he held the number one rank for a record-breaking 263 weeks i.e 2356 days at the top. Therefore the above stat is a testament to his greatness.
Subsequently, let's take a look at some of the achievements of Dale Steyn in his 17-year illustrious career for South Africa.
ICC Test Player of the Year: 2008.
South African Cricketer of the Year: 2008.
ICC Test Team of the Year: 2008, 2009, 2010, 2011, 2012, 2013, 2014, 2016. Wisden Cricketer of the Year: 2014
ICC ODI Team of the Year: 2011, 2014
ICC Test Team of the Decade: 2011–2020
Wisden Leading Cricketer: 2013

To conclude, Dale Steyn has taken 439 wickets in Tests, 196 dismissals in Odi's and 64 in T20I's. As a result, Steyn is one of the best bowlers that South Africa has ever produced. Furthermore, the 38-year-old is the leading wicket-taker for Proteas in the longest format of the game.
Therefore it is needless to say that the Cricketing world will miss the aggression and quality of fast bowling that Dale Steyn brings with him. Moreover, kids aspiring to be cricketers will learn a great ton from Steyn Gun. Hence everyone should be thankful to be able to witness Steyn wreck through the best batting lineups in the world.