Apple Watch has become a fitness companion for everyone across the globe, and people are happily adopting it, even paying a lot more than the competition. Using Apple Watch becomes a more common thing if you already own an iPhone, so being in that Apple ecosystem is really helpful for daily life.
This is the reason why the Apple Watch continues to be the most popular smart watch on the market. In Q2 2021, Apple has reached a new user base milestone, according to Counterpoint Research's Global Smartwatch Shipments Tracker.
Now, there are more than 100 million active Apple Watch users worldwide, thanks to Apple's amazing health features and design that makes it a must-have for many. It's also possible that the Cupertino giant has reached the milestone earlier than 2021; as Neil Cybart said in February that based on his estimates, Apple reached 100 million users back in December 2020.
Compared to Q2 2020, there's a substantial 27% increase in global smartwatch shipments in the second quarter of 2021, and much like last year, Apple still maintains its number one position. However, Apple had 30% of the market share last year and has dropped to 28% last quarter but is well above the competition from Samsung, Huawei and others.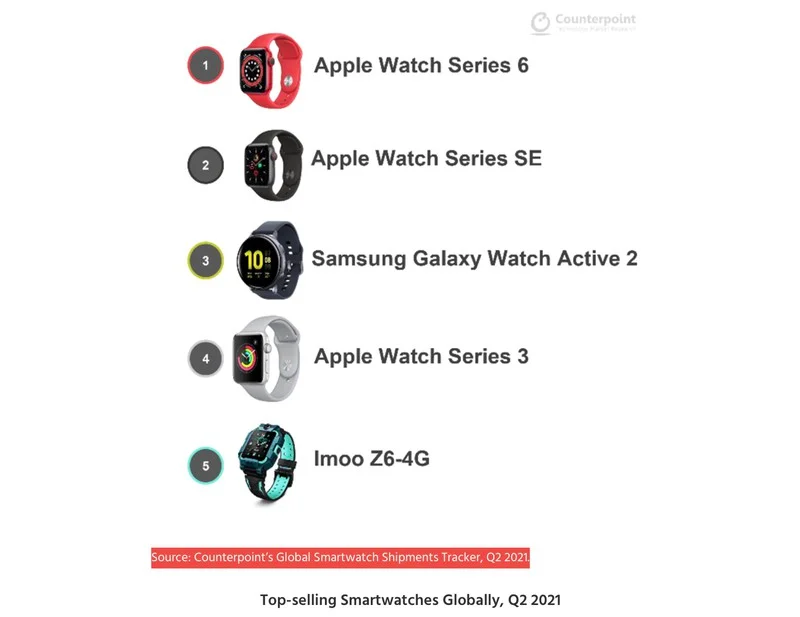 In fact, the United States continues to be Apple's largest smartwatch market that accounts for more than half of the Apple Watch user base. During the last quarter, the premium Apple Watch Series 6 was the most popular smartwatch overall, followed by the Apple Watch Series SE.
While the Samsung Galaxy Watch Active 2 managed the third spot, the budget Apple Watch Series 3 came in fourth and the Imoo Z6-4G in fifth.
However, if you are looking to buy a premium smartwatch, just wait for a few more weeks as Apple is all set to launch the Apple Watch Series 7 models next month.
Buy the budget Apple Watch Series 3: https://amzn.to/3gCwbDH
Source: MacRumors