The desktop processor market has shifted in favour of AMD for over a year and now but the dominance of its is growing everyday. Especially after the disastrous launch of the Rocket Lake-S desktop processors, AMD's efficient yet costly Ryzen 5000 series CPUs have become even more popular.
Gone are the days when AMD was touted to heat up the most, even its Ryzen 3000 series CPUs are more efficient than Intel's. This is the reason why people are not afraid of even buying the older CPUs from AMD as well, in the recent Top 10 Computer CPU Processors list on Amazon US we see 9 of out of them are by the Red team.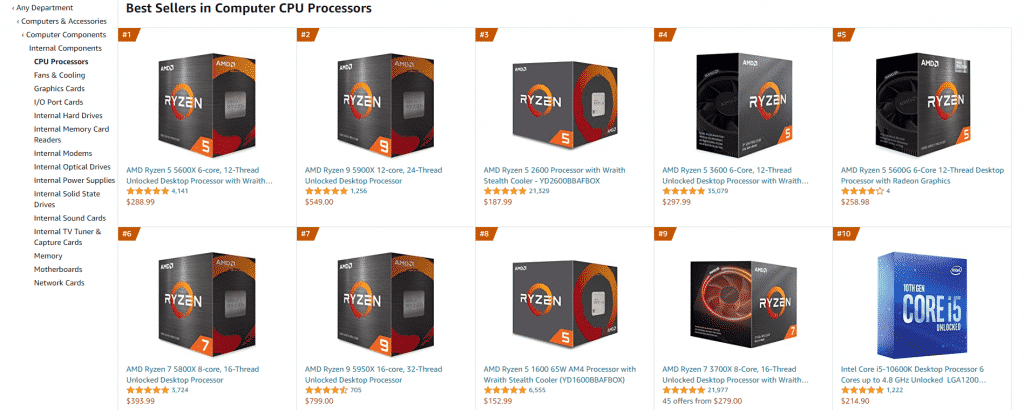 First time, I have seen such dominance of AMD in the Top 10 list and still the Ryzen 5 5600X is the best-selling CPU followed by the powerful yet costly, but worth-the-investment Ryzen 9 5900X. As we have no new AMD Ryzen CPU at budget, especially under $200, even the older Ryzen 5 2600, which is a fan favourite, gains the third spot.
This is followed by the ver popular Ryzen 5 3600 and then the newer Ryzen 5 5600G, which we reviewed last week. Then we have the Ryzen 7 5800X, the fastest 8-core option followed by the monstrous Ryzen 9 5950X, interestingly, we even have the old Ryzen 5 1600 and the Ryzen 7 3700X.
Well, the only Intel chip in the Top 10 list is the budget Intel Core i5-10600K, which is value king for its good performance and is an unlocked chip, good option at that $200 price mark. However, it surprises me to see how people have shifted to AMD in a short time and we have them leading the desktop CPU market in terms of sales.
Here is the access to the Top 10 processors: https://amzn.to/3z0YZgv