GPUs have gone very powerful in the last few years, but the display standards haven't made a huge impact on modern GPUs. We do have the latest HDMI 2.1 port that supports up to 4K 120Hz, but although the DisplayPort 2.0 standard has been announced in 2019 but haven't been implemented on modern GPUs.
The DisplayPort 2.0 does extend the Ultra High Bit Rate support up to 20 Gbit/s per lane, so the data rate goes up to 77.37 Gbit/s (80 Gbit/s total rates), almost three times as high and as DisplayPort 1.4a. 
Naturally, the GPU has to be powerful enough to supply such high data rates to modern monitors, so it seems next-gen GPUs will be having the port finally! This new standard supports up to 10K display with an uncompressed stream at 60 Hz or can simultaneously support two 4K displays at 144 Hz.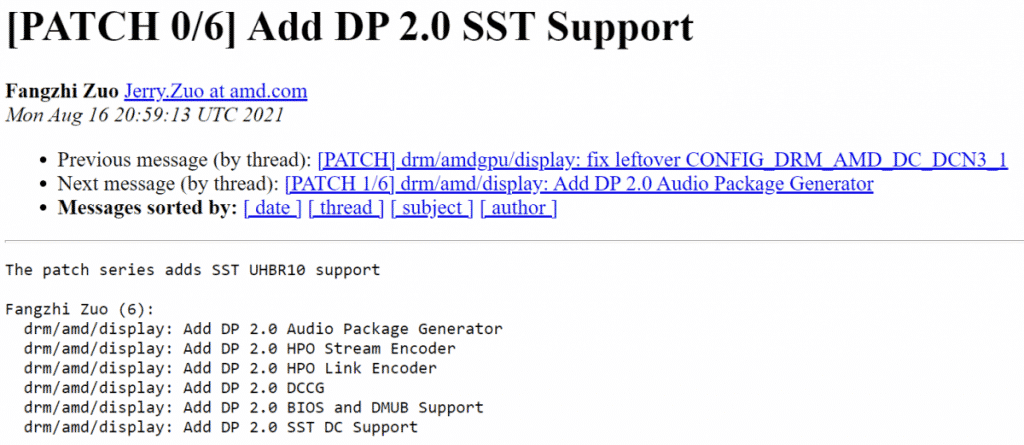 It seems the latest patch to the AMD GPU driver could lay the groundwork for future generations of AMD Radeon graphics cards, and indeed the upcoming RDNA3 is the most exciting prospect.
These AMD GPU Linux driver patches clearly mention the support for DisplayPort 2.0, and AMD will launch only two GPU architecture – CDNA2 by the end of this year and RDNA3 by next year. So, obviously, AMD could be planning to bring the high bandwidth supported DisplayPort 2.0 into its GPUs, most probably on RDNA3 gaming GPUs next year.
via Videocardz