The restoration of the Estadio Santiago Bernabeu is nearly complete, and football is expected to return to the stadium in less than a month.
Real Madrid's stadium redevelopment has advanced significantly ahead of schedule since the COVID-19 epidemic struck in 2020, and they are now focusing on concealing indications of building activities in preparation for the September 12 reopening.
About the Stadium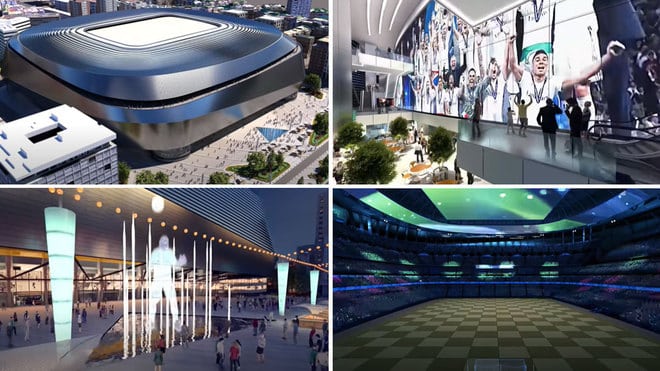 The Santiago Bernabéu Stadium in Madrid, Spain, is a football stadium. Since its completion in 1947, it has been the home stadium of Real Madrid, with current seats of 81,044. After Camp Nou and Westfalenstadion, it is Spain's second-largest stadium and the third-largest home to a top-flight European team.
The stadium is one of the most famous football stadiums in the world, named after former Real Madrid president and footballer Santiago Bernabéu.
Redevelopment of the Stadium
However, there is still a lot of work to be done before football can be played in Los Blancos' spiritual home once more, the most important of which is laying down grass where the pitch should be.
There are also no seats in certain portions of the stands, which needs to be fixed right away, even though these are small installations compared to how significant they are to the overall notion of a football match.
Is the playing surface close to being finished? The retractable grass system is currently covered to lay the grass for this season on top. After that, a preliminary plate will be installed on which the turf will be installed over three nights towards the end of August.
Getting 35,000 people into a new stadium for a football game is no easy task, and several safety precautions must be implemented.
Because access from the east side of the ground is now impossible, two new access towers are being built, with the structures already in place. The two historic access towers on Paseo de la Castellana are being removed.
Real Madrid anticipates that the ground will be finished and polished by the end of 2022, or the beginning of 2023 if minor delays occur.