Finally, HP has announced its creative-focussed professional Envy series of laptops in India, powered by the latest 11th Gen Intel processors and NVIDIA graphics. According to HP, the new ENVY portfolio caters to the evolving demands of today's content creators.
HP hasn't changed much compared to its previous Envy laptops in terms of design, but you have colour-accurate modern displays with a 16:10 aspect ratio and a sturdy design & build quality. So, these ENVY 14 and ENVY 15 notebooks cater to high-performance computing needs wherever you go.
Also, being powered by Intel processors, you have Intel goodness like Thunderbolt 4, Intel Wi-Fi 6 and other features. Not only this, HP's Creative Consumer Insights study has even revealed that 74% of PC users, especially millennials and Gen Z, are more serious about creating.
So, HP believes that these new ENVY notebooks address the requirements of a blended work environment by delivering compact, lightweight PCs with pristine video and audio capabilities that offers creators the ability to create wherever they are. Also, both of these premium notebooks are Windows 11 ready, so you can get the latest Windows when it launches at the end of this year.
Here are the specs & features of both the HP Envy 14 and Envy 15 laptops:
HP ENVY 14
First up, the laptop sports an impressive 14inch display that delivers precise colours offering users a bigger canvas. It provides an immersive visual experience with a 16:10 display that offers an 11% greater viewing area than a traditional 16:9 laptop.
Focussed on creativity, the HP ENVY 14's display features colour calibration and Delta E <2 colour accuracy, covering 100% sRGB colour gamut. It also offers users easy access to customize display settings depending on the creative scenario.
Talking about performance, as previously told, you have the latest 11th Gen Intel Core processors paired with NVIDIA® GeForce® GTX 1650 Ti Max-Q design graphics. This helps to bring faster rendering, seamless playback, and smooth multitasking.
For thermals, HP has used IR thermal sensor, thin-blade fans and heat pipes to keep the PC cool throughout the day. Also, the HP Dynamic Power is an interesting feature that dynamically allocates power between the CPU and GPU for the optimal creator workflow.
So, in terms of performance, HP has got you covered and even promises up to 16.5 hours of battery life. For audio, you have dual speakers and audio by Bang & Olufsen, providing users with the power to produce high-quality content. Thanks to Thunderbolt 4, you can connect up to 3 external displays, and transfer huge files in a snap.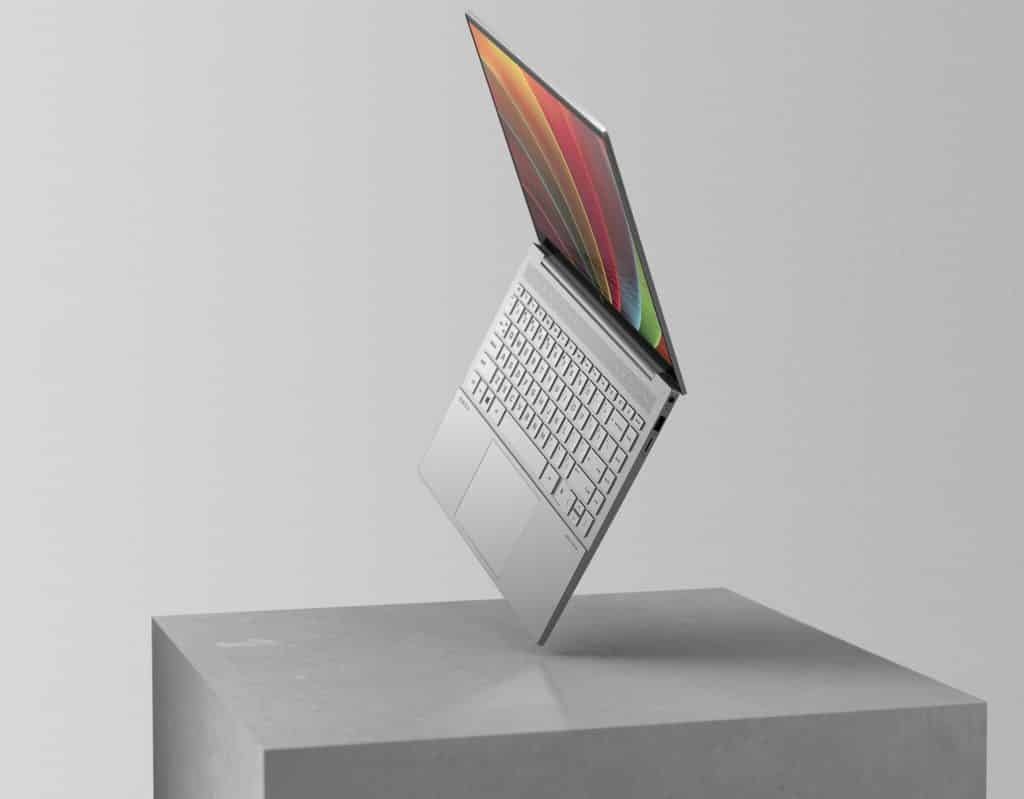 To help creators, HP has a bunch of improvements with the Envy 14 and has optimized the laptop so that you get the best experience in creative software and tools typically used by creators including Adobe Photoshop, Adobe Premiere Pro, Adobe Lightroom, and more.
Also, the new feature called HP QuickDrop helps to quickly transfer photos, videos, documents, and more, wirelessly between PC and mobile devices. HP Envy 14 does support AI Noise Removal to block out background noise so users can record videos, conduct meetings and calls, or host virtual events hassle-free.
You also have a webcam that can be digitally controlled that allows users to turn their cameras off or know at a glance if their cameras are on, preventing hacking concerns. Users can use the dedicated buttons to switch microphones on/off easily, so users do not have to worry about people listening in to their conversation and also there's a fingerprint reader for safe and fast logins.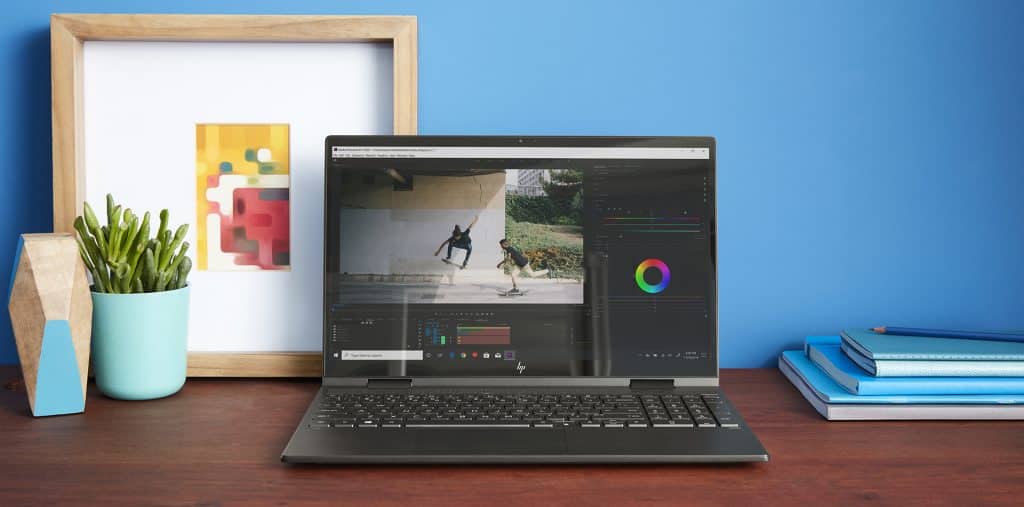 HP ENVY 15
It is similar to the Envy 14 in terms of design and features, however, brings a minimalist design, with a sophisticated aluminium chassis and diamond-cut design. The Envy 15 also has the software and hardware features that provide the content creators with an unparalleled experience of versatility and mobility. 
The laptop as its name suggests has a bigger 15.6-inch display for those who like an extra bit of screen but will retain the same colour accuracy and features you saw in the Envy 14. Again, it's powered by 11th Gen Intel Core processors and you have up to NVIDIA GeForce RTX 3060 Max-Q graphics for those who need more GPU horsepower.
It also offers gaming-class thermals to power through intensive workloads and also provides superior battery life of up to 16.5 hours. It is optimized with creative software programs and tools typically used by creators including Adobe Photoshop, Adobe Premiere Pro, Adobe Lightroom, and more.
The HP Envy 15 also retains those helpful features you saw with Envy 14 like the HP QuickDrop which helps you to transfer photos, videos, documents, and more, wirelessly between PC and mobile devices.
Pricing and Availability
Coming to the pricing, HP has rightfully priced the new HP Envy 14, with a starting price of INR 104999/- and will be available in Natural Silver colour. The Envy 15 too will be available in the same colour and have a starting price of INR 154999/-.
The HP ENVY Portfolio will be available at HP World Stores and via its online store as well as other retail outlets such as Reliance, Croma, and leading eCommerce sites Amazon, Flipkart and major multi-brand outlets.
Additionally, Adobe is exclusively offering a complimentary 1-month offer worth up to Rs 4,230 of all 20+ creativity and productivity software from Adobe with the purchase of HP ENVY. Consumers can also avail of an exchange offer of up to Rs 15,000 by exchanging with any other HP laptop.
Buy from here: https://lite.al/oQzRX6