Last month, Amazon came up with the Prime Day sale exclusively for Prime members. Now, Amazon has come up with the Great Freedom Festival sale for all the Amazon customers starting from 5th to 9th August with a larger range of offers and discounts.
Here are the top 10 best deals on Musical Instruments during the Amazon great Freedom Festival sale:
1. Casio CT-X9000IN 61-Key Portable Keyboard (Black)

Offer price: Rs 21,145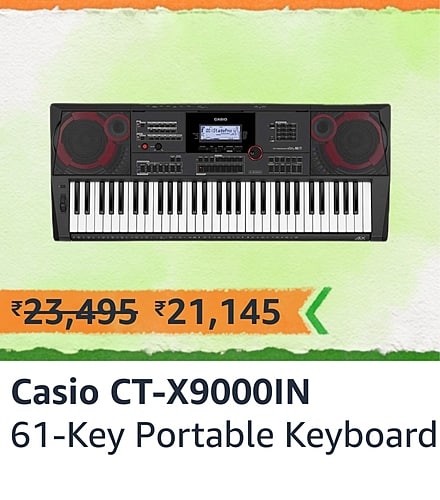 61 Piano Style Keys with the new and powerful AiX Sound Source offering multiple DSP's and System Effects
800 Tones (43 Indian) & 250 Rhythms (39 Indian) with Dedicated Examination Tones & Rhythm Banks
Indian Tones include newly added instruments like: Bulbul Tarang, Sarangi, Veena, Sitar Pad, Pakhawaj, Khol and much more
Equipped with 15W+15W speakers, CT-X9000IN offers powerful sound suitable for all performers alike
Comes with a Pendrive Port which can be used to play WAV files on loop and save all the data of the Keyboard
Direct Access buttons to switch across various tone & rhythms cateogory
Extremely easy to use, CT-X9000IN comes with a new user interface giving access to all the important functions/features via On-Board Buttons
Navigate using the Jog-Dial Wheel, Keypad or Direct Access Buttons
Register your performance settings by using the 128 Registration Memory which comes along with on-board access to Freeze Function
Create your own Sounds or Rhythms by using the in-built Tone Editor and Pattern Sequencer
Tweak sound levels or add Digital Effects using the 42 Channel Mixer
Get access to instant musical gestures using the 4 Phrase Pads (25 Sets) with Recording Function
Advanced Rhythm Controller with 4 Variations/Fill-Ins, Features like Sync Start/Stop, Tap Start helps you add variations to your performances
4 Layers/Split (2 Upper & 2 Lower) Function with Transpose & Octave Shift
Use the 17 Track Recorder and quickly capture your inspiration to create the next big hit
Connect to a PC or Mac using USB Midi Port without any drivers/installation and create music
For any warranty/service related issue, please reach out to Casio customer care at 18002022746
Buy from here: https://amzn.to/2WWMxAg
2. Casio CTX700 61-Key Touch Sensitive Portable Keyboard
Offer price: Rs 10,375
CT-X700 is an ideal keyboard for Learners who are looking to give Musical Grade Exams
61 Piano Style Touch Sensitive Keys with a Class Compliant USB Type B MIDI port
600 High Quality Tones & 195 Rhythms powered by the new AiX Sound Source offering multiple in-built DSP Effects in Tones & Rhythms
Extremely easy operation. Navigate through the Category Button or jump right into the tone/rhythm by using the Keypad
Direct On-board access to features like Touch Toggle, Freeze Function, Chord Book etc
Save your settings by using the 32 Registration Memories and recall them on stage with ease
Advanced Rhythm Controller with features like Sync Start/Stop, Tap Start which are essential for students appearing for Musical Grade Exams
Connect your phone with an Aux Cable and use the keyboard as a playback device. Use centre cancel function to minimize the Vocal Sounds
Use the step-up lesson system to learn the in-built songs at your own pace
New & Easy Short Chord method which helps teachers & students alike
Metronome Feature works alongside rhythms to improve your musical abilities and help focus on your rhythm
Record your own songs by using the 6 Track Song Recorder & create music by connecting to host device with a MIDI Cable
2.5W+2.5W Speaker output is more than enough for your learning needs
It includes an AC power supply and can also be operated via 6 AA size batteries
For any warranty/service related issue, please reach out to Casio customer care at 18002022746
Buy from here: https://amzn.to/3AoSioX
3. Maono AU-A04 Condenser Microphone Kit (Black)
Offer Price: Rs 3,299
This condenser microphone designed the internal with professional sound chipset, with high resolution sampling rate, with high resolution sampling rate, the versatility of this condenser microphone is more than ideal for your home recordings, podcasts and voiceovers
The microphone has usb 2.0 data port is easy to connect with your computer, whatever window, mac and Linux operation system, no need extra driver software required, plug and play, double shielding usb cable reduces interference.
With a pop filter and a foam windscreen, the condenser mic records your voice and the sound crystal clear, the shock mount holds the microphone steady with damping function
For computer: Windows and Mac OS, for mobile phone: we don't recommend it on mobile phones. Sensitivity: -38dB+/-3dB (0dB=1V/Pa at 1kHz)
Packing list: Condenser mic, adjustable scissor arm stand, metal shock mount, pop filter, foam mic windscreen, table mounting clamp and USB-B to USB-A cable
Buy from here: https://amzn.to/3iligDk
4. JBL Commercial CSUM10 Condenser USB Microphone for Recording, Streaming and Online Calls, black, medium
JBL Commercial CSUM10 – Stylish Compact USB microphone with dual Condenser Capsule compatible with PC & Mac. Suitable for Youtubers, Content creators, Podcasters & working professionals
Frequency Response: 50 Hz to 18KHz, Condenser Capsule: 2 x 14mm, Power Requirement: USB 5V/150mA, Max SPL: 120dB SPL (0.5% THD), Bit Depth: 16/24 Bit, Sample Rate: 44.1KHz – 96KHz. Headphone Out Power: 100mW
Wide Frequency Response with 2 Selectable polar patterns – Omnidirectional (Sound is picked up evenly from all sides) & Cardiod (Captures sound from front of the mic while significantly reducing Sound from Back & sides). Upto 24 Bit/96KHz resolution
Adjustable Mic Gain & Headphone volume. Mute button with indicator (Glows Red when muted & White when unmuted). 3.5mm TRS Headphone jack for Real-Time monitoring
Includes USB A to USB Type C cable (1.5 Mtrs.) Stylish desktop stand & Stand adapter which lets you attach the mic to Boom stand or any Mic stand.
Buy from here: https://amzn.to/37lQznK
5. Yamaha FS100C Acoustic Guitar, Natural
Offer Price: RS 9,749
Quality and tone, Number of Frets: 21
Share every bit of the passion that ignites our premium ranges
Perfect instrument for student or seasoned player alike
Yamaha acoustic guitar offers the same focus on quality, design and sound
Mahogany Neck. Nato Fret board. Rosewood Bridge
Buy from here: https://amzn.to/3yBYcCg
6. Giuson Venus Black 41 Inch Rosewood Fretboard Acoustic Guitar With Bag,Strap,1 Set of Extra Strings and 2 Picks by K-Retail
Offer Price: Rs 3,599
Giuson Acoustic guitars are simply outstanding in terms of quality and sound. All products are handcrafted to perfection for unmatchable standard and superb acoustic sound. The guitar is entirely made in India by local skilled craftsmen. It comes with a rosewood fretboard, truss rod and inbuilt pick ups for amplifier connectivity.
Buy from here: https://amzn.to/3lqZHQe
7. Kordz Luana Natural Wooden 41 Inch Rosewood Fretboard Acoustic Guitar With Bag,Strap,1 Set of Extra Strings and 2 Picks
Offer Price: Rs 3,505
41 inch Cut-A-Way Acoustic Guitar, Fret board: Rose Wood, String : Steel
Natural Wooden Colour
Adjustable bridge and reinforced Truss Rod
Inbuilt pick up to plug and play with amplifier
Bag and picks included
Buy from here: https://amzn.to/3Cjx7Ge
8. Punam Flutes C Natural Medium Right Hand Bansuri Size 19 inches
Offer Price: Rs 2,184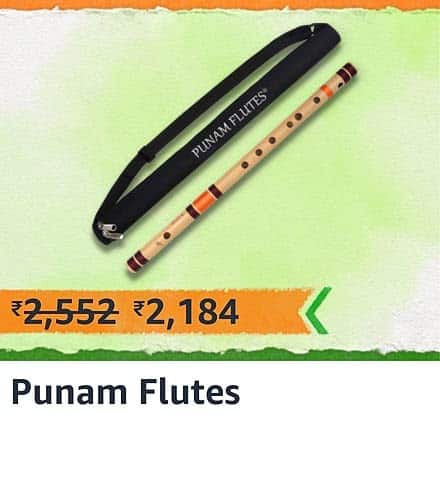 Type: Flute Or Bansuri ,Key Note Or Scale: C,Has Good Frequency And Complex Tone ,Warm,Sweet And Seamless
Excellent For Classical Music,Orchestral Playing,Studio Recording And Other Musical Effects
Suitable For Beginners As Well As Professionals ,Made From High Quality Material,Designed For High Level Performance ,Hard Case Included.
Buy from here: https://amzn.to/3rUWSYN
9. Zoom H1n Handy Recorder (Black)
Offer Price: Rs 7,299
Streamlined body with matte finish and newly designed protective mic enclosure
Built-in stereo condenser microphones in 90-degree X/Y format, Tone generator for film making use with DSLR and video cameras
One-touch button controls, Micro USB port for data exchange to and from computer and use as an audio interface and Up to 10 hours of operation with alkaline batteries
Playback speed control, voice emphasize filter and stereo overdubbing functions
Localized and intuitive menus for easy operation
1 year warranty is given on the product ; Items Included: 2 AAA Batteries, Steinberg Cubase and WaveLab LE and Quick Start Guide
Country of Origin: China
Buy from here: https://amzn.to/3ChtuAL
10. PreSonus AudioBox USB96 25th Anniversary Edition Recording Audio Interface with Studio One Artist DAW & Premium Bundle Software
Offer Price: Rs 9,199
STUDIO-GRADE AUDIO INTERFACE: 2-channel USB 2.0 interface for professional recording on the go. Records at up to 24-bit/96kHz professional-standard digital resolution.
PROFESSIONAL FEATURES: Dual preamplifiers with combo inputs let you record microphone- and instrument-level audio. Onboard +48-volt phantom power accommodates studio condenser microphones. Mobile-friendly USB bus power means there's no need to carry an additional power supply. 1 Powerful Headphone Output and 2 Line/Monitor Outs.
LOW LATENCY MONITORING: Internal analog mixer lets you blend direct input and playback signal for latency-free monitoring
COMPATIBILTY: Compatible with nearly any recording software on Mac or Windows operating systems
SOFTWARE & PLUGINS INCLUDED: Includes PreSonus Studio One Artist DAW software worth and Studio Magic Plug-in Suite.
Buy From here: https://amzn.to/3lsLHW8