Maybe finding the world's next sprint superstar wasn't so difficult after all. Andre De Grasse, the Canadian sprinter who won an Olympic gold medal in the 200 meters after running his first race in baggy basketball shorts and borrowed spikes.
For a long time, he's been the average player, winning silver and bronze at the Olympics and Worlds while watching others gain gold and glory. However, everything changed when he won the gold medal at the Tokyo Olympics.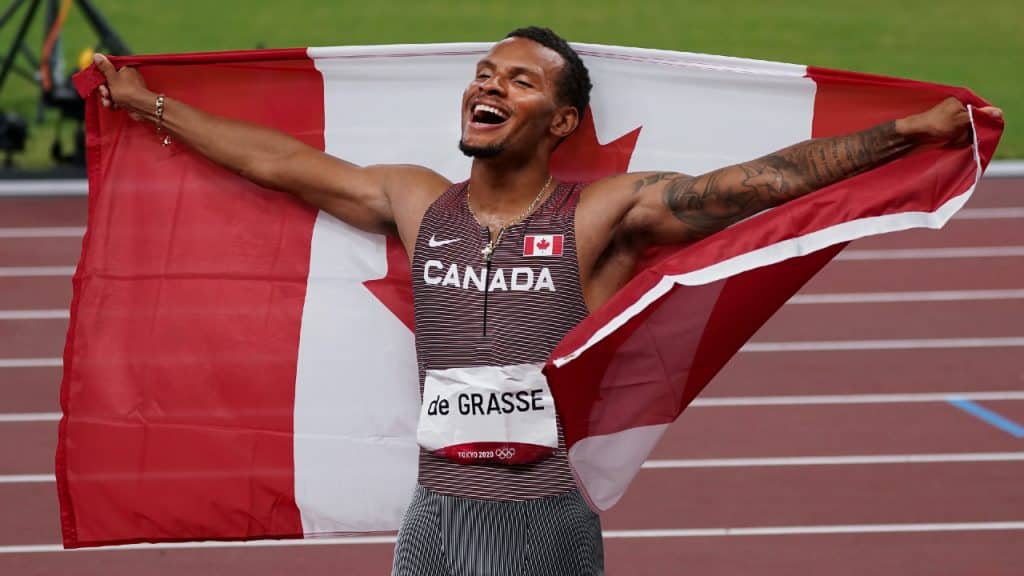 About the Canadian Sprinter

De Grasse, a five-time Olympic medalist, is the reigning Olympic champion in the 200 m and also won silver in the 200 m in the 2016 Rio Olympics. In the 100 m and 200 m, De Grasse was a two-time Pan American winner and an NCAA champion. He is the first sprinter from Canada to win three Olympic medals in a single Game.
He founded the Andre De Grasse Holiday Classic Basketball Tournament in 2016, which benefits the Andre De Grasse Family Foundation. He also organized and played in the annual "Holiday Classic at Markham" basketball event at Pan Am Centre.
His Recent Win at the Olympic
After a dramatic final on a steamy night at the Tokyo 2020 National Stadium, Andre De Grasse became the men's 200m Olympic gold medalist and a champion for the first time. As the pack unwound around the curve, De Grasse always looked to be winning without ever seeming to push too hard, unleashing one of those thrillingly smooth, deceptively light-touch surges.
De Grasse won bronze in the 100-meter dash and silver in the 200-meter dash at the 2016 Rio Olympics, but he eventually broke his gold medal drought at Tokyo's Olympic Stadium with a personal best effort. He became the first post-Usain Bolt Olympic 200-meter champion by winning the race.
Final Thoughts
This achievement puts an end to a succession of near calls for the 26-year-old and completes a medal collection that was missing only one gold. The world has been waiting for someone, anyone, to replace Bolt's position in the big track races since he left the scene.