England's victory over Denmark to make it to their first major final since 1966, hasn't been taken well by the Danish fans. The semi-final tie had its share of controversy. The match went till extra time to fetch for a winner and a controversial penalty decided the fate of the tie.
At the end of the first half of extra-time, both England and Denmark were tied at 1-1. It was then that a surging Raheem Sterling was challenged by defender Joakim Mæhle. The contact was seemingly a lot less than what should have qualified as a penalty. But as soon as Sterling went to the ground referee Danny Makkelie pointed to the spot. This decision has been the topic of hot debates ever since.
Notably, VAR did examine the tackle and stuck to the referee's original decision. The Three Lions' forward Kane then pulled up to the spot. Kane's penalty was saved by Kasper Schmeichel at first but he was quick to send the rebound into the nets. Kane had made history. He had taken his country to their first Euros final.

Denmark has come a long way since they lost their key player, Erikson to a life-threatening event. They wished to play with all their pride and glory and the controversial decision has put them off. Although nothing can be done now, Denmark should be happy looking at how far they actually made it.
UEFA's Disciplinary Actions
UEFA, which is European football's governing body, has opened disciplinary proceedings against England. This is regarding their 2-1 semi-final win over Denmark in the Euro 2020 Semi-final tie.
Several incidents occurred at Wembley Stadium in the evening which was absolutely unacceptable. There was an attempt to distract goalkeeper Kasper Schmeichel during a spot-kick using a laser pen. There were other offences including crowd disturbance and fireworks which were let off. UEFA has been stringent with its reaction to the scenario. Currently, we don't know much about the kind of punishment UEFA will hand England. England FA will most likely pay a hefty fine for the misconduct.
Was Denmark's opener unlawful as well?
The Danish opener against England was nothing short of stunning. Mikkel Damsgaard's fierce free-kick gave the fans a ray of hope they'd never seen. While everyone was praising Denmark for the goal, a viewer caught an infringement during the set-piece that referee Danny Makkelie missed.
Man City podcaster David Mooney correctly pointed out how several Danish players stood close to England's wall thus breaking Law 13, Section 3 of FIFA's Laws of the Game.
According to FIFA rules, 'Where three or more defending team players form a 'wall', all attacking team players must remain at least 1 metre (1 yard) from the 'wall' until the ball is in play.'Many of England's players protested the goal as well but the referee found no issues with the free kick.
What is the support for the England vs Denmark petition?
Cris Pinto, a fan, decided to take to change.org in an attempt to gather support for the match to be replayed. He believes that this might put pressure on UEFA to replay the venue. The fans backing the petition stated, "We wish to overrule the penalty decision against Denmark. It was a wrong call, there needs to be contacted for a penalty and there was absolutely no contact. If this is not overruled, it would show a failure by UEFA and the beautiful game of football."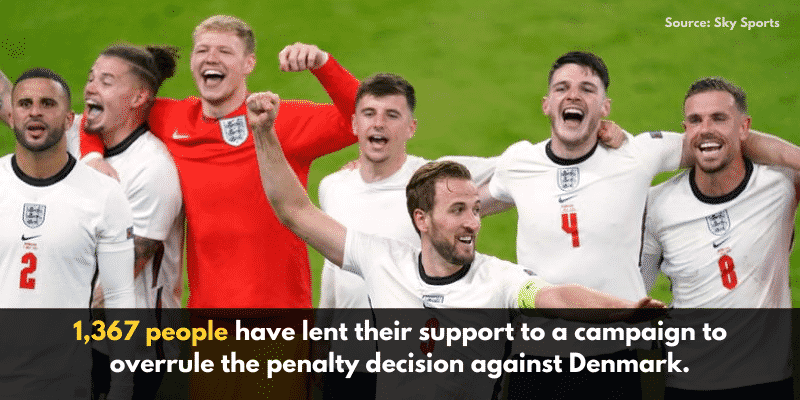 Currently, not many! A total of 1,367 people have signed the campaign to overrule the penalty decision against Denmark. Most of the people who signed the petition are passionately backing the idea of a replay. To be realistic, a replay is not happening. As difficult it will be for Denmark, we'll have to watch England play against Italy at Wembley. All we can do now is hope that the finals do not have such a controversial decision.