Almost every club in Europe has had to bear huge losses due to the pandemic and are succumbing to whatever is available in the summer transfer market right now. All they want to do right now is manage their finances while completing their squads to compete next season.
We've seen some star free-transfers including names like David Alaba and Sergio Aguero. But one team which has absolutely not held back is Paris Saint-Germain. They've been scraping the markets stealing a trolley full of players in this transfer window. The vision is clear. Build a team to compete and win the Champions League. It was always the vision.
The signing of Georginio Wijnaldumis the only confirmed signing as of now. Other star moves like Achraf Hakimi, Gianluigi Donnarumma, and Sergio Ramos await the club's confirmation. This is all for one reason: The Champions League.

Qatar has backed Parc des Princes for 10 seasons now. With every passing year, the sporting project seems to bolster even more but their biggest dream still awaits to become reality. In the past years with galactic signings like David Beckham and Zlatan Ibrahimovic have given the team reach a really high level. But what started as a dream is more of a necessity right now: a European success.
A Huge Project in the Making
Except for Achraf Hakimi, all other signings this summer have been for free. They already have a world-class goalkeeper, a 4-times Champions League winning center-back, an experienced midfielder, and an upcoming full-back. This adds to the squad's depth making the Parisian attack stronger than ever.
The biggest threat to PSG's attack will be the departure of Kylian Mbappe. He is currently rumored to have interests away from the Parisian side. He is unsure about staying in PSG next season. If he signs another deal with the club or fails to secure a transfer this window, Mauricio Pochettino would be managing the best PSG squad in history. They have been mindfully designed to win everything that comes their way!
Once the 4 additions are made official, PSG would be the second most valuable squad in the world. The only team ahead of them is Manchester City. A huge amount of fireworks awaits the pitches where this PSG side set foot and they might be a force to reckon with. Adding to this, their influence in the offices of power in European football is also on the rise.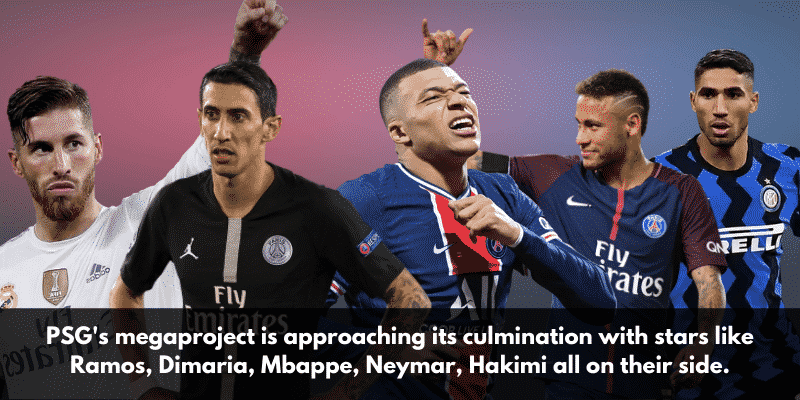 PSG's Influence on European Football
Nasser Al-Khelaifi is now the President of the European Club Association (ECA). He also refused to sign the founding document for the European Super League. This has gained him a lot of dignity in Europe. PSG is using the relaxation of the financial fair play regulations in their favor. They have built an amazing team with star-studded names. This PSG side is a perfect blend of quality, experience, and a firing desire. They will be a team to watch out for.