NVIDIA today has announced two new games that will be added to its ever-growing library of games – one getting DLSS support and the other getting Reflex support. Here's the official press release:
Today brings more news for NVIDIA DLSS and NVIDIA Reflex, as momentum for these two gaming technologies continues to snowball. The popular Rust, a staple on  Steam's Top 10 Most-Played Games list, gets an update to add NVIDIA DLSS today, while Escape from Tarkov adds support for NVIDIA Reflex.  
GeForce Gamers Playing Rust Get a NVIDIA DLSS Upgrade today

Gamers playing Rust on the GeForce RTX gaming platform are getting an instant upgrade today too, thanks to DLSS. With DLSS enabled, Rust will receive up to 50% performance boost at 4K.
This follows the addition of NVIDIA Reflex in May, which reduced system latency by up to 38%, making gameplay more responsive, and players more competitive..
With both DLSS and Reflex, GeForce RTX players are getting a Rust experience that is second to none – with low latency thanks to NVIDIA Reflex and blazing fast frame rates without sacrificing image quality thanks to DLSS. 
"In Rust, split-second reactions can be the difference between life and death, with NVIDIA DLSS offering our players a performance boost, without sacrificing visual quality and a better overall experience, it's a win-win."     
– Helk, Rust's Project Lead, Designer & Programmer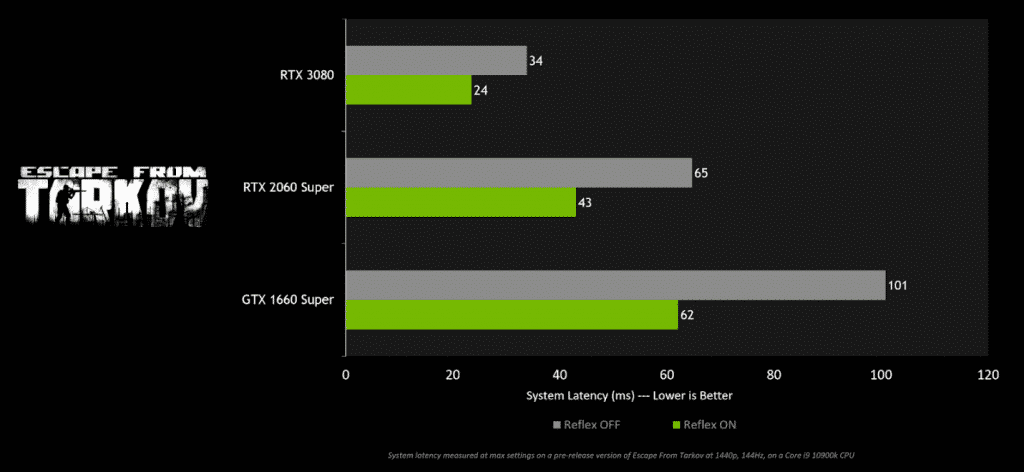 GeForce Gamers Playing Escape from Tarkov Get a NVIDIA Reflex Upgrade Today
Battlestate Games' Escape From Tarkov is an extremely popular hardcore first-person tactical action game. With the update to Escape from Tarkov and upcoming support in CrossFire HD, NVIDIA Reflex latency-reducing technology will be supported in 12 of the top 15 competitive shooter-based games.
With the latest patch and a click of a button, system latency will instantly be reduced by up to 38%, greatly improving responsiveness.
"We're happy to bring NVIDIA Reflex to Escape from Tarkov to ensure the lowest possible system latency and the most precise, responsive gameplay. NVIDIA Reflex provides players up to a 38% reduction in system latency" – Battlestate Games Team
Being a fraction of a second late on the trigger is the difference between winning or losing the engagement, so reducing system latency can be a huge boon for Escape from Tarkov players. With NVIDIA Reflex, system latency is reduced, making it easier to target enemies and improve your PC's responsiveness. It is essentially a free upgrade to a huge number of GeForce gamers.