Intel Corp. CEO Pat Gelsinger has predicted that the shortage of semiconductors currently prevails in the industry will further hit a new low in the second half of this year. He said, "I don't expect the chip industry is back to a healthy supply-demand situation until 2023. For a variety of industries, I think it's still getting worse before it gets better."
The economies of the world are rebounding from the effects of the pandemic. This has caused a huge demand for the components essential to all modern electronics. According to Gelsinger, digitisation of various systems has never seen a speedier growth, which has taken a toll on the semiconductor industry's ability to keep up with supply.
Gelsinger's views
Intel is the world's largest chipmaker. This prowess comes from its processor sales to run PCs, servers, data centres, and corporate networks. Intel owns its factories, and that has helped it better deal with the strong. Other companies outsource production and have taken a hit due to the rising demand. Although Intel is doing better than others, the supply of other computer components has fallen short.
Gelsinger predicts a strong demand moving ahead into the next decade. Technologies like 5G phone systems, electric vehicles, and expanded artificial intelligence will all drive this demand stronger in the long term. Intel's CEO and other executives argue that the current boom in demand is not just a short-term supply crunch but a periodic cyclical slump. Other executives are not so convinced that the industry can continue to grow in the current way in the long term.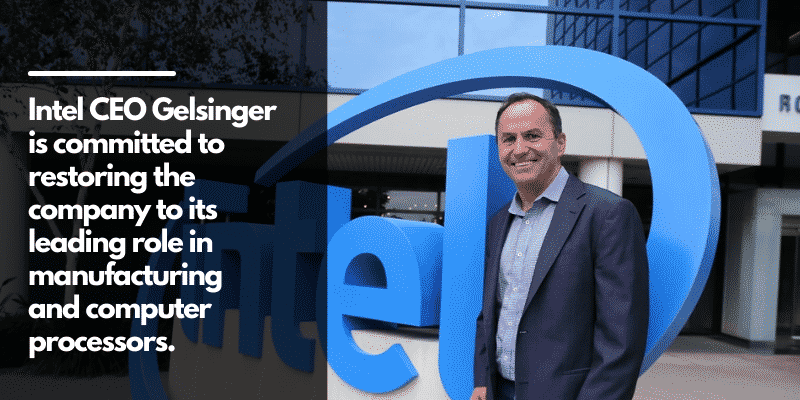 The reality of the semiconductor industry
Taiwan Semiconductor Manufacturing Co. and South Korea's Samsung Electronics Co. are market leaders in semiconductor production. Both of these are based in Asia. On the other hand, the sales and design industry is dominated by U.S.-based companies. There has been a rise in a trade war between the U.S. and China. Adding to that global supply chain took a big hit due to the pandemic. This has led to longer chip delivery times, currently causing shortages of every product that needs a semiconductor chip to run.
A Worldwide Shortage of Chips
Gelsinger took charge of Intel in February. His first commitment was to restore the company to its leading role in manufacturing and computer processors. He has also claimed that Intel will spend heavily to build new factories for semiconductor production.