Samsung brought a unique product last year in the form of the Smart Monitor which makes everyday productivity and entertainment even better. This concept lets you work on a single screen and also watch movies & TVs on the same display.
Read more: Here's what you can do with Samsung Smart Monitor
The SAMSUNG Smart Monitors are simply the World's First Do-It-All Screen, comes with resolutions of UHD (3840×2160) and FHD (1920 x 1080) respectively. Other than the resolution, there is only one difference; the 32-inch Smart Monitor M7 has an extra Type-C port.
Now, Amazon is giving away some great deals on these Samsung Smart Monitors on Prime Days which you shouldn't miss out:
SAMSUNG 27-inch M5 Smart Monitor
Deal Price: $179.99
MOBILE CONNECTIVITY: Wireless DeX unlocks a full PC experience. Use mobile productivity apps, such as video conferencing, documents, and browsers, through just your monitor and phone
SMART HUB: Binge watching got even easier. Access a bunch of entertainment apps, such as Netflix, YouTube, and HBO
REMOTE ACCESS: Work seamlessly from anywhere. Boost your productivity with Remote Access features
ADAPTIVE PICTURE: Sensational picture, day or night. Surrounding light is detected by a sensor to adjust brightness automatically with Adaptive Picture
ULTRAWIDE GAME VIEW: Keep your eye on the win. Adjust your screen to 21:9 to discover hidden areas in-game scenes with Ultrawide Game View
Buy from here: https://amzn.to/3gNTgCO
SAMSUNG 32-inch M7 Smart Monitor 
Deal Price: $329.99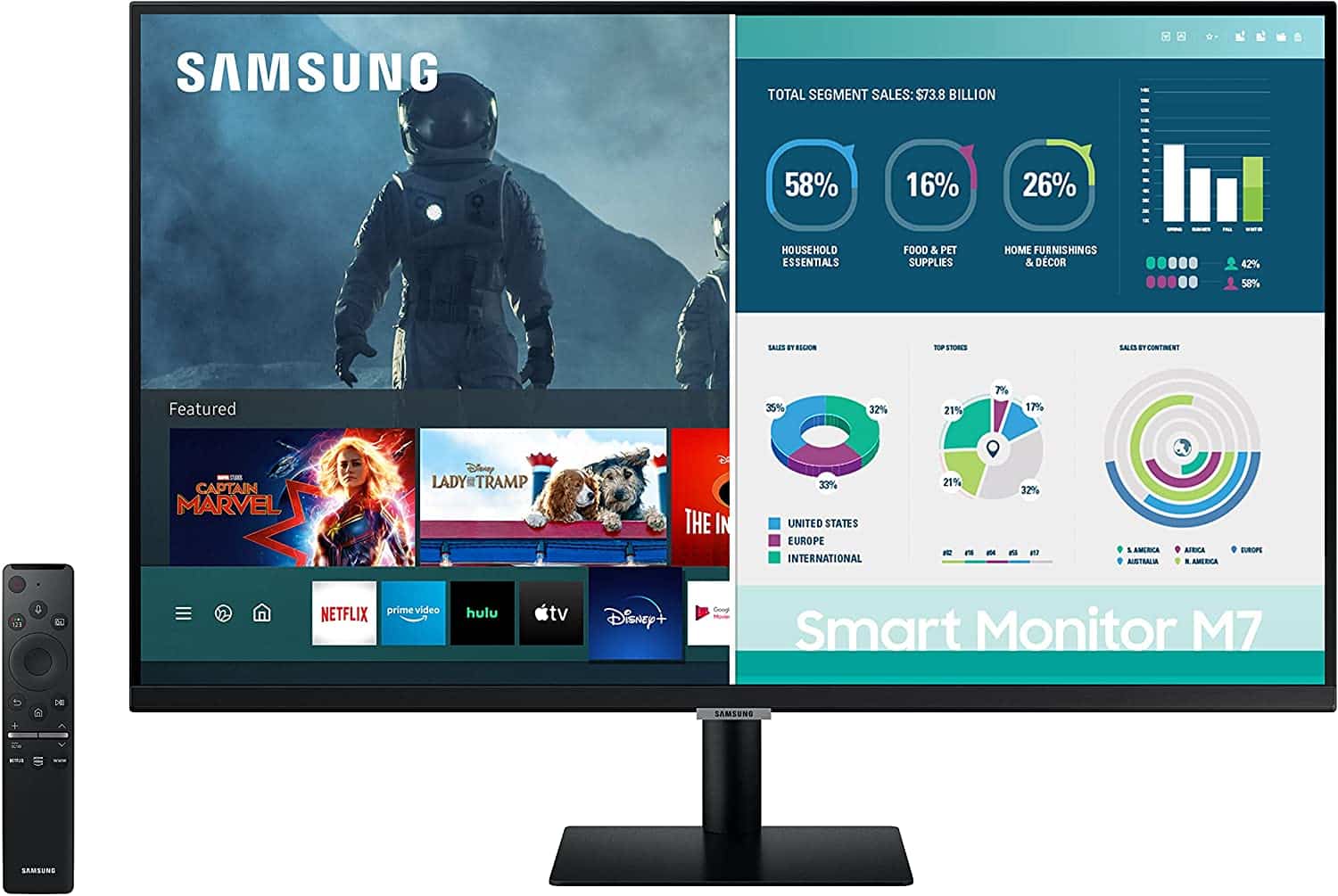 MOBILE CONNECTIVITY: Wireless DeX unlocks a full PC experience, without any PC. Use mobile productivity apps, such as video conferencing, documents, and browsers, through just your monitor and phone
SMART HUB: Binge watching got even easier. Access a bunch of entertainment apps, such as Netflix, YouTube, and HBO
REMOTE ACCESS: Work seamlessly from anywhere. Boost your productivity with Remote Access features
ADAPTIVE PICTURE: Sensational picture, day or night. Surrounding light is detected by a sensor to adjust brightness automatically with Adaptive Picture
ULTRAWIDE GAME VIEW: Keep your eye on the win. Adjust your screen to 21:9
UHD RESOLUTION: Astonishing picture quality for work and play
USB TYPE-C PORT: Enables you to power up, transmit data, and even send display signals between devices
AUTOMATIC SOURCE SWITCH PLUS: Your monitor detects newly connected devices as soon they're plugged in
Buy from here: https://amzn.to/3h8XNQD