"There will be three or four more signings, we are creating a very competitive team. We're already seeing it with the arrivals of Garcia, Aguero, Emerson and as well as other players who are ready," these were the words of FC Barcelona President Joan Laporta.
The arrival of Memphis Depay has been confirmed by the club. Laporta has made clear that this will be a busy window for the Catalonian side. Rumors have linked several players to the club but which deals will come through, time can only tell. Amidst all of this, there has been a new problem!
Koeman seems to have far too many options to play from in the front line. With Aguero and Depay joining in, Koeman now has 8 players for the 3 forward positions. If we assume Koeman will like to have 2 options in every position, a couple of players will have to reevaluate their future at the club.
The front line options now include, Memphis Depay, Lionel Messi, Antoine Griezmann, Sergio Aguero, Ousmane Dembele, Francisco Trincao, Ansu Fati and Martin Braithwaite. We can be sure that the new signings have nothing to worry about. But amongst the existing players, some might be let go.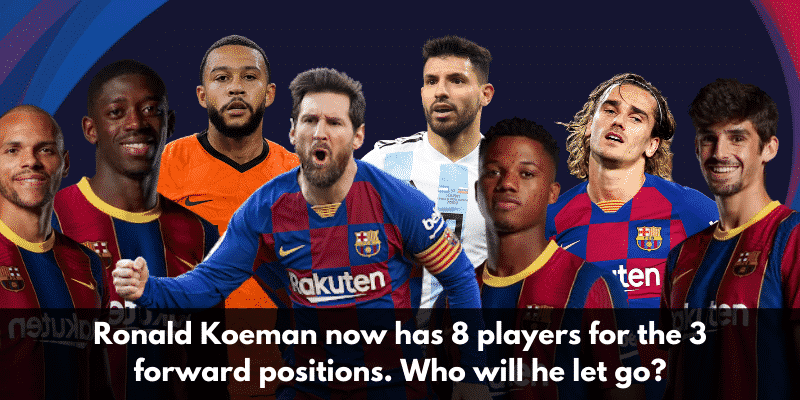 Who is Safe?
While Messi's contract renewal is still in the air, no one will ever want the Argentine to leave. Ansu Fati missed a huge chunk of his first campaign due to a knee injury. He had started off the season in a stellar way and if he comes back with the same quality, he will be as good as a new signing. Looking at the youngster's potential, it seems unlikely that the club would think of letting him go.
Who is not?
The first name on the list is Martin Braithwaite. With Aguero and Depay in the squad, Braithwaite should better look at other options. Dembele is yet to sign an extension with the club as his current contract ends in 2022. Despite putting in some great performances, he has had an injury-riddled career at Barcelona. If a great offer comes for him, Barcelona might be interested.
Next us is Trincao, who has struggled to shine at Barcelona since his arrival. Some might say, he was not worth it, but the youngster is just 21. He shows promise and giving him another year to settle in might not hurt anyone. But again, if an attractive offer came in Barcelona would consider it. As far as Griezzman's future at the club is considered, rumours suggest that Barcelona will listen to offers for the France international. It all depends on which club will be ready to support his huge fee and paycheck.
The club's future?
Barcelona's financial woes are hidden from no one. Laporta admitted that the situation at the club was worse than he expected when he took over the office earlier this year. He also confirmed that Gerard Pique has agreed to restructure his contract to help out the club financially. He added saying that the club is "very happy and grateful" to the Spanish defender. In other plans, he mentioned that the club looks to win the Champions League in the coming year and that it will do everything necessary to achieve it.