A good Bluetooth speaker at cheap was only a myth in India until now! Yes, Mivi, the Indian audio brand, has introduced its mini Bluetooth speaker that costs just ₹ 799 during the sale and most of the times.
The Mivi Play is an exceptional device that costs very less but looks stylish, compact and easy to carry, comes in 6 funky colors. It is a wireless speaker which is Made in India, unlike the cheaper Chinese alternatives flooding the market, Mivi even provides 1 year warranty with the product.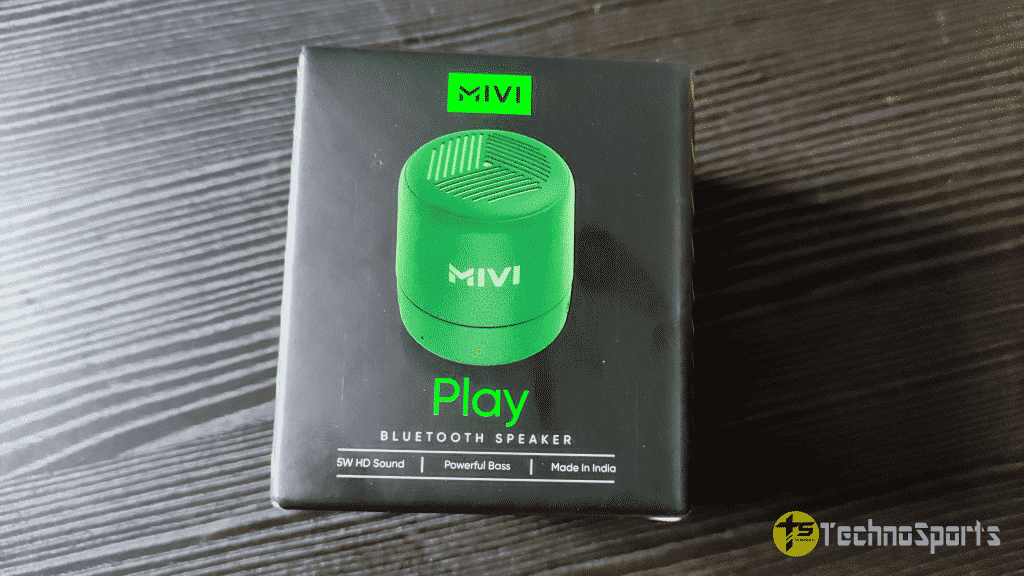 Product Specifications
Speaker output: 5W
Speaker Driver: Ø52mm 4Ω 5W*1
Built-in rechargeable battery: 1000mAh
Charging time: Up to 2 hours (based upon charger)
Charging Input: 5.0V 1.0A
Playing time: 12 hours (At mid volume)
Bluetooth version: Bluetooth 5.0
Operating range: Up to 10 m
Packaging dimensions: 100*84*38mm
Weight: 164g
Features
– Wireless music streaming via Bluetooth
– Built-in mic for hands-free calling.
– Easy responsive controls change music tracks and control volume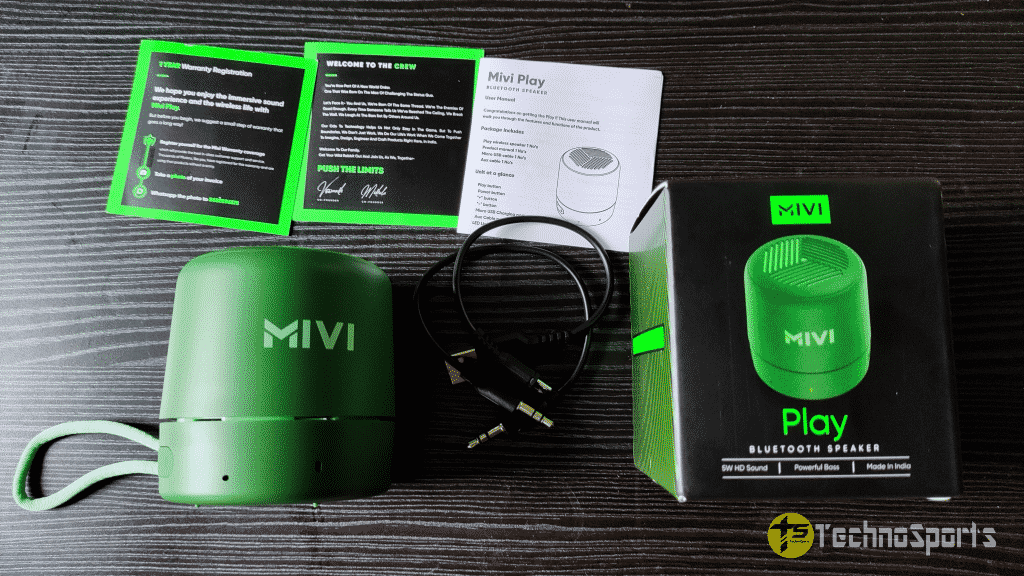 In the Box & First Look
It comes with a cute little packaging with the speaker wrapped around a plastic, with comes paper works and you also have a small AUX cable and a micro-USB charging cable.
Design
By the looks of it, the Mivi Play is a small and compact design and is easy to carry as it weighs 164 grams. You also have an attached string to hang the speaker into something easily or just carry it easily, and it simply fits into your pocket easily.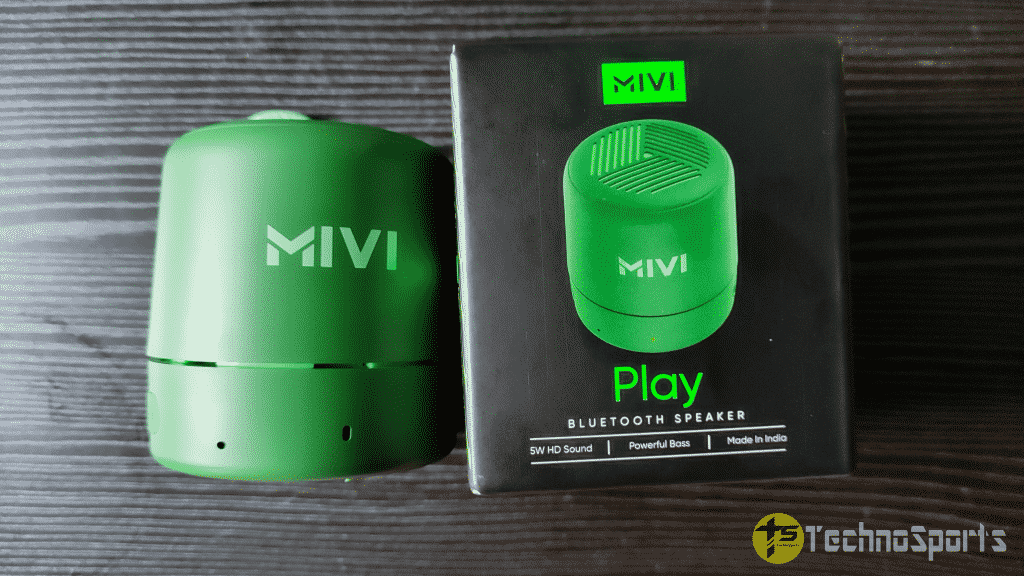 The 6 different colours make the speaker look funky, and by the looks of it, you won't believe this costs only ₹ 799. The unique design and the colours make it look even better and is an ideal one to use for personal use or even for gifting someone.
Also, one feature lacking in low-cost speakers is that it doesn't have any IP rating of that sort, but to my surprise, Mivi Play has an official IPX4 rating, making it both Splash Proof and Dust Proof. The Premium Matte Finish of the speaker and the sealed ports, and the smart design will make you fall in love with this tiny device.
Audio
Even though the Mivi Play costs so little, it is still a 5W Speaker built with dual audio radiators for studio-grade sound. I had honestly very little expectations of the sound to be great for the price; however, I am truly amazed at the exceptional sound quality of this tiny speaker.
It rightly delivers a deep and powerful sound with a solid bass to amplify your beats, and the best part being the sound isn't distorted even if you listen at full volume. Generally, tiny speakers like this fail even to provide enough sound for personal listening at this price range.
However, this tiny Mivi Play Bluetooth speaker is quite loud for personal music or even satisfying the needs of a small group. I also like the fact that you can use two of these speakers in Stereo Mode, and two of them can really deliver a great sound experience and wouldn't cut your pockets at all.
Now, it is not the best sound if you consider sound details, but its highs are a bit flattened, but for normal listening, or to extend your smartphone or tab or even laptop's speaker, it could be a good solution. The sound output and its quality are excellent for the price, and maybe this is why early users have rated 4.4 out of 5 on Amazon India.
Connectivity and Mic
The Mivi Play is also equipped with Bluetooth 5.0 that is highly appreciated for the price. This means it lets you enjoy seamless wireless connectivity, keeping your connections strong and uninterrupted.
The connection and pairing are pretty quick while there is no input lag or such, and I enjoyed the music on this without any distractions. The inbuilt mic is really helpful if you want to quickly answer calls in the middle of your music sessions and gets the job done.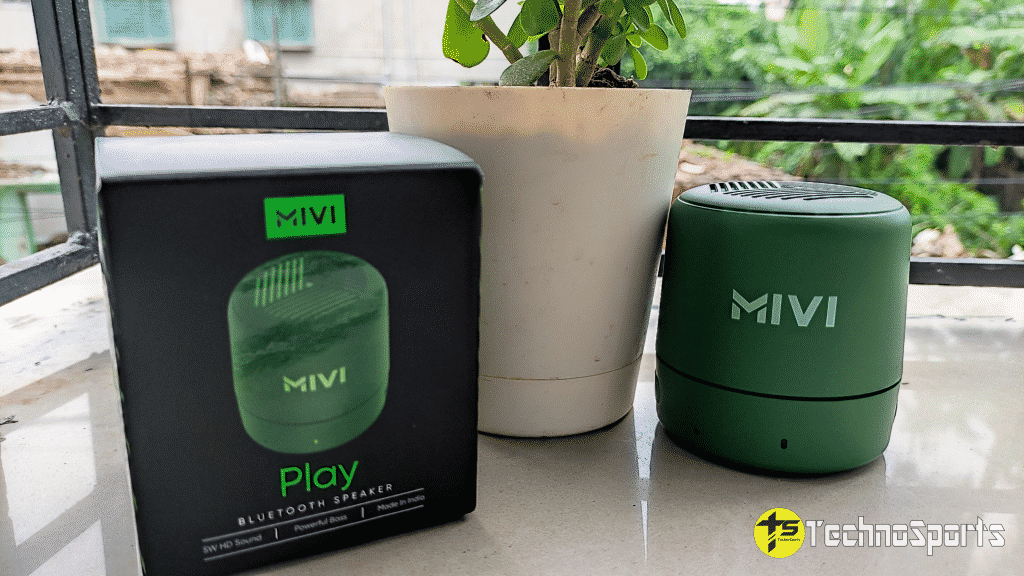 Battery Life
Another great thing about the Mivi Play is that it boasts a 1000mAh battery, which is again a rare sight at this budget. Though it doesn't support fast charging, which you don't expect for the price, I like the fact it gives up to 12 hours of battery life, which is around 8-9 hours with my testing and still, it's perfect for the price.
Verdict
The Mivi Play Bluetooth Speaker is a great option for just ₹ 799 and could be your next option easily; it has too many good things to talk about some nitpicking. So, overall it is a highly recommended Bluetooth Speaker at a budget which has features I have never seen before for the price.
Mivi also claims this to be completely Made in India and you can proudly purchase it from Amazon India with free One-Day delivery with Prime: https://amzn.to/3zIbiPk