- Advertisement -
Gionee has risen from a difficult position and has added a new smartwatch in its smartwatch portfolio in India called StylFit GSW7 also dubbed as Gionee Smartwatch 7. It comes with IP67 water-resistant rating and sports round design with an ultra-thin body.
Gionee Smartwatch 7 (StylFit GSW7) specifications
The smartwatch has features like- 1.3" LCD display with a 240 x 240 px resolution. But the main con is the watch has no Gorilla glass protection the screen is only covered with plain and simple glass. The watch measures 50 x 45 mm and it is quite thin and light, clocking in at just 9.6 mm and 35g, respectively.
The watch can track your heart rate 24/7, a step counter and sleep tracker are available as well (the latter will report on the quality of your sleep). There is also a blood-oxygen meter (SpO2) on board, even though it often gets left out on watches in this price segment.
- Advertisement -
The watch comes with a 130mAh big battery that should give you last long about 4 days according to Gionee, but if you use this watch for many notifications then your charge gets down less than 4 days. The smartwatch takes just 2 hours to get a full charge, notifications, you can use this watch for incoming text messages from your SMS, WhatsApp and Facebook. It will also notify you of incoming calls (there's no mic and speaker, though).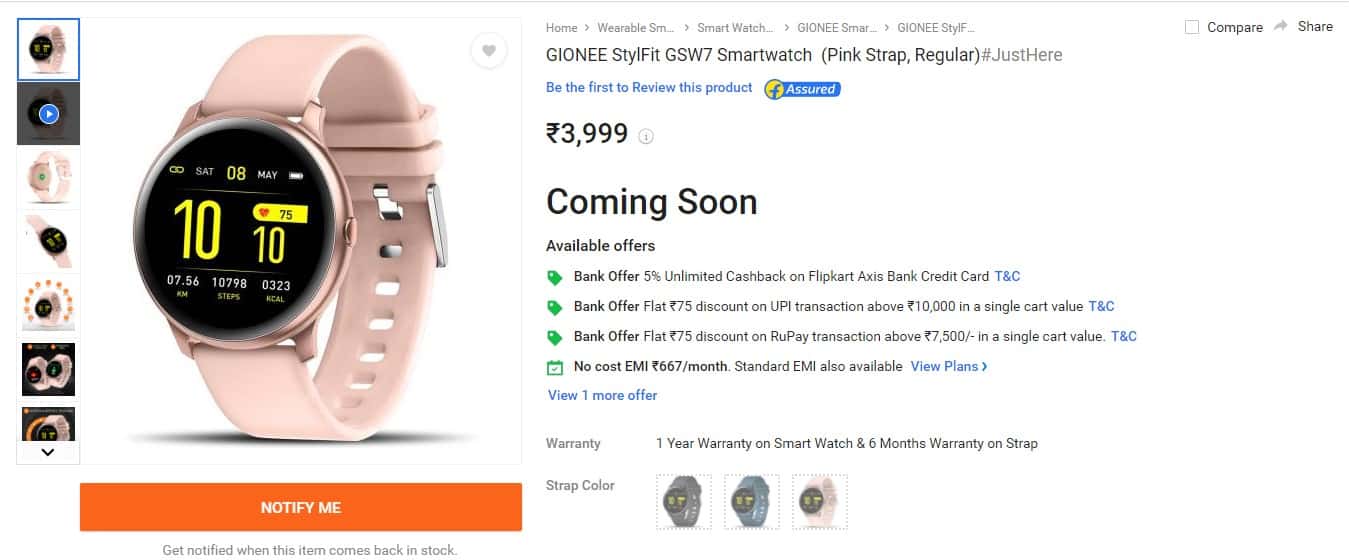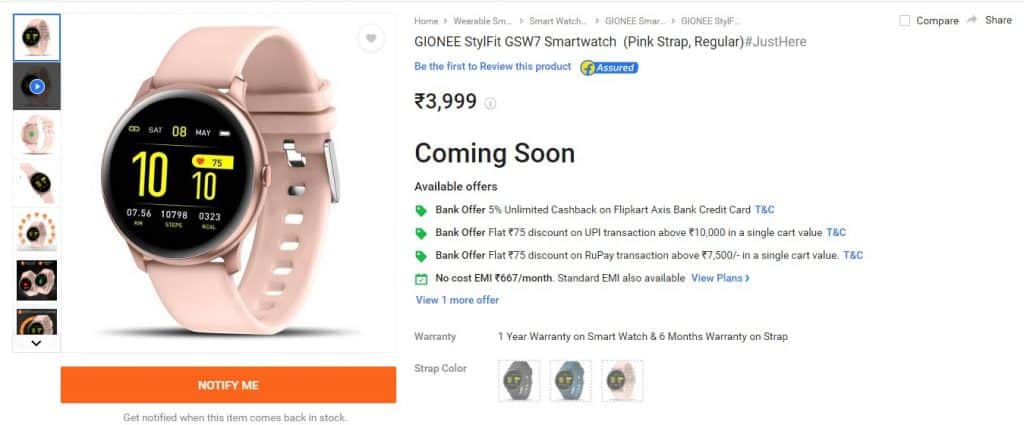 The StylFit GSW7 is rated IP67 for dust and water resistance, which should protect it from accidental encounters with water, but is not enough to swim with it. The watch can track the following exercises: Walking, Running, Cycling, Skipping, Play Basketball, Play Badminton, Play Football.
In terms of connectivity, the watch has only Bluetooth 4.0 it uses to talk to your phone. There's no GPS onboard, so you will have to borrow the one in your phone if you want more accurate tracking of running and cycling.
Price in India
- Advertisement -
This Gionee Smartwatch comes in three colours Teal Green, Mimi Pink, Matte Black. The smartwatch Gionee StylFit GSW7 will be going on sale in India on June 13 at 12 PM. You can find it on Flipkart at a price of INR 3,999 ($55/€45).
Also Read:
- Advertisement -