Finally, today marked the launch of new Radeon RX 6000M series mobile graphics, bringing RDNA 2 architecture to gaming laptops for the first time, starting with the Navi 22 GPU. Much like NVIDIA, who did not bring the power-hungry Ampere GA102 GPU to mobile, AMD is also reluctant to bring the flagship Navi 21 GPU to mobile.
Designed to bring world-class performance, incredible visual fidelity and immersive experiences to gaming laptops, AMD Radeon RX 6000M Series GPUs harness the breakthrough AMD RDNA 2 gaming architecture to deliver up to 1.5X higher gaming performance than AMD RDNA architecture.
"There have been incredible advances in gaming over the last several years, with powerful technologies allowing desktop PCs to deliver high-octane, beautifully complex and immersive worlds like never before," said Scott Herkelman, corporate vice president and general manager, Graphics Business Unit at AMD.

"Today we're excited to bring the high-performance, energy-efficient AMD RDNA™ 2 architecture to next-generation laptops to unlock the same level of high-performance experiences and true-to-life visuals for mobile gamers. With AMD Advantage, gamers can be sure these next-gen laptops are designed, optimized and purpose-built for the best possible gaming experiences."
AMD Radeon RX 6000M Series Mobile Graphics
AMD Radeon RX 6000M Series mobile graphics are built on breakthrough AMD RDNA 2 gaming architecture, delivering up to 1.5X higher performance or up to 43 percent lower power at the same performance level compared to AMD RDNA architecture. They also bring advanced technologies such as AMD Infinity Cache and DirectX® Raytracing (DXR) to next-gen laptops.
The AMD Radeon RX 6800M GPU is a graphics powerhouse, offering world-class 1440p/120 FPS performance with a powerful blend of raytracing, compute and traditional effects for true-to-life visuals. The AMD Radeon RX 6700M GPU offers 1440p/100FPS gaming performance, next-level visuals and efficiency designed for the new generation of advanced gaming and content creation laptops.
The AMD Radeon RX 6600M GPU is designed to deliver a high refresh rate of 1080p/100FPS gaming for lightweight laptops. Radeon RX 6000M Series mobile graphics bring numerous game-changing features available to gamers on the go, including:
AMD Infinity Cache – Up to 96MB of last-level data cache integrated on the GPU die reduces latency and power consumption to deliver higher gaming performance than traditional architectural designs.
AMD Smart Access Memory – Unlocks higher performance for select AMD-powered laptops by providing AMD Ryzen processors with access to the entire high-speed AMD Radeon GDDR6 graphics memory.
AMD SmartShift Technology – Dynamically shifts laptop power between AMD Ryzen Mobile Processors and AMD Radeon Graphics, providing an additional increase in gaming performance.
AMD Radeon Chill – Power-saving feature that helps save battery by regulating frame rates based on in-game movements.
AMD FidelityFX – Supported by more than 45 titles, AMD FidelityFX is an open-source toolkit of visual enhancement effects for game developers available through AMD GPUOpen. It includes a robust collection of rasterized lighting, shadow and reflection effects, as well as the new AMD FidelityFX Super Resolution technology, that can be integrated into the latest games with minimal performance overhead.
| | | | | | |
| --- | --- | --- | --- | --- | --- |
| Model | Compute Units & Ray Accelerators | GDDR6 | Game Clock (MHz) | Memory Interface | Infinity Cache |
| AMD Radeon RX 6800M | 40 | 12 GB | [email protected] 145W | 192-bit | 96 MB |
| AMD Radeon RX 6700M | 36 | 10 GB | [email protected] 135W | 160-bit | 80 MB |
| AMD Radeon RX 6600M | 28 | 8 GB | [email protected] 100W | 128-bit | 32 MB |
AMD Radeon RX 6800M
So, the flagship AMD Radeon RX 6800M is a full-fledged Navi 22 GPU with 2560 stream processors packed within 40 CUs. It comes with a 12 GB GDDR6 VRAM capacity, a 192-bit bus interface, and 96 MB of Infinity Cache.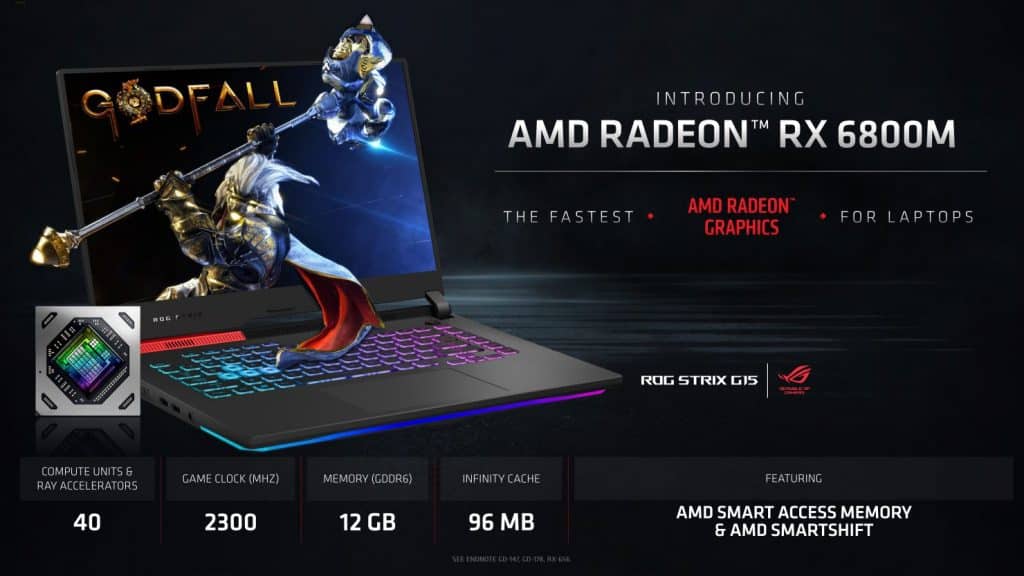 The new flagship mobile GPU with a TGP starting at 145W and its performance is targeted at 1440p across several gaming titles. Much like the RTX 3080 mobile GPU, which is more of a desktop RTX 3070, the new RX 6800M is similar to the desktop RX 6700 XT.
AMD was ready to compare its flagship product against its competitor's flagship mobile GPUs as well. AMD shows how its new Radeon RX 6800M is faster than the NVIDIA GeForce RTX 3080 8 GB mobile in AMD optimized titles like Assassins Creed Valhalla, Borderlands 3, Black Ops Cold War, Dirt 5 & Resident Evil Village.
The Radeon RX 6800M is promised to deliver 120+FPS in a wide range of modern triple-A games at 1440p. Also, you have features like AMD Smart Access Memory or Smart Shift and the new FidelityFX Super Resolution to increase performance for free.
AMD Radeon RX 6700M
Coming to the middle of the stack, the Radeon RX 6700M sports the same Navi 22 GPU but with 2304 stream processors and the same 2.3 GHz clock speeds. However, it sports a 10 GB GDDR6 VRAM capacity, a 160-bit bus interface, and 80 MB of Infinity Cache.
So, this mobile GPU comes with a TGP starting at 135W, and its performance is targeted at both 1440p and 1080p across several gaming titles.
AMD Radeon RX 6600M
This is an interesting mobile graphics solution as it's the first AMD Navi 23 RDNA 2 GPU, featuring 28 CUs or 1792 stream processors. It is great to see AMD using more memory to keep these GPUs future-proof, sporting 8 GB GDDR6 memory running across a 128-bit bus interface whereas the TGPs ranging up to 100 Watts.
The Navi 23 GPU will feature only 32 MB of Infinity Cache and will be the smallest Navi chip to house the brand new cache technology. It is said to first sport on an HP Omen 16, which has already been announced, and the AMD Radeon RX 6600M is expected to outperform the NVIDIA RTX 3060 6 GB mobile GPU in several games.
Availability
These new mobile GPUs will soon be available from the latest OEMs like MSI, Asus, Lenovo and HP as of now, but more gaming laptops will soon be announced in the coming days. The two gaming laptops introduced as of now are the ASUS ROG STRIX G15 and the HP Omen 16, paired with Ryzen 9 5900HX CPUs to give the best AMD Advantage.