Despite so many controversies from different sources regarding the launch of Battlegrounds Mobile India, there are some major leaks regarding the same coming from various content creators. The launch date of Battlegrounds Mobile India or BGMI has not been officially revealed but the PUBG Mobile Indian gamers community knows the exact date of the launch. Content creators like Mortal, Dynamo, etc. of PUBG Mobile in India have hinted at the launch dates from time to time. So let's see which content creator is hinting at which date. At the end of this article, we have hidden something special for you which you can only understand if you read the whole.
1. Mortal
The above tweet is shared by the famous PUBG Mobile India content creator and member of S8UL claiming that among the numbers "12345" there is a date of something hidden within it. Now if we add all the numbers from 1 to 5 it gives us a sum total of 15, which hints at the third week of June.
2. Dynamo

We all know Dynamo was the first one to give the launch date hint on his live stream. He had mentioned that on a "double digit" number the game will be launched. So this is still a mystery which date he is talking about. But still the combination is becoming narrower with this.
3. Ghatak
Ghatak had officially revealed that Battlegrounds Mobile India will launch in India on the third week of June. This statement has also been supported by several other YouTubers like Dynamo. So we can assume that the launch might happen between 15th and 20th June.
5. Jonathan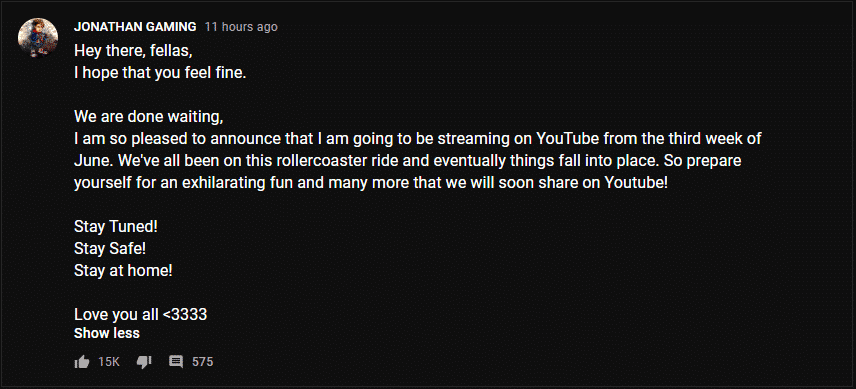 Finally, Jonathan has also shared the news in the YouTube community claiming that he will be streaming on his YouTube channel from the third week of June. This clearly indicates that the hint which everyone is giving regarding the launch date of BGMI is actually true.
6. Maxtern
A few days ago Maxtern had also hinted at a binary number, which converts into 18062021 and it clearly seems like a date which is 18th June 2021. But after this, the content creator/gamer has also tweeted a poll asking to vote for the correct date.
Here most of the votes go to the first option which converts into 18th June. The second one is 12th June which is clearly out of the context. Now the remaining option is mentioned in Hexadecimal code, different from the other two Binary codes. This one converts into 16th June and this is the one on which we are betting. If you want to know the reason then follow us for more updates.
7. AnkiiiBOT
AnkiiiBOT is a caster of PUBG Mobile in India. He has also given us a hint in one of his recent casting streams, claiming that the date will be a multiple of 4. Apart from this, AnkiiiBOT has not revealed anything else about the launch date.
Launch Date
So if you are here already then we hope you are very eager to know the launch date of Battlegrounds Mobile India. The launch date of BGMI will be on 16th June. As far as we know it is the final date of the launch. We are claiming this date because it falls in the third week of June month, it is a double digit date, it has appeared in Maxtern's poll and it is also the multiple of 4. But if you are thinking about Mortal's hint, then you have to wait for our next article where we will explain what Mortal wanted to say with those numbers.
Also Read: