- Advertisement -
According to AppleInsider, a new patent from Apple called "Insert Glass Components for Portable Electronic Devices" has recently flowed out. The patent describes a device used at the edge of the screen The special support structure made of glass can make the screens of iPhone and iPad thinner and stronger at the same time.
Smart devices like the Apple iPhone and also various other mobile phones make use of glass panels before the screen. It has a key task of securing the fragile display from effects and also scrapes, while likewise educating the component of the exterior layout of the gadget itself. With the proceeding advancement of gadget layout depending extra on bent glass for the front panel, this presents layout obstacles that cannot be conveniently overcome with existing methods.
Apple New thinner and stronger glass design
With the continuous development of device design, the front panel of mobile phones relies more on curved glass. Although a completely flat glass panel can be made thinner and stronger at the same time, curved glass panels do not have these advantages. In order to maintain the necessary strength, it is difficult to reduce the thickness of the curved glass at key parts (such as the sides).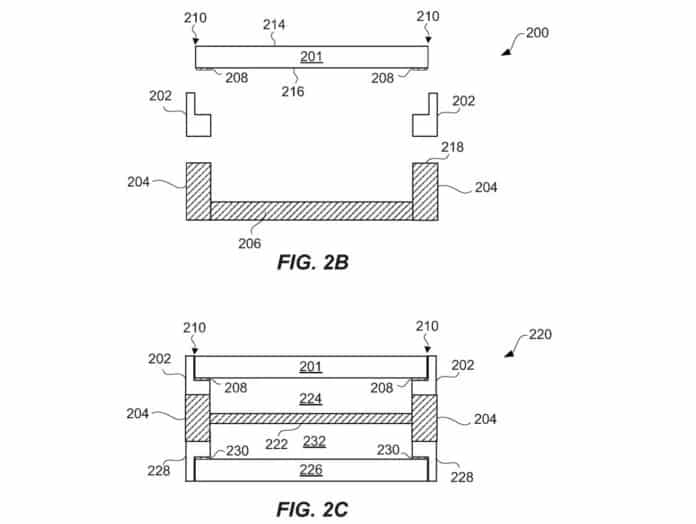 - Advertisement -
In this patent, Apple stated that a new glass support structure was added to the edge of the glass cover. This support structure partly acts as an intermediary between the main body and the thin glass cover. At the same time, the adhesive is applied to the glass cover. A "lip"-shaped opening on the outer edge of the board can maintain the thinness of the main glass portion of the entire screen.
In fact, the new glass support structure described by Apple is the core part of the entire design, which can successfully achieve the required strength and thickness of the glass cover of the mobile device. At the same time, the glass cover can be made of different glass materials with different characteristics to maximize strength. For example, glass coated with Ceramic Shield glass manufactured by Apple can harden the main glass cover while maintaining its thickness.
We understand that Apple has explored many different ways to incorporate glass into its products. In 2014, in a patent application for "ceramic covers for electronic device housings", Apple introduced additional connecting parts and grooves to fix the cover instead of adhesives and a gapless design. There are some other ideas in the patent document, including an all-glass iPhone with a wrap-around touch screen and how to use glass for a foldable iPhone. In addition, Apple is also considering using a large area of ​​glass to make an all-glass iMac
- Advertisement -
Also Read:
- Advertisement -