It seems no stopping as more and more leaks along with interesting info gets flooded on the internet about AMD's upcoming Zen 4 based Ryzen 7000 or codenamed Raphael CPUs. Moore's Law is Dead has brought to our attention several new information along with ones we have already got.
In our last leak from yesterday, where we saw AM5 LGA1718 package's mockup, we already have got a lot of small characteristics of these upcoming CPUs like they will be based out of TSMC's 5nm node, AMD's AM5 platform would feature an LGA1718 socket, AM5 would support dual-channel DDR5 memory, with no PCI Express Gen5 support.
Now, as per the video from Moore's Law is Dead, we have some significant info about the architecture of the chip along with the performance improvements we could expect. So, it is cross-confirmed that AMD's Zen 4 based CPUs will use TSMC's 5nm process node & the IOD will be based on TSMC's 6nm process node.

Interestingly, Zen 4 is now supposed to give around 20% IPC increase over last-year's Zen 3 and this kind of jump is expected because of the leap in architecture. Not only this, the architecture will allow Zen 4 CPUs will feature 8 core chiplets, so expect around 50% performance per watt gains between Zen 3 and Zen 4.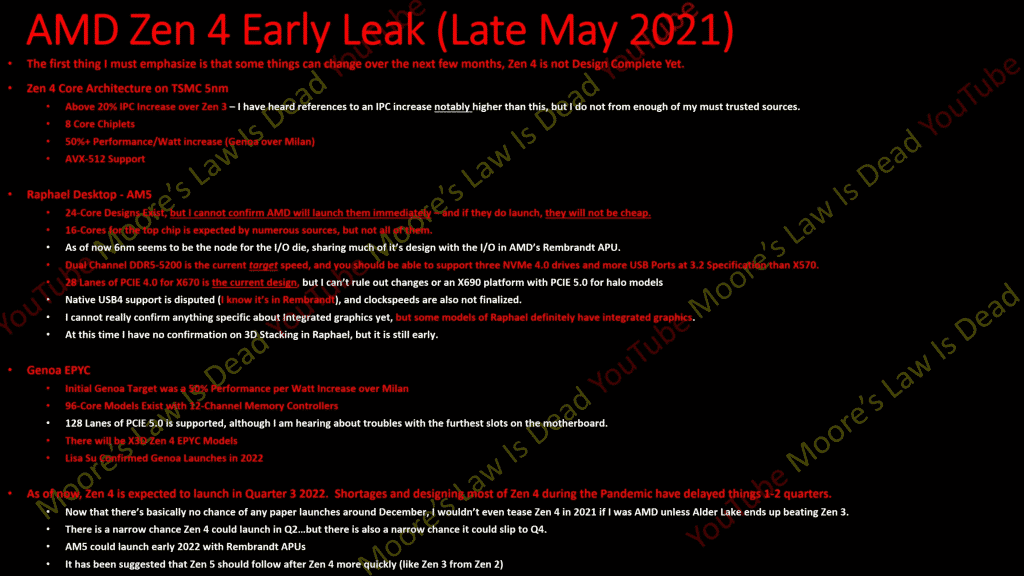 Now, the support AVX-512 instructions on Zen 4 remains to be seen, especially on the desktop processors; however, server-based EPYC Genoa CPUs are expected to come with the feature. Now, it is expected that AMD would still provide 16-core flagship mainstream desktop CPUs with Zen 4 based Raphael processors with an optional 24 core option, which would not be cheap.
Also, the presence of 28 PCIe Gen 4.0 lanes is now confirmed and it also signifies, AMD would not shift to a costlier PCIe Gen 5 like Intel is to do with Alder Lake. The CPUs will retain the 105-120W TDPs as we saw with Zen 3, and it is not surprising because AMD would use a more efficient 5nm process from TSMC.
Coming to the new AM5 platform, new motherboards will feature the LGA1718 socket, so gone are the days of PGA as AMD like Intel will also use an LGA (land grid array) format and that could increase motherboard prices as well.
It also supports DDR5-5200 RAMs, 28 PCIe Gen 4.0 lanes, more NVMe 4.0 & maybe support for USB 4.0. So, these Ryzen 7000 CPUs based on Zen 4 is real and coming next year; however, Intel's progress will decide how soon AMD could bring them to the market, but not before 2022.
via Wccftech