Qualcomm makes a wide range of low power consuming SoCs for a wide range of devices, it launched the Snapdragon 7c back at Qualcomm's 2019 Tech Summit. This SoC aimed at powering entry-level Windows 10 on ARM PCs and Chromebooks, now Qualcomm has refreshed it to Snapdragon 7c Gen 2.
The Gen 2 chip is almost similar to that of the original Snapdragon 7c SoC with core clock bumps in the Cortex-A76 cores from 2.4 GHz to 2.55 GHz. Both the Adreno 618 GPU and Kryo 468 CPU can provide a totoal of 5 TOPs AI performance.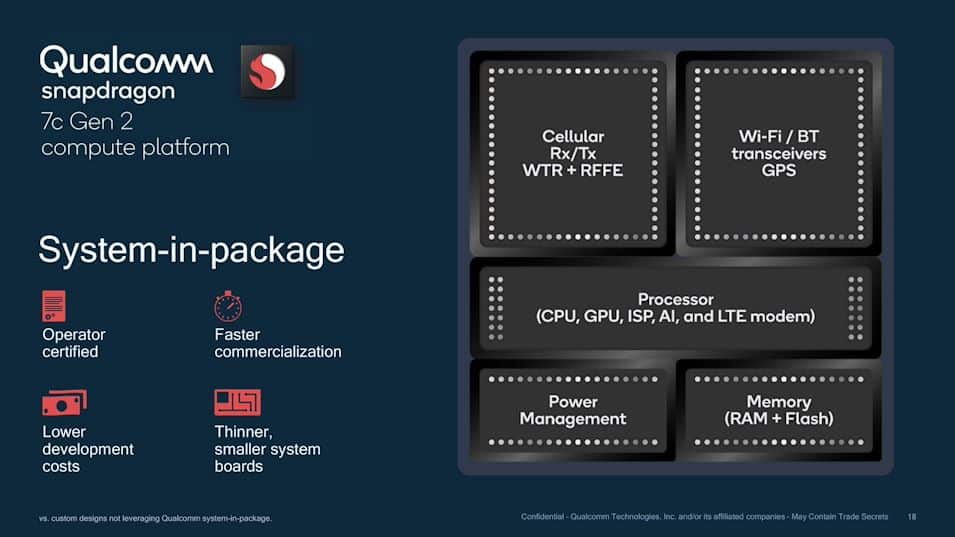 For connectivity, you have a Snapdragon X15 LTE modem, whereas the same Spectra 255 ISP helps to deal with image processing. The Snapdragon 7c Gen 2 is based on an 8nm process and this launch falls in line with the previous leaks that Qualcomm to develop a Snapdragon 7c successor pretty soon.

OEMs will definitely use this efficient Qualcomm Snapdragon 7c Gen 2 to power entry-level devices, be it a Windows or Chromebook. As the laptop market is booming since the pandemic started, it seems more likely that manufacturers would like to bring budget laptops with all-day connectivity by using Qualcomm chips.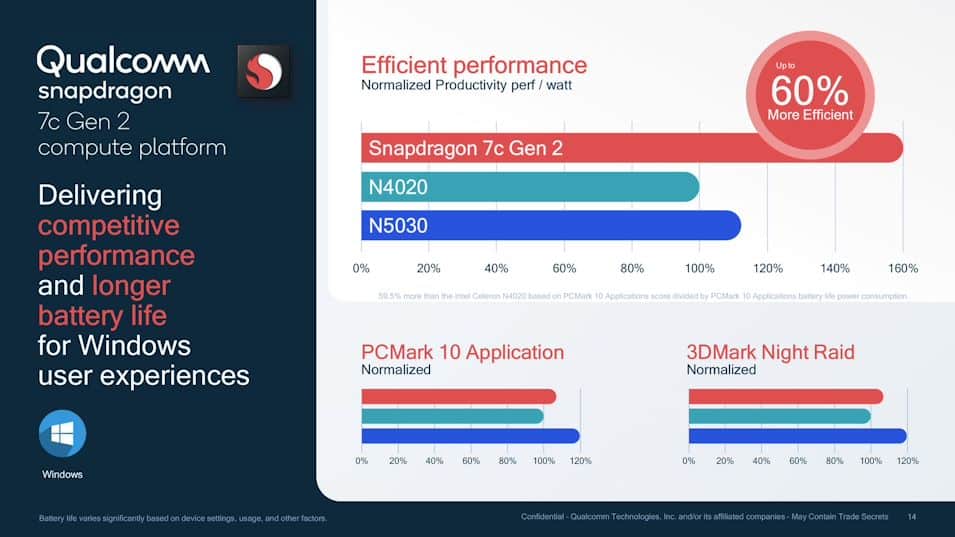 Interestingly, Qualcomm has compared the Snapdragon 7c Gen 2 to the Intel CPUs, namely the Intel Celeron N4020 and the Pentium Silver N5030. As per the slides shared by Qualcomm, the Snapdragon 7c Gen 2 can provide 60% better productivity performance per watt in Windows 10 compared to the Intel Gemini Lake Refresh chips.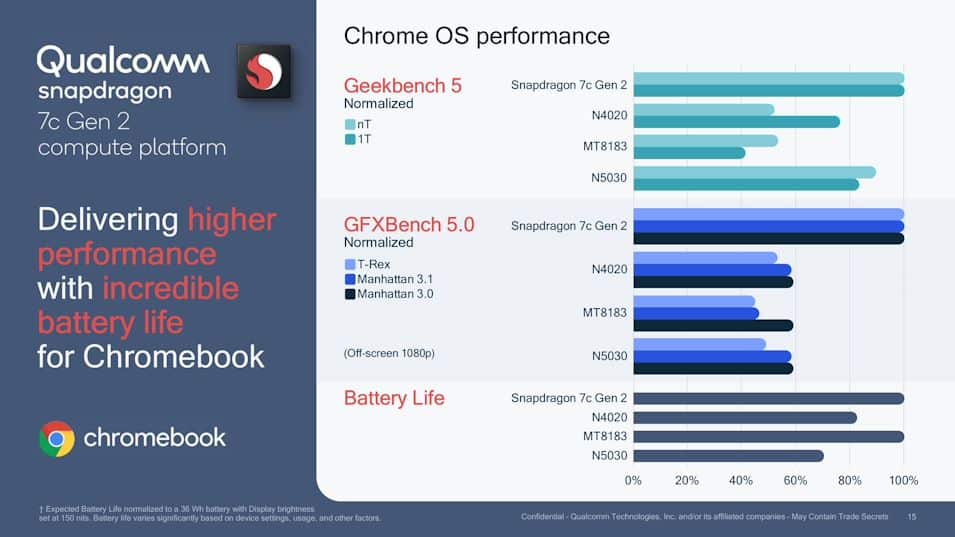 Qualcomm took the stage to show how efficient its chips are on Chromebooks as well, here we see both the Intel CPUs and the MediaTek MT8183, all of them stack up against the Snapdragon 7c Gen 2. Whether it's Geekbench 5, GFXBench 5.0 or battery life comparison, the Qualcomm chips excel in all of them.
With all of these, Qualcomm aims to target the increasing entry-level PC and Chromebook market, and the Snapdragon 7c Gen 2 could be a lucrative option with decent performance, long battery life and always-on LTE connectivity. Here's the full specs of the new Qualcomm Snapdragon 7c Gen 2: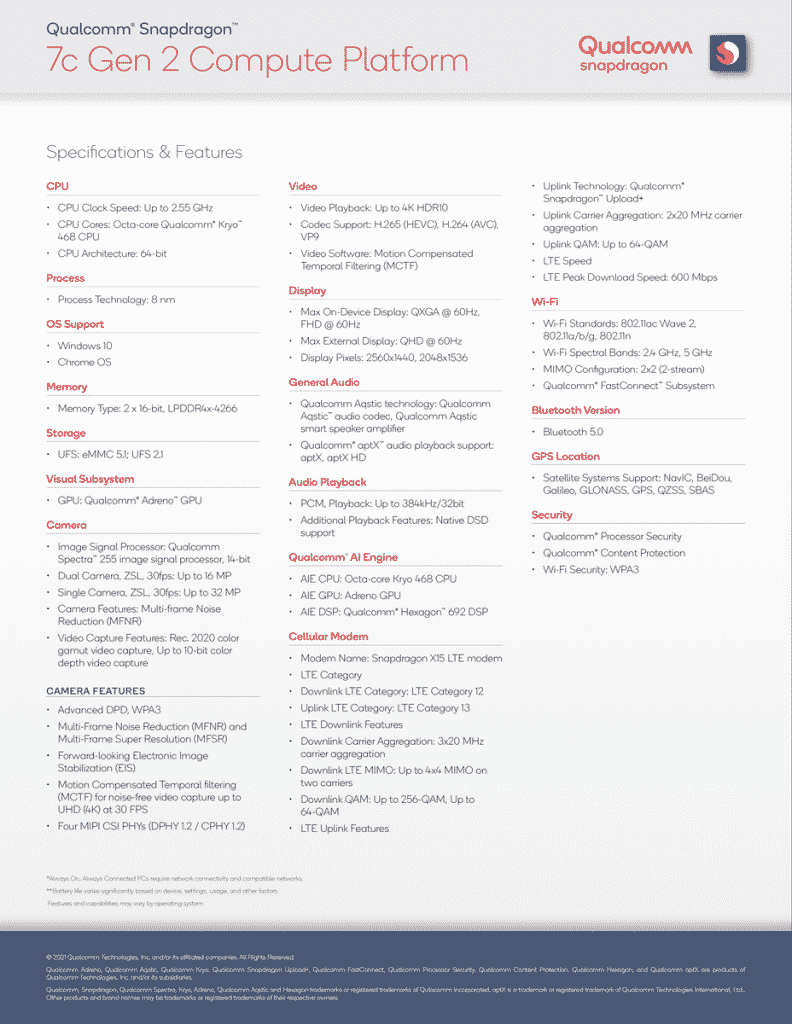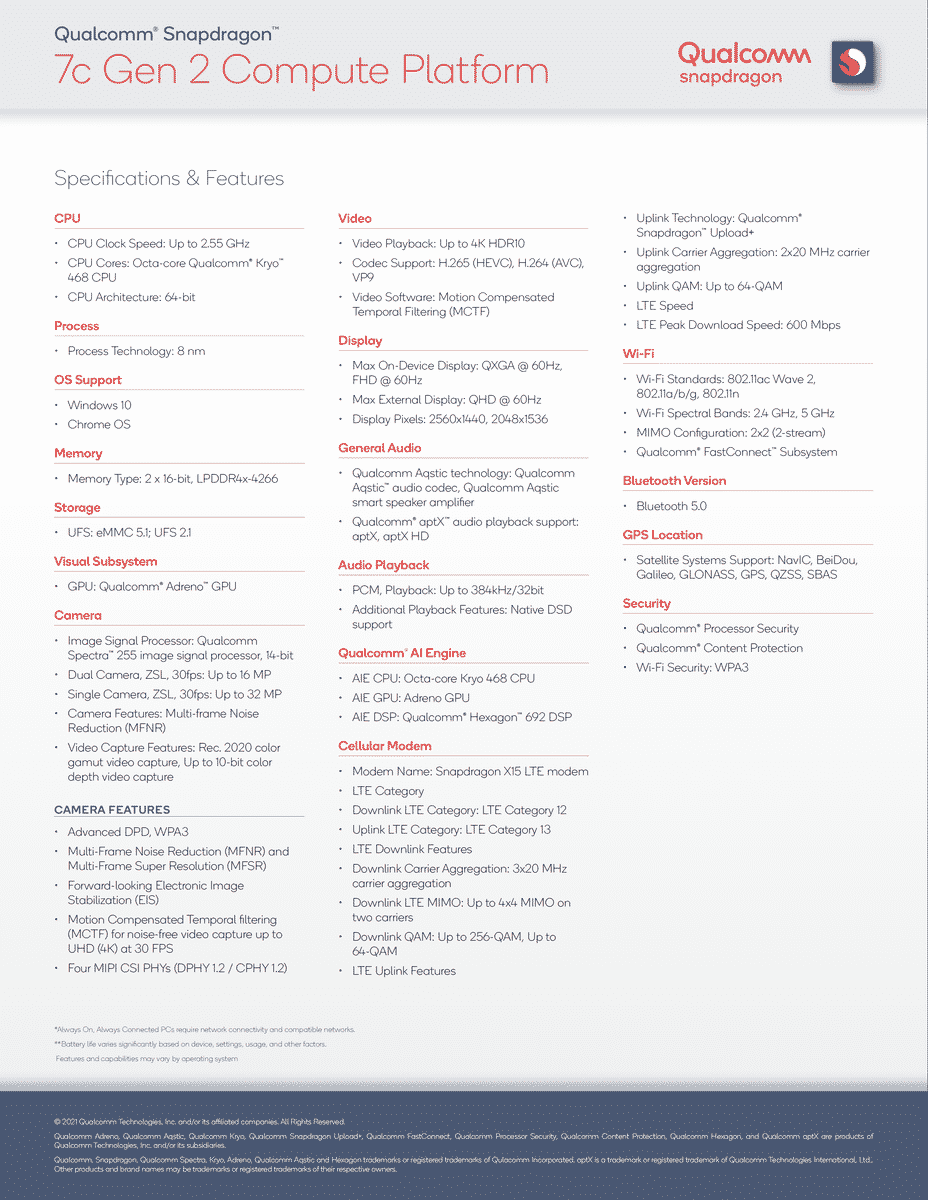 via Notebookcheck