LeEco, which has not been known for the past couple of years, has announced its return. The company has sent out invitations to the LeTV Smart Ecological Conference, which will be held on May 18. The company is expected to introduce new smart TVs.
LeEco was quite popular a few years ago, somewhere between 2014 and 2015, in a few key markets across the globe such as the US, India, and Russia. The brand launched some interesting products including smartphones, smart TVs, and also audio products in that time span.
However, the company took a downturn somewhere around 2016 as it was going through a rough financial patch. Since its financial troubles started, LeEco has been launching very few products every year, and most of them are limited to the Chinese market. Well, now it looks like LeEco wants to make a strong comeback into the market.
LeEco schedules an event for May 18th
LeEco's sub-brand, LeTV, has put out a new post on the Chinese social media platform, Weibo, along with a poster that reads "I'm back". This slogan hints that LeEco is planning to make a strong comeback into the Chinese market.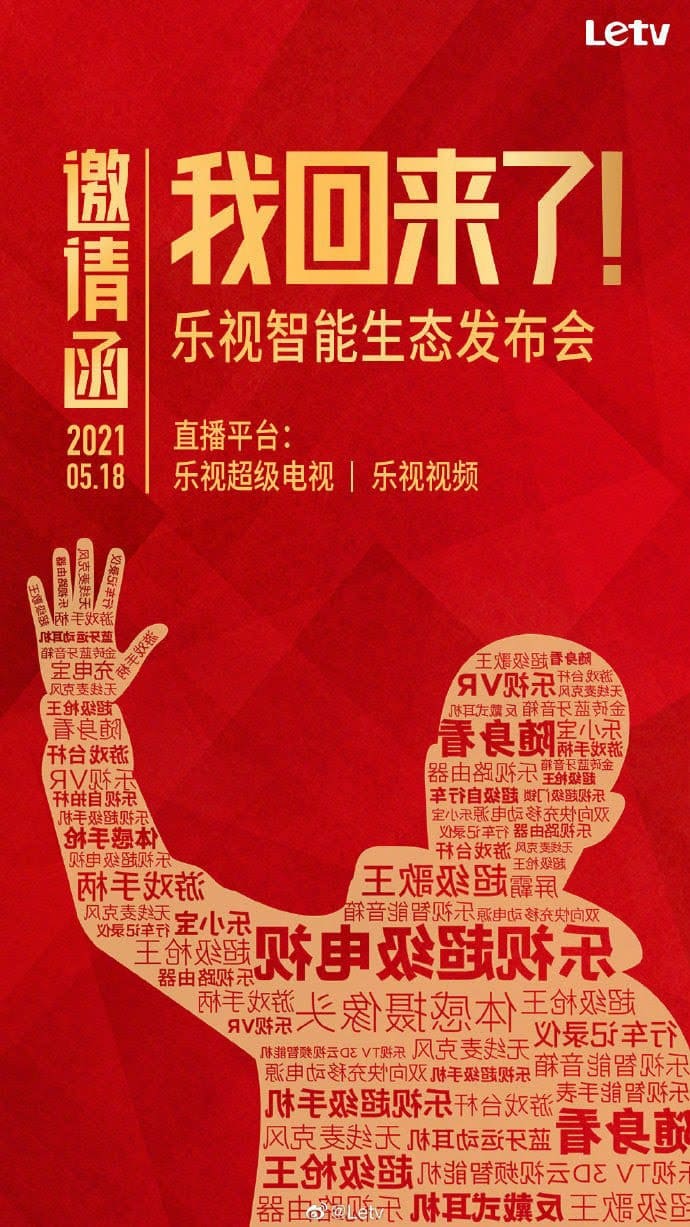 The poster that tags along with the post is actually an invitation to launch a new product(s). The invitation reads "LeTV Smart Ecological Conference", and this launch event/conference is scheduled for May 18th, 2021. Since the poster is in the Chinese language, it is hard to decode everything accurately. However, going from what we've gathered, it looks like LeEco is planning to launch smart TVs and smart home products in China.
The image also has a human profile filled with text for various kinds of products. One of the highlights reads "LeTV Super TV". It also mentions products like LeTV SuperPhone, LeTV TV, smartwatches, Bluetooth speakers, game controllers, routers, door locks, and even bicycles. It won't be logical for LeEco to launch all these products at the same event. So, we are thinking that LeEco is teasing its future product lineup.
Whatever the case, one thing is for sure that we would know about the future of LeEco on May 18th. Stay tuned to know more.
Also Read: