- Advertisement -
AMD's new Ryzen 7 5700G and Ryzen 5 5600G Desktop APUs based on the Zen 3 core architecture have once again been benchmarked. These new benchmarks show the performance of the actual retail processors and how well they stack against other mainstream desktop chips.
AMD announced its Ryzen 5000G lineup last month, however, the company did not confirm the date of arrival of the Zen 3 powered Cezzane to the DIY segment. However, these retail chips are now doing rounds in the benchmark databases, so let's see their performance numbers.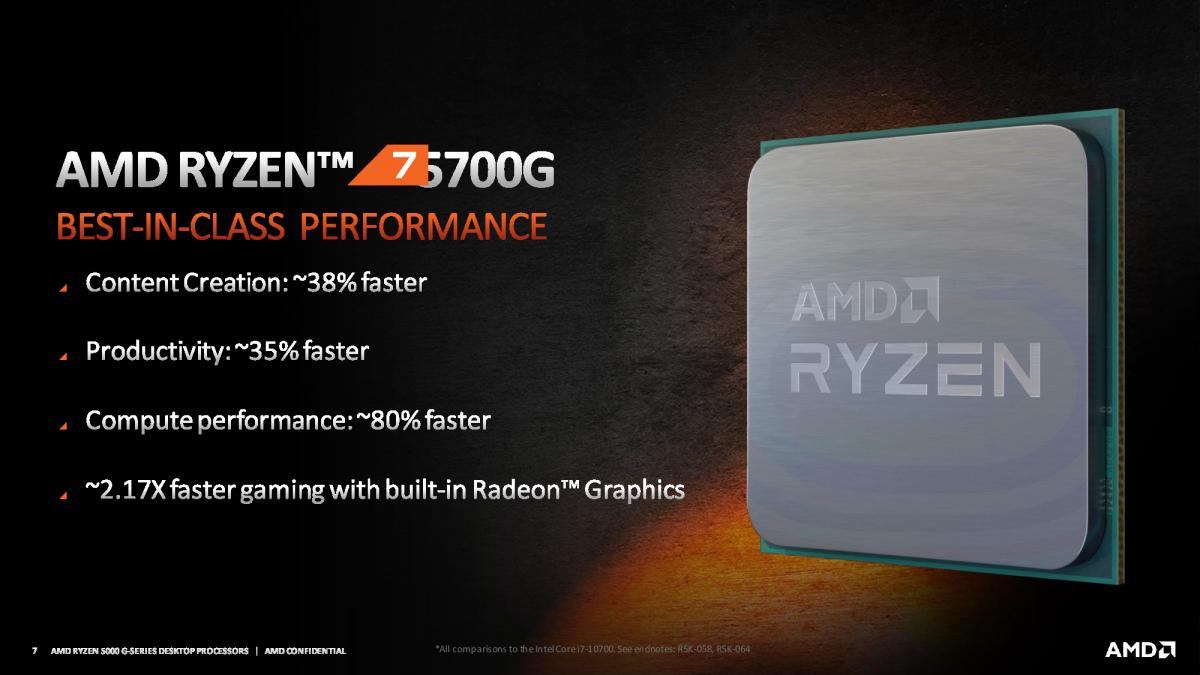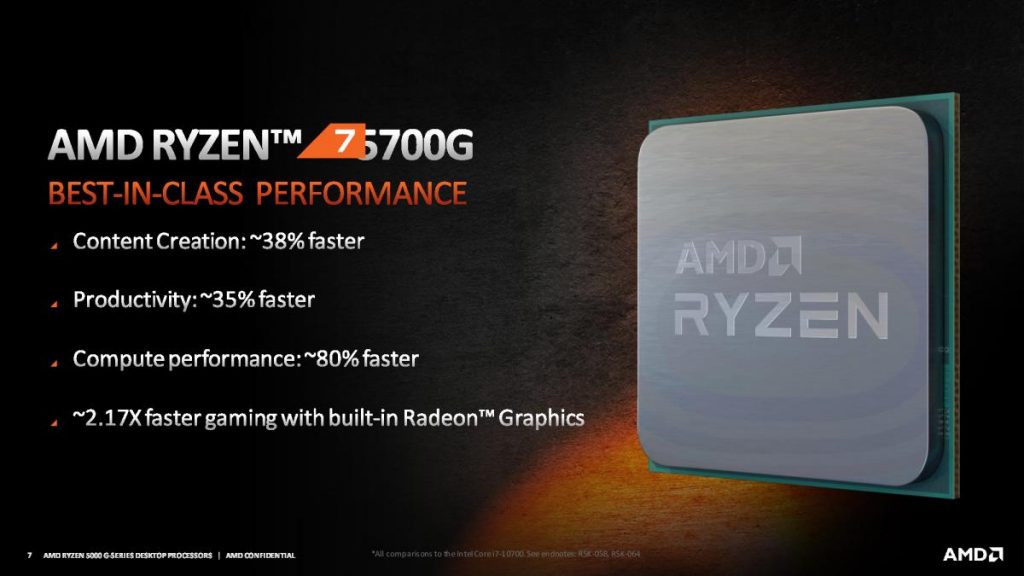 Firstly speaking about the AMD Ryzen 7 5700G which is also the flagship model of the line-up, the chip features 8 cores and 16 threads. And it also has reported clock speeds at 3.8 GHz base and 4.6 GHz boost. The chip will also a total of 16 MB L3 and 4 MB L2 cache with the TDP being set at 65W. it will also be supported by a Vega integrated GPU with 8 CUs or 512 stream processors running at clock speeds around 2.0 GHz.
- Advertisement -
Next is the AMD Ryzen 5 5600G which has 6 core and 12 thread along with a base clock speed of 3.9 GHz and a boost clock speed of 4.4 GHz. The CPU will also get 16 MB of L3 cache and 3 MB of L2 cache and has a 65W TDP. On the graphics end it will be supported by the Vega 7 iGPU (448 Stream Processors) clocked at 1900 MHz.
AMD Ryzen 5000G Cezanne Zen 3 Desktop APUs
| | | | | | | | | | |
| --- | --- | --- | --- | --- | --- | --- | --- | --- | --- |
| CPU Name | AMD Ryzen 3 5300GE | AMD Ryzen 3 PRO 5350G | AMD Ryzen 3 5300G | AMD Ryzen 5 5600GE | AMD Ryzen 5 PRO 5650G | AMD Ryzen 5 5600G | AMD Ryzen 7 5700GE | AMD Ryzen 7 PRO 5750G | AMD Ryzen 7 5700G |
| CPU Architecture | Zen 3 | Zen 3 | Zen 3 | Zen 3 | Zen 3 | Zen 3 | Zen 3 | Zen 3 | Zen 3 |
| Cores / Threads | 4/8 | 4/8 | 4/8 | 6/12 | 6/12 | 6/12 | 8/16 | 8/16 | 8/16 |
| Base Clock | 3.60 GHz | 4.00 GHz | 4.00 GHz | 3.40 GHz | 3.90 GHz | 3.90 GHz | 3.20 GHz | 3.80 GHz | 3.80 GHz |
| Boost Clock | 4.20 GHz | 4.20 GHz | 4.20 GHz | 4.40 GHz | 4.40 GHz | 4.40 GHz | 4.60 GHz | 4.60 GHz | 4.60 GHz |
| L3 Cache | 8 MB | 8 MB | 8 MB | 16 MB | 16 MB | 16 MB | 16 MB | 16 MB | 16 MB |
| L2 Cache | 2 MB | 2 MB | 2 MB | 3 MB | 3 MB | 3 MB | 4 MB | 4 MB | 4 MB |
| iGPU | Vega 6 | Vega 6 | Vega 6 | Vega 7 | Vega 7 | Vega 7 | Vega 8 | Vega 8 | Vega 8 |
| iGPU Clock | 1.7 GHz | 1.7 GHz | 1.7 GHz | 1.9 GHz | 1.9 GHz | 1.9 GHz | 2.0 GHz | 2.0 GHz | 2.0 GHz |
| TDP | 35W | 65W | 65W | 35W | 65W | 65W | 35W | 65W | 65W |
| Price | TBC | ~$150 US | ~$150 US | TBC | ~$250 US | ~$250 US | TBC | ~$350 US | ~$350 US |
- Advertisement -