The OnePlus 9 series was unveiled in the Indian market in March this year with the launch of the OnePlus 9, the OnePlus 9 Pro, and the OnePlus 9R. As is the trend nowadays with flagship smartphones, all the OnePlus 9 series devices feature 5G connectivity.
However, the OnePlus 9 and the OnePlus 9 Pro support only two 5G bands in India, the N41 and the N78, whereas, the OnePlus 9R supports a single 5G band in the country, the N78. Fortunately, the company had recently confirmed that it can add support for more 5G bands to the OnePlus 9 series smartphones in the future with software updates for global markets. Well, that won't be happening for the Indian versions.
Oneplus has confirmed today that it cannot add support for more 5G bands to the OnePlus 9, OnePlus 9 Pro, and the OnePlus 9R through a software update. "We sincerely apologize for the miscommunication and we would like to inform you that due to hardware limitation the device only supports 2 Bands and it can not be fixed via OTA." says OnePlus Support of India.

According to the company, it cannot add support for more than 5G bands to these smartphones due to the hardware limitations of these devices. The brand has apologized for its earlier confirmation that such a thing was possible.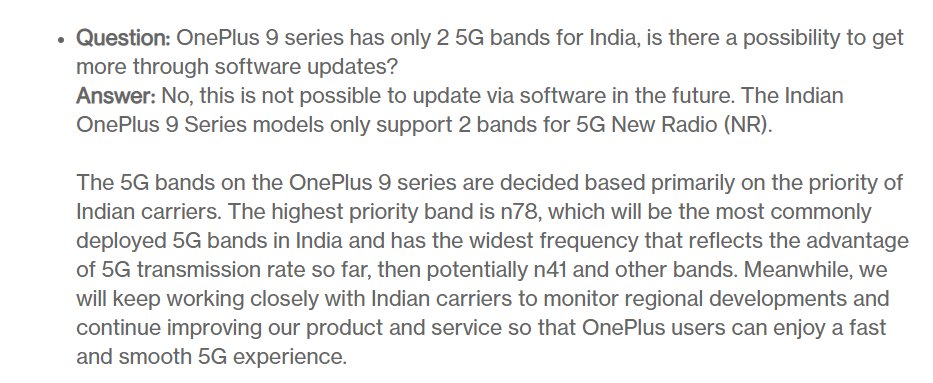 The OnePlus 9 Pro supports a lot more 5G bands in the US (N1, N2, N3, N5, N7, N8, N25, N28, N38, N40, N41, N48, N66, N71, N77, N78) compared to the Indian variants of the smartphone. It could mean that the brand has used a different modem for the OnePlus 9 series smartphones in the country. OnePlus could have taken this step to cut down on the manufacturing costs of these smartphones for the Indian market. Whatever the case, people are quite furious about this decision from the company.
5G network could be available in India soon
Currently, India does not have a 5G network. However, the Department of Telecommunications (DoT) has recently given a go-ahead to telecom companies in India to test the 5G network in the country. Therefore, everyone is expecting the 5G network to roll out in the Indian market soon.
We are yet to see which 5G bands will telecom operators use in India. If they go with the N41 and the N78 bands, the OnePlus 9 users will be in luck. If the telecom companies decide to use any other bands apart from the N41 and the N78, it will be a huge bummer for the OnePlus 9 users in the country as they won't be able to experience the 5G network.
Also Read: