These days making a custom PC from sratch is a costly affair because of the increased prices of RAMs, CPUs and storage devices, also if you find one GPU at reasonable price, consider yourself as the luckiest person on earth at the moment.
In the middle of this crisis, we can't just stop using PCs or stop building them but find ways to make them more affordable. So, for this, pre-built PCs offer more value these days.
If you do not require a lot of horsepowers and you work basically surrounds by that of using Office apps, browsing, media consumption and casual video calls, a Mini PC is more than enough.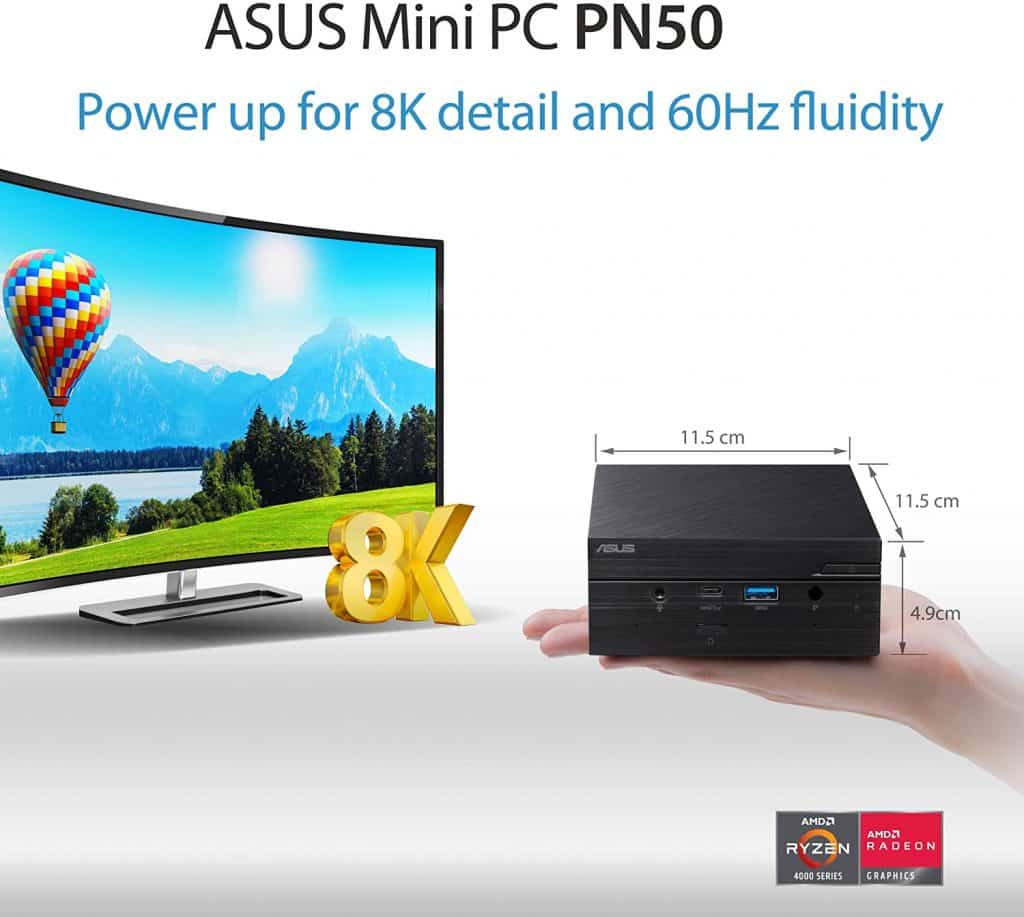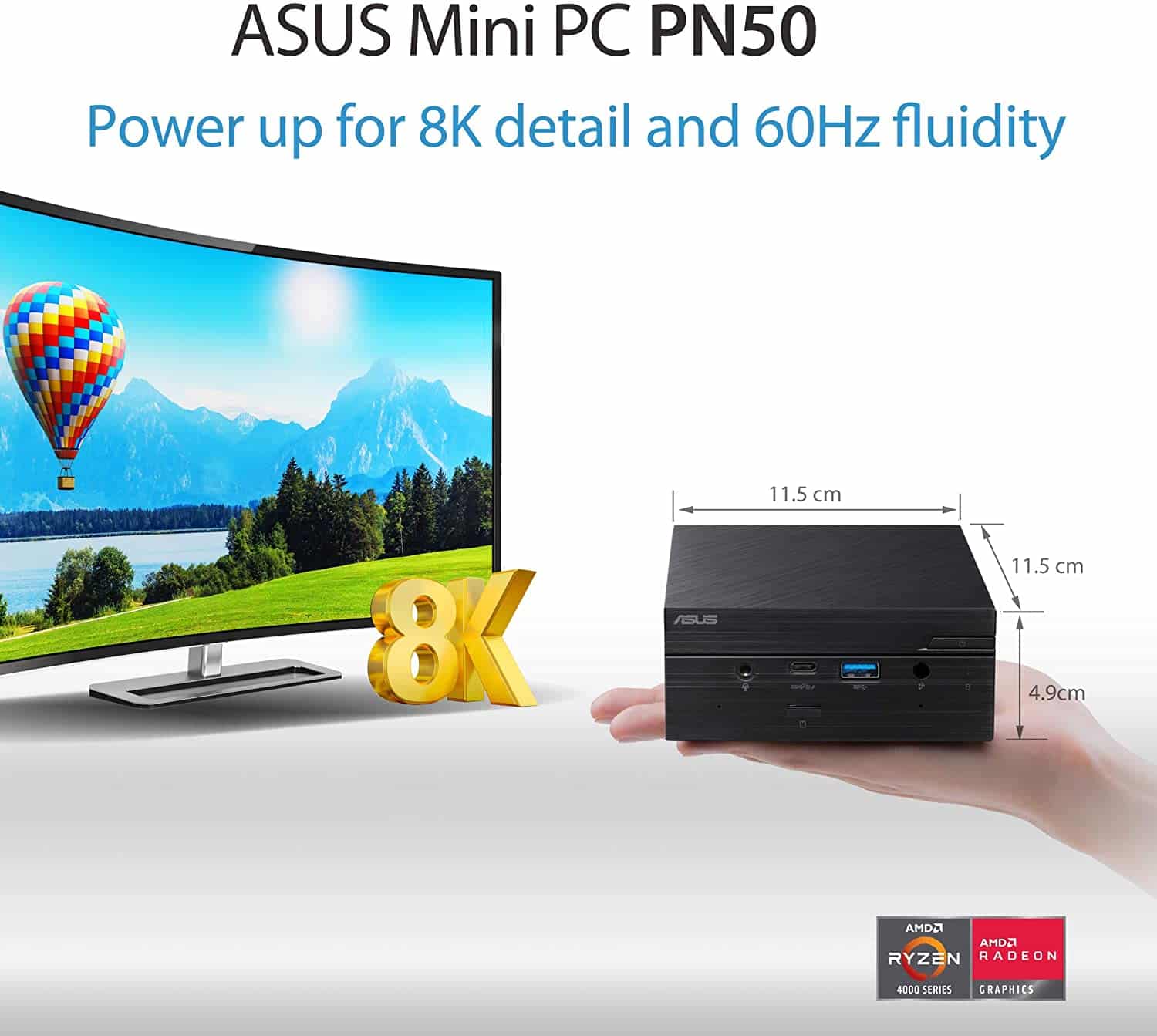 AMD's revolutionary 7nm based Ryzen 4000U processors with integrated graphics have changed the landscape of efficiency/performance ratio for once and forever. So, this ASUS PN50 mini PCs are just great for normal users who are not looking to spend much but looking for a viable and good option.
The base variant with AMD Ryzen 3 4300U is a quad-core APU with 4 cores and 8 threads along with up to 3.7GHz clock speeds, enough to handle for your daily usage. For connectivity, you have Intel Wi-Fi 6 and Bluetooth 5 support; also, you have many ports for output and transfers.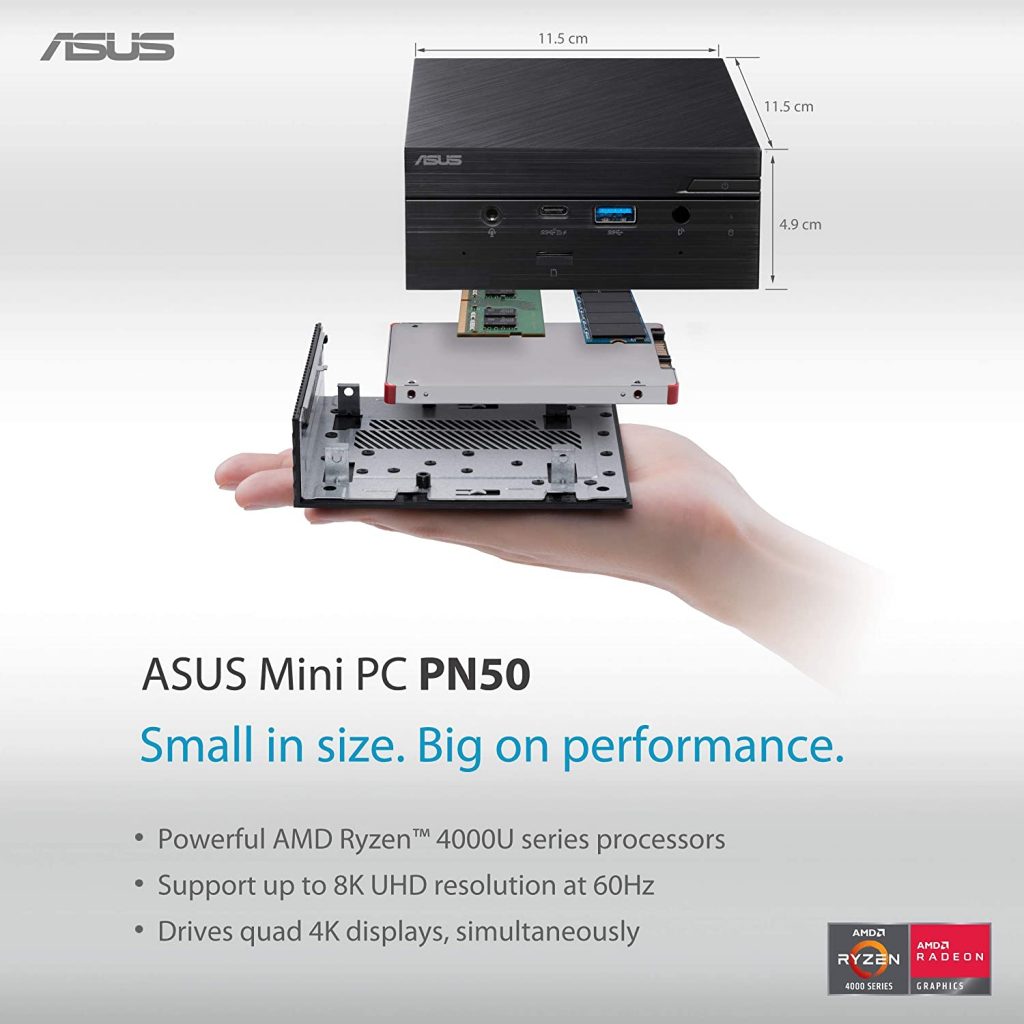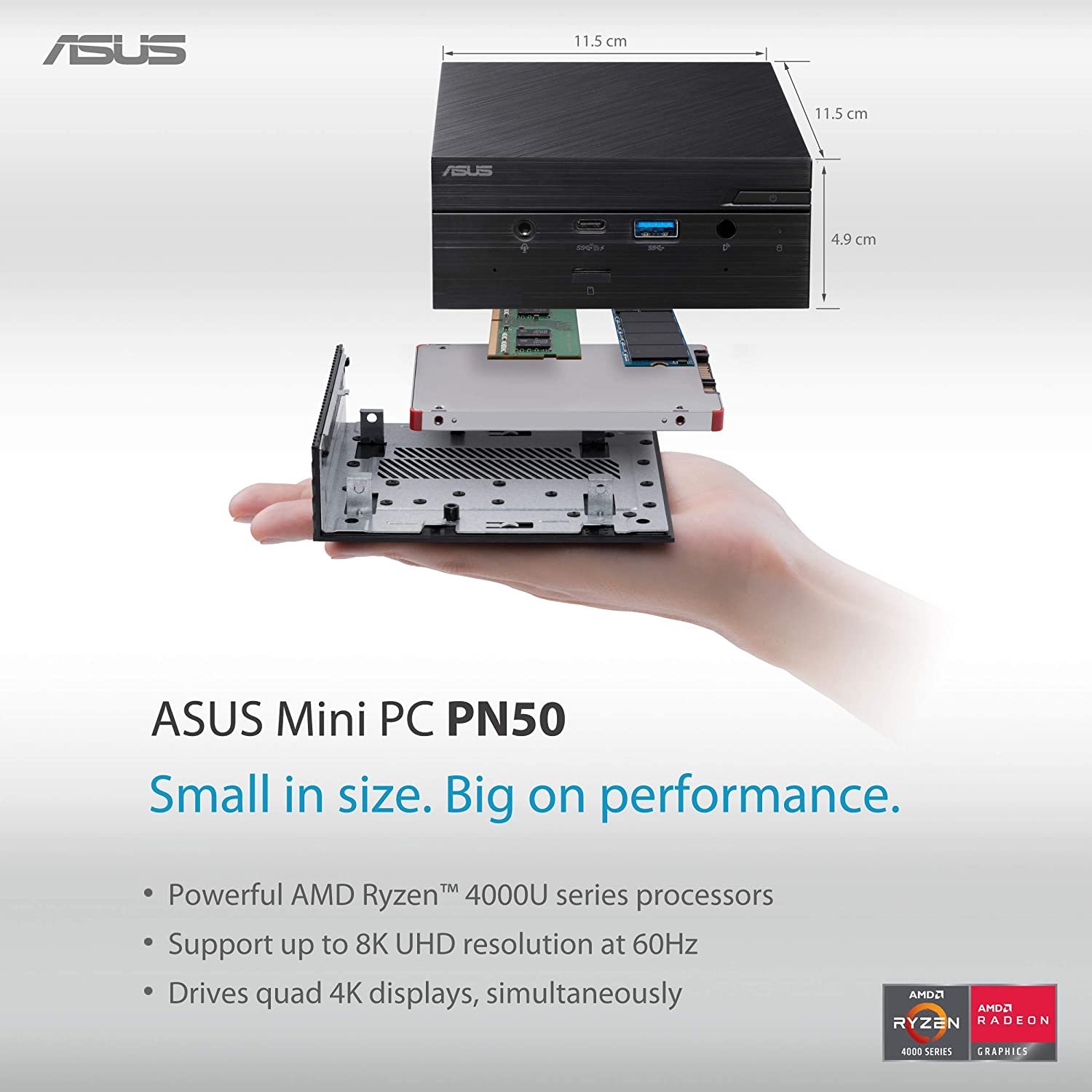 Specifications
ASUS Mini PC PN50 comes with AMD Ryzen 3 4300U processors delivering swift yet extremely quiet performance for both home entertainment and business applications.
The Compact and lightweight design enable the user to place it almost anywhere and even mounted it to the back of a display.
Modern and Space-Saving Design featuring sleek lines and a stylish, brushed finish makes ASUS Mini PC PN50 blend easily into home, office and retail environments.
Supports memory up to 64GB with DDR4 3200 MHz, 2.5-inch 500GB Up to 1TB SATA III Hard Drive and M.2 128GB Up to 512GB PCIe.
Equipped with a total of 2 X USB 3.1 Gen 1 Type-C port, 3 x USB 3.1 Gen 1 Type-A ports, 1 x Consumer Infrared Sensor, 2 x Microphone Array and 1 x Audio Jack. It comes with 1 x Display Port, 1 x VGA, 1 x HDMI port and 1 x RJ45 LAN.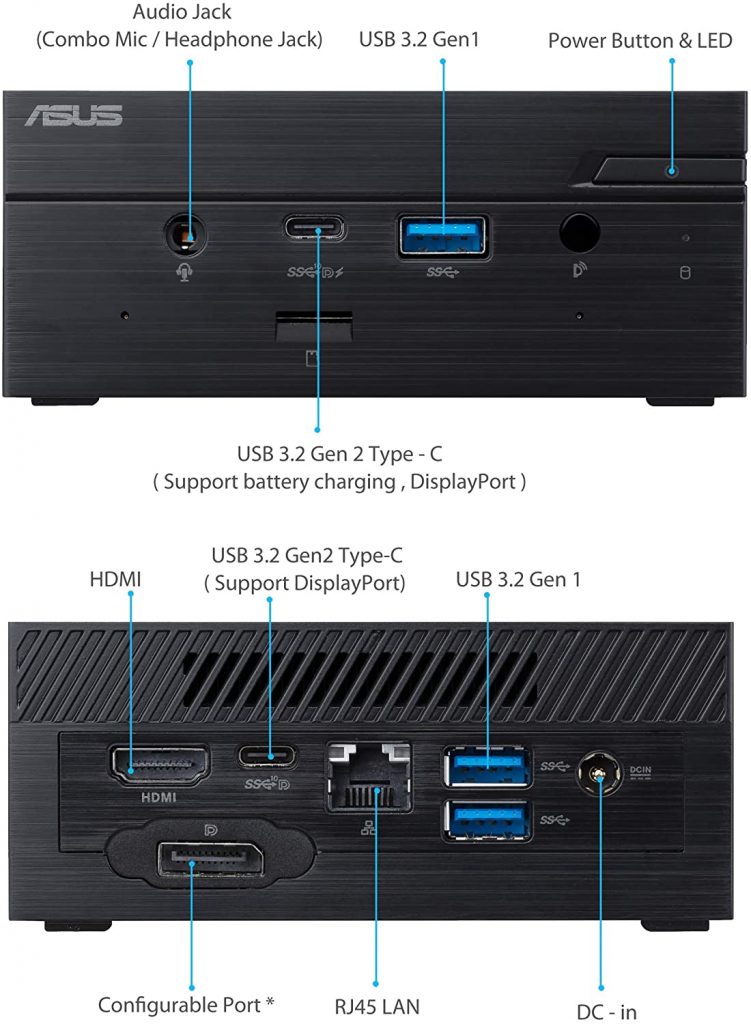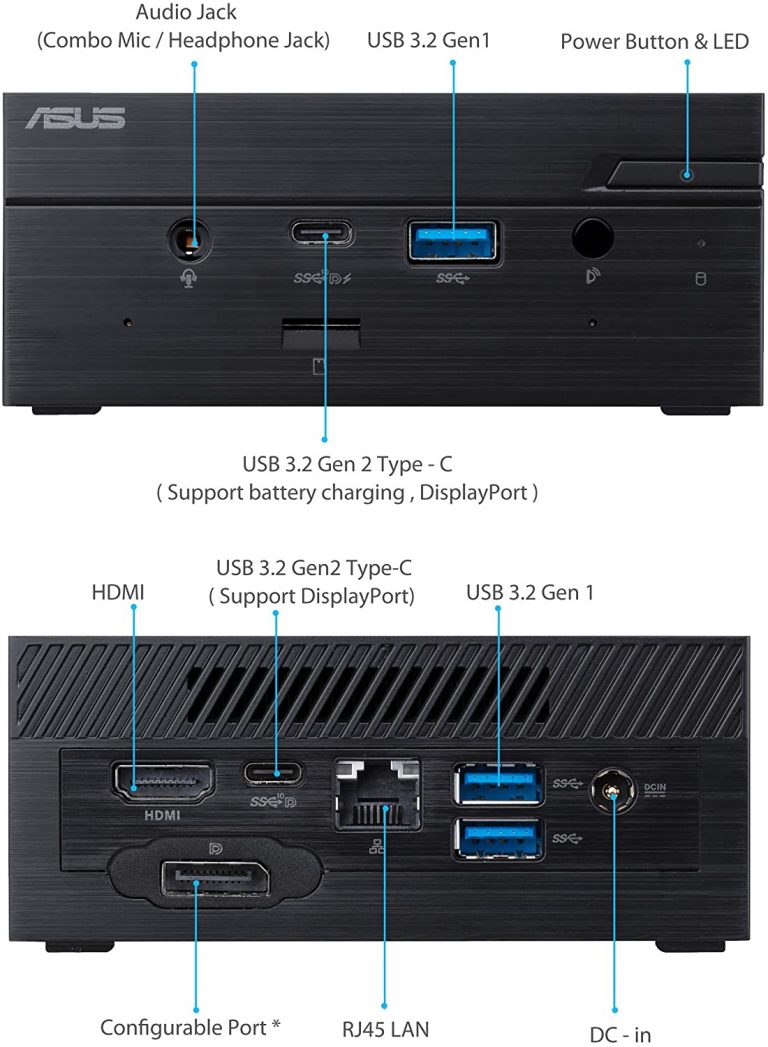 ASUS Mini PC PN50 supports up to four displays with 4K resolution through HDMI, DisplayPort over USB-C and user-configurable ports. PN50 also supports stunning 8K UHD through DisplayPort 1.4 or Type-C DisplayPort, for detail that's 4X times greater than 4K or a remarkable 16X higher than traditional Full HD output.
Microsoft Cortana support with dual-array front microphones
Infrared (IR) receiver for remote control of applications
Buy from here: https://amzn.to/33q6dwl
This is a Barebone PC which means you have the APU, all the slots, ports and connectivity options, however, two things you require for the Mini PC to work are RAM and SSD or HDD.