Facebook, whose business model heavily relies on selling ads across its apps and service, is using the tactic whereby it asks users to enable tracking as part of the App Tracking Transparency (ATT) framework in iOS 14.5 if Facebook and Instagram are to be kept "free of charge", as a way to convince users to enable tracking across other apps and websites.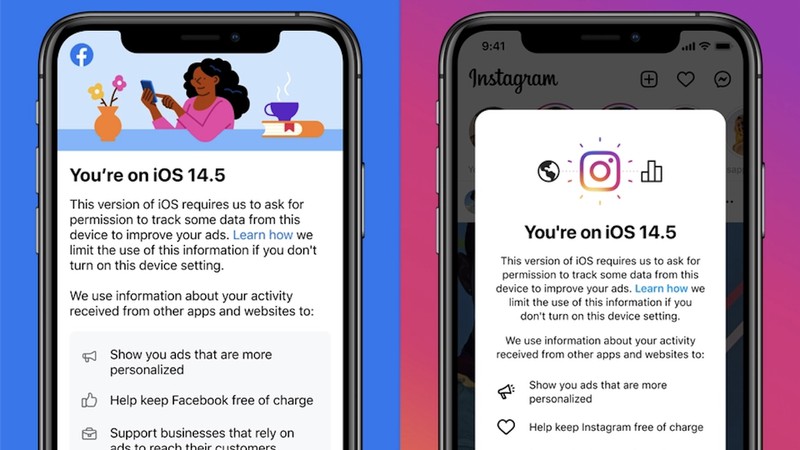 ATT is the newest and long-awaited privacy feature to come to iPhone and iPad devices as part of the update released to the public last week, the iOS 14.5. With this new ATT feature in iOS, apps are now required to show users a prompt asking for their consent before collecting their data across other apps and websites.
How does Facebook make use of this tracking? For example, Small businesses can use Facebook's ad business to target ads to specific customers or demographics. However, if an iOS 14.5 user decides to opt out of tracking, Facebook may have fewer data to deliver those personalized ads to that user.
After the iOS 14.5 update was released, more and more apps are beginning to display the ATT prompt to users every day. Facebook had previously given a glimpse of what the prompt will look like, and now, with the update released, the Mark Zuckerberg-led company is slowly starting to roll it out to users. As spotted by Ashkan Soltani on Twitter, Facebook has updated its prompt to include the notice "Help keep Facebook free of charge."
In an updated blog post, Facebook calls this updated prompt an "educational screen" that "help people make an informed decision about how their information is used." Instagram, owned by Facebook, will also show a similar prompt to users asking them to enable tracking to "Help keep Instagram free of charge."
"As Apple has said that providing additional context is allowed, we will show an educational screen before presenting Apple's prompt to help people make an informed decision about how their information is used. It provides more details about how we use data for personalized ads and how we limit the use of activity other apps and websites send us if people don't turn on this device setting. Our screen also lets people know that they see Apple's prompt due to Apple's requirements for iOS 14.5."
ATT was released as part of the iOS 14.5 update, which brought other notable features, including the ability to unlock an ‌iPhone‌ with a paired Apple Watch, major changes to Podcasts, Reminders app, and more. Check out our iOS 14.5 guide to see everything that's new.
Facebook's prompt won't be seen by everyone right away as it will be rolling out the prompt to more users in the coming days and weeks.
This is a bold move by Facebook. With the users' reaction online, however, it seems that the move will fail. Most users are working on ways to get rid of social media these days, and making them pay to use the platforms is the best thing Facebook can do to help them leave. As much as this might be a little necessary for Facebook to continue its revenue streams through targeted ads, this does seem like a bluff. There are high chances this will not go the way Facebook wants it to go.