The global chip shortage is showing no signs of a conclusion yet, it is, in fact, going from bad to worse as automakers on three continents join tech giants Apple Inc. and Samsung Electronics Co. in flagging production cuts and loss of revenue from the crisis.
In a dizzying stretch of 12 hours, Asia's Honda Motor Co. said it will halt production for around five to six days next month at three plants in Japan; Europe's BMW AG flagged it will pause Mini car production for three days at its Oxford, England, factory; and North America's Ford Motor Co. reduced its full-year earnings forecast due to the debilitating chip shortage, which it sees extending into next year.
John Lawler, Ford's chief financial officer, said on a call with reporters, the shortage will likely reduce production at the company by 1.1 million vehicles this year.
Elon Musk, Tesla Inc. Chief Executive Officer, this week called the chip shortage a "huge problem." NXP Semiconductors NV warned constraints for the auto industry could extend into 2022.
"There are too many uncertainties about when chip supplies will improve, and that's making it difficult for automakers," said Lee Han-joon, an analyst at KTB Investment & Securities Co. in Seoul, according to Bloomberg. "For semiconductor makers, the auto industry isn't really seen as one of their key customers and that's putting the carmakers in a much tougher position in securing supplies."
The supply crunch of critically needed semiconductors has made the entire auto industry cut output, leaving thin inventories at dealerships just as Covid-19 restrictions were being put to ease and consumers were emerging. In just the past week, Jaguar Land Rover Automotive Plc, Volvo Group, and Mitsubishi Motors Corp. have joined the list of carmakers idling factories. Consultant AlixPartners has said the chip shortage could cost automakers $61 billion in lost sales this year.
"The second quarter is going to be worse for automakers than the first quarter," said Song Sun-Jae, an analyst at Hana Daetoo Securities Co. in Seoul. "The chip-shortage problem could end up lasting longer, maybe into next year."
APPLE FINALLY FEELS THE PINCH OF THE CHIP CRISIS
Now, the very companies that benefited from surging demand for consumer electronics during the pandemic, such as phones, and laptops, that caused the chip shortage, are starting to feel the pinch.
Samsung, both a producer and user of chips, informed on Thursday that revenue and profit at its mobile division, which produces its marquee Galaxy smartphones, will see a cut this quarter because of component shortages and weak demand for flagship models.
After a blockbuster second quarter, with soaring revenue, record Mac sales, and stronger-than-anticipated iPhone demand, Apple turned out to face only one snag: the chip crisis. On a call with analysts, Chief Executive Officer Tim Cook warned that supply constraints are crimping sales of iPads and Macs, two products that performed especially well during lockdowns. Chief Financial Officer Luca Maestri said this will knock $3 billion to $4 billion off revenue during the fiscal third quarter.
The executives blamed "semiconductor shortages that are affecting many industries" and "very, very high" demand for iPads and Macs. Cook said the component shortages were for "legacy nodes," implying the setbacks are for products using older generation processors. Cook noted that Apple did not experience this problem during the previous quarter but wouldn't specify how long the shortages will last.
Apple iPhone sales surged 66% in the fiscal second quarter, first full period for model 12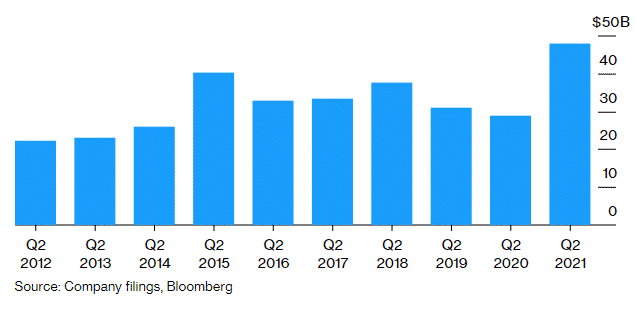 During work and study from home days of the pandemic, businesses and schools snapped up millions of iPads and Macs, and Cook suggested on Wednesday that the momentum won't necessarily slow down after the pandemic ends. He said many businesses will shift to hybrid models with employees working at home and in the office. That could support continued demand for the devices.
Still Waiting
The gap between ordering a chip and getting it is growing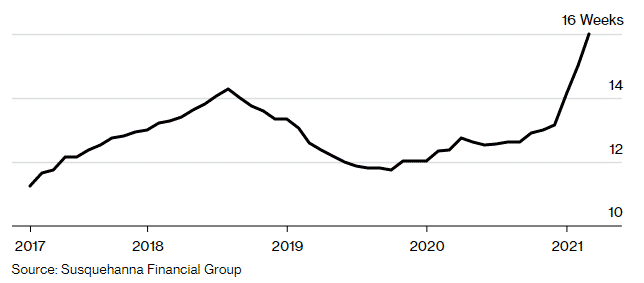 Beyond Apple, whose high-spec models, aggressive demands, and loyal customers typically place it at the front of the line, the intense chip crunch threatens to dampen a nascent rebound in the entire smartphone market. Worldwide shipments surged an estimated 27% to 347 million devices in the first quarter — aided by a plethora of new models and China's swift post-pandemic recovery — but a shortage of components such as app processors could sap that momentum over the rest of 2021.
"Covid-19 is still a major consideration, but it is no longer the main bottleneck," Canalys Research Manager Ben Stanton wrote Thursday. "Supply of critical components, such as chipsets, has quickly become a major concern, and will hinder smartphone shipments in the coming quarters."