Tesla Inc. Chief Executive Officer Elon Musk said that the company sold 10% of its Bitcoin holdings to demonstrate the token's liquidity. Additionally, he informed, that he's retained his personal investment in the cryptocurrency.
Tesla bought more than $1 billion dollars worth of Bitcoin last year. Its earnings report showed that the firm generated $101 million in income from the sale. Musk said on Twitter that Tesla in essence was trying "to prove liquidity of Bitcoin as an alternative to holding cash on balance sheet."
For a number of strategists, cryptocurrency is purely speculative investments rather than legitimate alternatives to cash, while many remain critical about cryptocurrency, Tesla's Chief Financial Officer Zachary Kirkhorn said on an earnings call that the company believes in Bitcoin's long-term value.

However, Musk has been an avid and rallying supporter of cryptocurrencies for some time. Late last month the billionaire announced that Tesla would begin accepting payment for its vehicles in Bitcoin.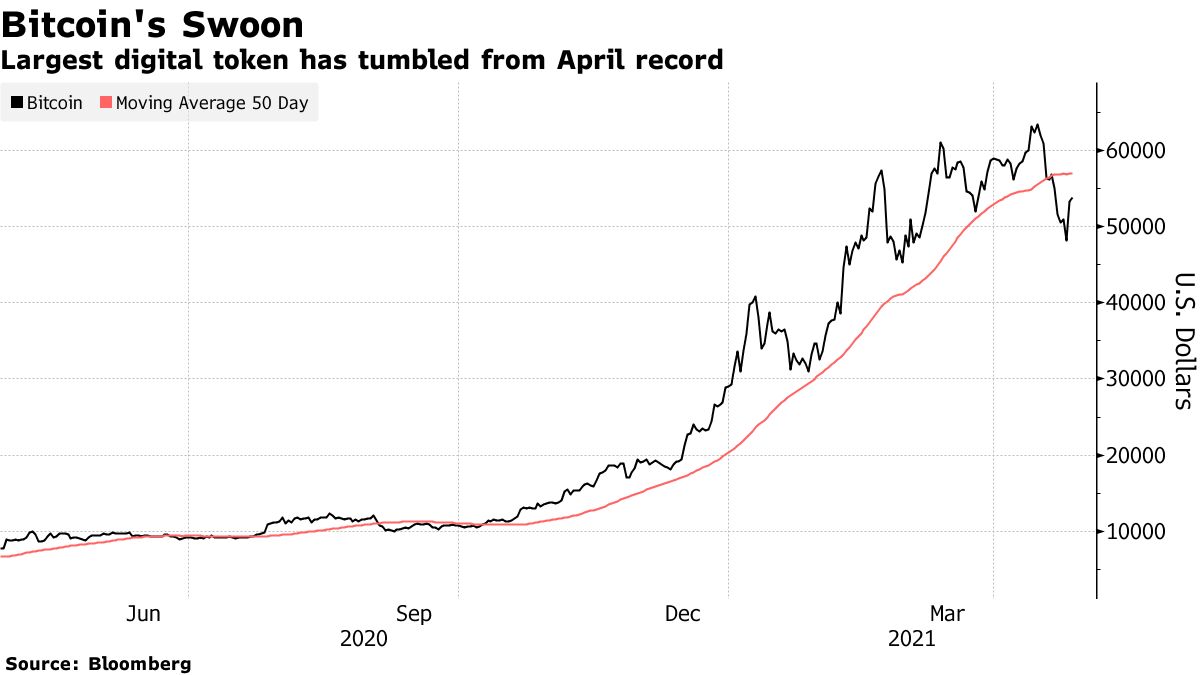 Bitcoin, the world's largest cryptocurrency, as of 12:16 p.m. in Tokyo on Tuesday, climbed about 1% to $53,765. Tesla fell as much as 3.1% in late trading after its results were announced Monday despite a record profit in the first quarter.
TESLA BELIEVES SOMEONE WAS IN THE DRIVER'S SEAT DURING THE MODEL S CRASH
In the fatal crash of a Tesla Model S in Texas earlier this month, Tesla has concluded that someone was in the driver's seat, though it hasn't been able to retrieve all the data from the vehicle.
On April 17, when the Model S hit a tree and caught on fire in the Woodlands, a wealthy neighborhood in greater Houston, William Varner, 59, and Everette Talbot, 69, both died. Police said that "no one" was in the driver's seat, which led to speculation that the vehicle's highly talked-about Autopilot technology may have been a factor.
Tesla's vice president of vehicle engineering, Lars Moravy, said on the company's earnings call Monday that the automaker is working with the two U.S. agencies that have launched probes into the bizarre crash, National Highway Traffic Safety Administration (NHTSA) and the National Transportation Safety Board (NTSB).
"We were able to find that the steering wheel was indeed deformed, leading to the likelihood that someone was in the driver's seat at the time of the crash," Moravy said, according to Bloomberg.
Moravy's remarks are Tesla's most extensive to date.