Electric cars and SUVs have made inroads into the Indian market but do not contribute all that much to total passenger car sales due to a lack of public charging infrastructure and a higher price tag (despite government subsidies). However, buyers now have more than a few options.
Currently, in the Indian market, there are seven all-electric cars on sale, ranging from mass-market sedans and SUVs to premium luxury SUVs. Here's a quick look at every electric car and SUV you can buy in India, today.
Tata Tigor EV
Tata's first all-electric car, the Tigor EV, was available only for commercial buyers in 2019 when it first launched. Due to its small 16.2kWh battery, the Tata Tigor EV didn't really alleviate the range anxiety associated with all EVs. Driving Tata's electric sedan in traffic is no hassle but it runs out of steam above 50kph; Auto Car India's Tigor EV review showed it took 18.84sec to hit 80kph.
Tata introduced an upgraded Tigor EV in three variants in October 2019. One of those with a larger, 21.5kWh battery pack, which gave it 213km of range on a single charge. The brand also opened order books for individual buyers. 
Mahindra eVerito
The Mahindra eVerito – the all-electric version of the now-discontinued Verito sedan – is one of the oldest to be on sale in the Indian market. Available in two variants – D2 and D6. The eVerito has a battery pack of 18.55kWh that has an ARAI-rated 140km of range. The real-world range, which is usually found to be lower than the ARAI figure, has been a complaint. The weak electric motor makes it only suitable for short commutes as eVerito is slow, and struggles to keep up with city traffic.
Tata Nexon EV
Tata's second electric car is quite an upgrade from its Tigor EV. The Tata Nexon EV has the modern tech, which makes it feel like the first EV from the company that could serve as an alternative to a petrol car, like a connectivity suite, and a number of goodies, such as a sunroof. Expect the 30.2kWh battery to last 180-220km in the real world. Auto Car India's review of the electric Tata compact SUV "showed it is quick off the line, effortless and decently fun-to-drive too."
Nexon EV prices start Rs 2.52 lakh higher than the top-spec Nexon XZA+ DT (O) petrol-automatic and end Rs 4.93 lakh higher, which calls to be a noteworthy premium. While sales of the Nexon EV have crossed the 4,000-unit mark at the beginning of this month, it has been mired in controversy after complaints about its range. 
Hyundai Kona Electric
In July 2019, the Hyundai Kona Electric was introduced as a CKD (Completely Knocked-Down) to showcase the Korean brand's tech in the EV arena. Auto Car India's review found it was a peppy performer, a typically well-kitted Hyundai, and that it could go a decent distance on a single charge. However, its interiors are bland and aren't all that spacious either.
MG ZS EV
The MG ZS EV is a direct rival to the previous car on our list, the Hyundai Kona Electric. From its 44.5kWh battery pack, it boasts of a longer real-world range. There is more cabin space and a long list of equipment; there are some features that are missing from a car in this class though. "Despite a recent update that increased its ARAI range from 340km to 419km and ground clearance by 16mm, MG ZS EV prices also undercut Hyundai's EV by a small margin." Autocar India traveled 563km in the ZS EV on a single charge, setting the record for the maximum distance traveled in an EV on one charge in India.
Mercedes-Benz EQC
Mercedes-Benz India's first all-electric model, the EQC is meant to satisfy the needs of a traditional luxury SUV buyer. The Mercedes-Benz EQC is refined, can go about 350km on a single charge, and has a fun-to-drive aspect. Buyers who opt to drive should not have any complaints. The low ground clearance is also an issue. It's not as feature-rich as you'd expect from a car of this price; with a Rs 1.04 core price tag.
Jaguar I-Pace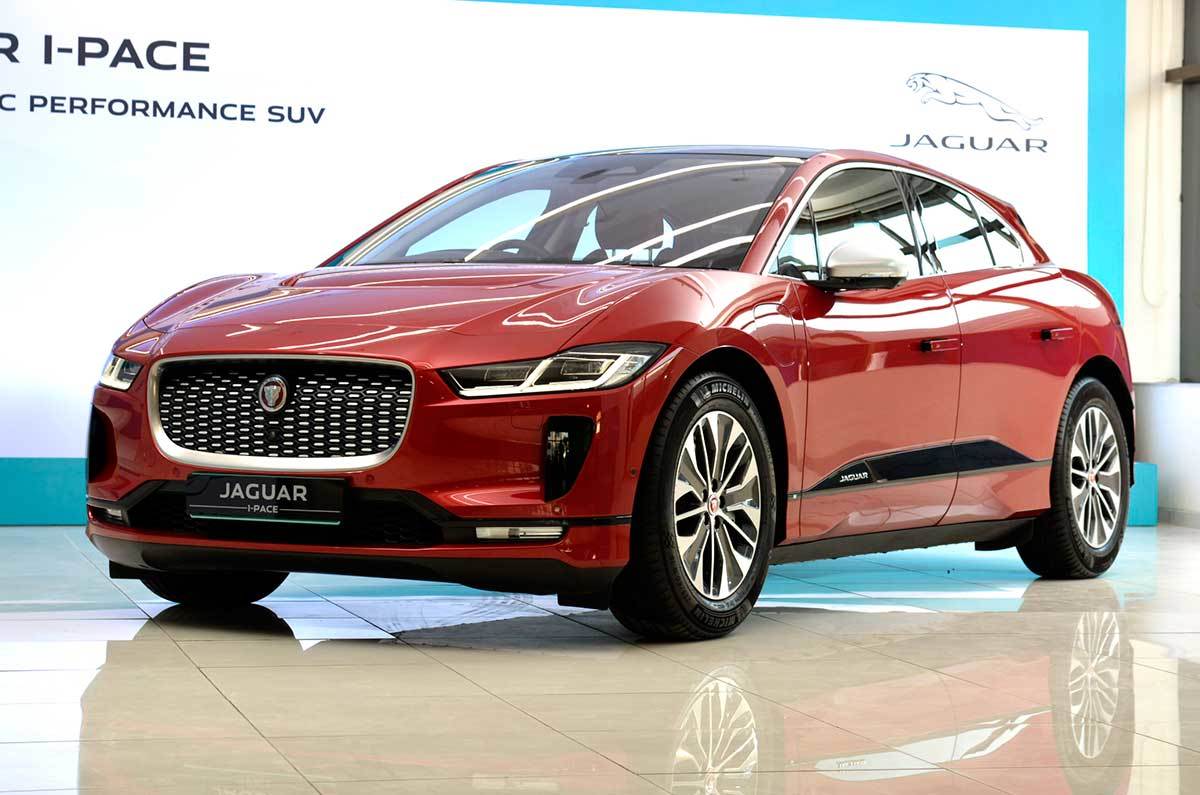 Jaguar's I-Pace is stunning to look at and is a hoot to drive. The Jaguar EV is easy to live with too if only we had the infrastructure to support the lifestyle. The Jaguar I-Pace has gone on sale in three trim levels – S, SE, and HSE.
The German automobile manufacturer, Audi, is expected to release e-Tron and e-Tron Sportback during the first half of this year to take on both, the I-Pace and the EQC.