- Advertisement -
Tesla's Model 3 is one of the best-selling cars across the globe, and in the US, it is one of the most favorite cars. The standard battery life started at $38,490, but now it starts at $38,990, according to Tesla's U.S. official website.  
Whereas the Tesla Model 3 long-range version used to start at $47,490 while the new price starts at $47,990. The lead time has been reduced from 8-12 weeks to 7-10 weeks; however, the Tesla Model 3 High-Performance model's price has not changed and is still priced at $56,990.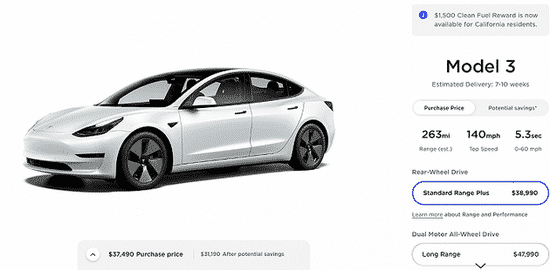 Apart from the Model 3, the U.S. version of the Tesla Model Y long-range version's price has been increased by $500, now starts at $50,990. The point to note is that Tesla has increased the car prices by $500 two times on both March 25 and April 9.
- Advertisement -
ITHome also reported that Tesla China is said to raise the price of the domestic Model Y by 8000 yuan while the Model Y long-range version and the high-performance version will be sold for 347.9 million yuan and 3779 million yuan, respectively.
- Advertisement -