- Advertisement -
Currently, OnePlus is working on the launch of its own digital payment service in India. OnePlus Pay has been trademarked recently by the tech giant, it is assumed that this service will give a high rivalry with the other online wallet services such as Google Pay and PayTM.
The registration of the trademark had been found by Mukul Sharma, and he, himself has shared the news on his Twitter account. According to the tweet, the Chinese technical giant is thinking about its fast launching it as a house payment platform in the entire country, it is not yet confirmed about the availability of its service.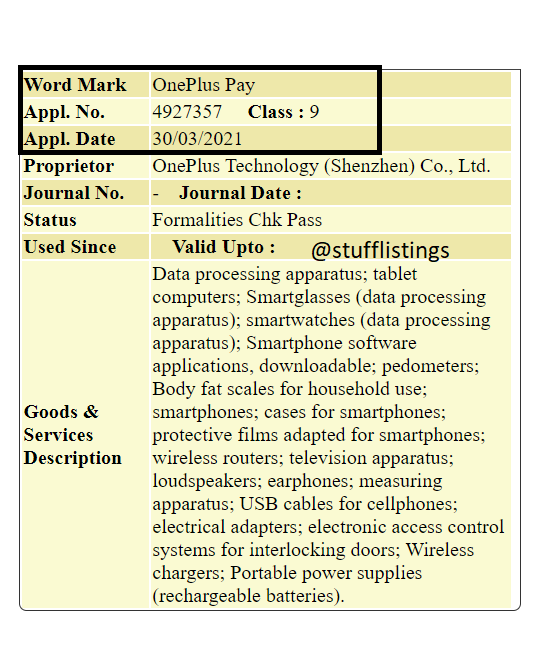 At first, the company was exposed to their working on the payment service in 2019 in China. There will be a preloaded wallet app through which the service will be available, and all the users have to go to the settings and have set OnePlus Pay as its default NFC-based app.
- Advertisement -
If any user wants to use the NFC-based system then the users have to double-tap the power button to access quickly their digital wallet, after completing this process it will be linked to the users with their debit cards. In India, the company has the objective to partner with Indian banks or International payment gateways such as MasterCard or Visa which are a little bit popular in many regions and also many people use them. It has confirmed that the company has decided to supply support for RuPay credit and debit cards also with its Indian users.
This OnePlus Pay would also include a list of smartphone manufacturers who have claimed their own smartphone payment services. It is very clear that the company will have to face competition with third-party payment apps like Google Pay and PayTM which are based on the UPI system across India. It is expected that the company will reveal more updates about this digital wallet.
- Advertisement -