- Advertisement -
The Red team is on a spree of gaining chunks of CPU share each month in Steam's Hardware survey. It's been evident that Intel isn't enjoying much in its CPU market share, and their desktop processors are not competitive to AMD's anymore; even their new flagship Core i9-11900K received a huge backslash by a lot of reviewers.
AMD's performance and efficiency are driving more customers each month, and this increasing its fan base. Until now, AMD's biggest struggle was in gaming, but with Zen 3, things have completely changed and having reviewed the likes of Ryzen 5 5600X, Ryzen 7 5800X and Ryzen 9 5950X, I can honestly say they are the best in the market right now!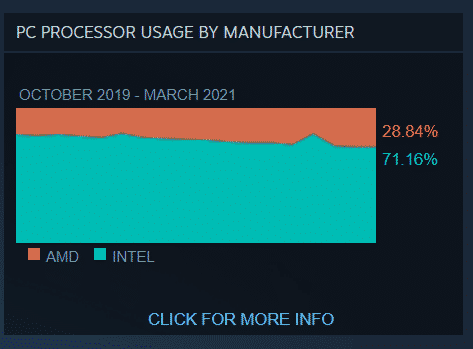 Last month too AMD had a positive overall gain of 0.67% share taking the share to 28.66% total share for AMD and 71.34% for Intel. However, AMD his month has gained less and now the total share stands at 28.84% for AMD and 71.16% for Intel.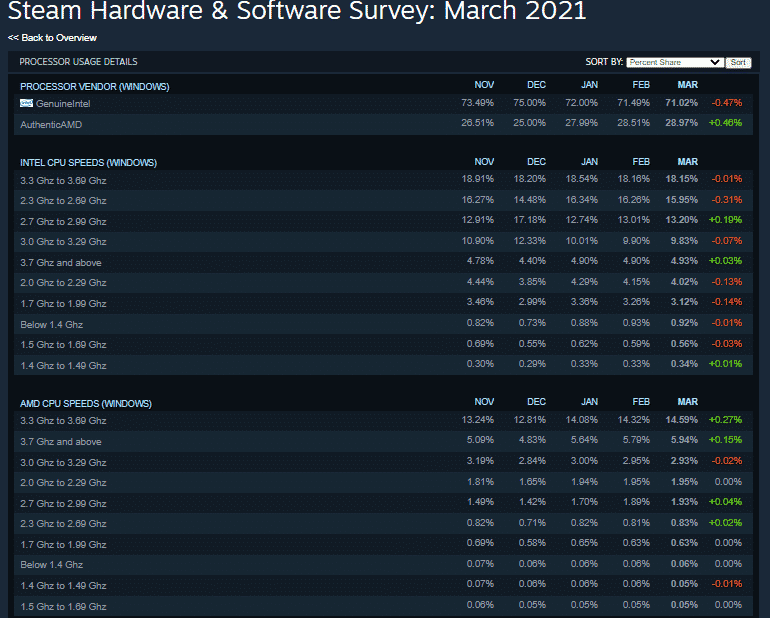 - Advertisement -
This is mainly due to the fact that although AMD gained 0.46% share for Windows users but lost 0.19% share in terms of Linux users to Intel, quite strange in fact.
However, AMD's main problem is with the stocks and the high demand it faces from gamers worldwide. Although Ryzen 3000 series are still less affected, the Ryzen 5000 series are in extreme demand, and as new CPUs haven't been announced yet from AMD and Intel on the budget side, people are buying old discounted CPUs.
Buy the AMD Ryzen 5 3600: https://amzn.to/2OmmBcO
- Advertisement -